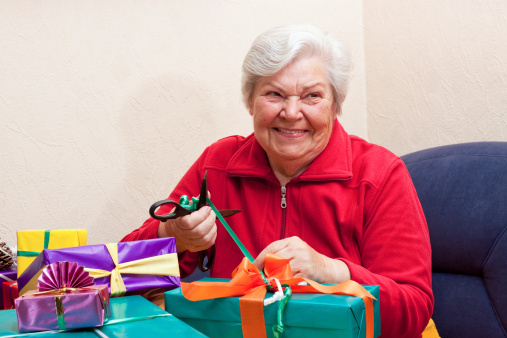 With the holiday season in full swing and the gift-buying window rapidly closing, you're probably nearing the bottom of your to-buy-for list. For some of us, it's our older loved ones who are likely among the last names to be checked off.
That's because when you ask your parent, grandparent, or other older loved one what they'd like as a holiday gift, you're liable to hear a noncommittal response like, "I'll love anything you give me" - or "I have everything I need." With little to go on, it's easy to get stumped as to what to give these special people in our lives.
There are hits and misses when it comes to buying gifts for seniors. While shopping, keep in mind what your aging loved one likes to do around the house as well as any hobbies and activities they enjoy outside of the home. Remember that today's seniors are busier, more active, and more tech-savvy than ever before, so it's important to ensure your gift is appropriate for your loved one's interests, mobility level and other lifestyle factors.
1. Gift Cards
Many seniors live on a limited budget, and even if they don't, a gift card is always a welcome gift, and eliminates the risk of choosing something your loved one doesn't want or need. You can buy one from just about anywhere - whether a small specialty store tailored to a niche hobby or a large retailer boasting a wide range of items.
With a gift card, your elderly loved one can either shop at their leisure online or in a brick and mortar store. Shopping when someone else is footing the bill is fun at any age - and a great option for seniors.
2. eBook Reader
If the older adult on your gift-buying list enjoys reading, consider getting them an eBook reader. They'll be able to choose from a wide selection of books (some may need a little help getting set up with downloading titles) and can tote the slim, lightweight device wherever they go. The size of the print can be adjusted for aging eyes. And with so many models to choose from now, e-readers are more affordable than ever.
3. Home Team Accessories
Do your older loved ones love watching their favorite team from the stands where they can catch all the action in person? Older sports fans will enjoy games even more from the comfort of their own stadium seat - you can find seat covers with their favorite team logo. Or, help them keep warm in the stadium, wrapped up in a cozy knit scarf emblazoned with their home team's logo.
4. Turntable Stereo
Chances are your elder loved one enjoys music, and first listened to their favorite songs on a turntable. What they may not know? Vinyl is back! If your loved one parted with their stereo years ago, they can have that pleasure once again with a new turntable.
If they still have some of their vinyl records, they'll be able to enjoy their favorite tunes as soon as they open the gift. (If not, consider adding in a couple of albums from artists they love).
Many new turntable models are crafted to resemble the vintage look of the originals, with the sound quality that comes with today's technology. There are a host of unique models designed to suit different budgets and tastes.
5. Digital Frame
Most seniors love to have photos of their families and friends around. A digital photo frame is a great way for them to see those familiar faces every day, especially if they live far from loved ones. You can select and download photos for them so that all they have to do is plug in the frame. Your older loved ones will appreciate you for thinking of this thoughtful, personalized gift.
6. Automatic Card Shuffler
Have an older loved one who loves to play cards? If so, an automatic card shuffler is a great gift, especially for a senior with arthritic hands. These come in many styles, from battery-operated to electric or rotary. An automatic card shuffler can add a little more carefree fun and ease to your loved one's games.
7. Senior-Friendly Landline Phone
Many seniors still enjoy using a landline phone. If your loved one's eyesight and/or hearing isn't what it used to be, think about giving them a new phone with large numbered displays and amplified volume. There are many phones designed specifically for people with age-related sight or hearing difficulties. Plus, you'll have peace of mind knowing that they can reach out if they need to - and your conversations with them will be that much more enjoyable!
8. Cell Phone
Speaking of phones, have your loved ones put off getting a cell phone because the features on these phones seem too small or tricky to use?
Luckily, there's a wide range of reasonably priced mobile phones specifically designed for seniors. These phones are user-friendly and will allow your older loved ones to easily make contact when they're out and about. In some cases, an easy-to-use cell phone could even be a life-saving gift in the event of a fall or other injury.
9. Tickets and Season Passes
Who doesn't like to receive tickets to a performance or concert? Or a season pass or reserved seats to local sporting events or attractions? Check out the upcoming offerings in your loved one's area to see if there's a particular event they'd enjoy. A season pass to their local art museum, zoo or sporting event will give them incentive to get out and enjoy local attractions. (Even better? Gift them with a pair of tickets so they can enjoy the experience with a friend or relative.)
--
There's no shortage of options when it comes to gifts for seniors. Your older loved ones may enjoy unwrapping one of the options above, or other standbys such as cookbooks, games, or puzzles this holiday season. Whatever you choose, if you send it with special care, thoughtfulness and love, your gift will be among the most cherished gifts they receive this year.
PHOTO GALLERY
Improve Your Credit Score
Calling all HuffPost superfans!
Sign up for membership to become a founding member and help shape HuffPost's next chapter