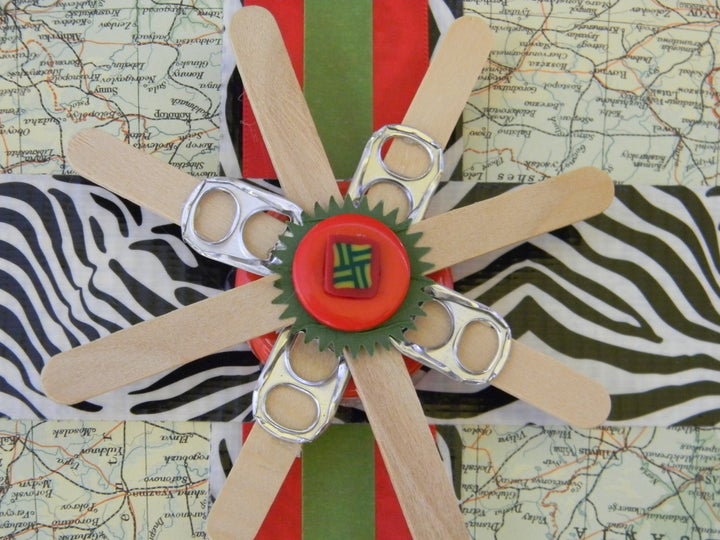 Whatever you do, don't spend big bucks on gift wrapping over the holidays. I promise that you don't need to.
In fact, you can have more fun and make a more lasting impression on friends and family by creating packaging from trash that you have cluttering your house -- stuff that can be up-cycled into simply smashing wrapping.
Did you know that over the December holidays Americans generate 25 percent more trash than they do on average?
However, if you wrap with trash to begin with, you not only save money by not buying paper and ribbon, you can help make the planet itself a happier place, as well.
So, below is a DIY tutorial that will show you to wrap with green-savvy class this Christmas. It's about how to wrap using maps, coke caps, duct tape and lots more.
Map
Bottle caps
Popsicle sticks
Decorative duct tape
Green painters' tape (even masking tape, perhaps)
Recycled red ribbon (or any other color you like)
Tape
Scissors
Hammer
Hot glue gun
Buttons (any color you have)
Find an out-of-date atlas or any other kind of map you might have discarded as out-of-date or no longer useful.
Cut the map to size and wrap as you would with any other paper.
Add green painters' tape and recycled red ribbon from last Christmas.
Hot glue popsicle sticks to creat a star.
Decorate the star with green buttons.
Hammer the edges of a discarded coke cap flat to create a ruffled-looking edge.
Hot glue the coke cap to the center of the star.
Hot glue a discarded, screw-on coke cap to the underside of the star to give it height and dimension.
Hot glue the completed star to the center of your package.
Below are a few other extreme gift wrapping ideas. Remember, you too can be package-proud and planet-friendly this holiday season.
This package is wrapped with an English-language newspaper I brought back from New Delhi. It also incorporates popsicle sticks, recycled ribbon, beads, buttons, painters' tape and more.
I packaged the next present, one for my nephew, in recycled pages from a Spider Man comic book.
This gift for my mother uses the label from a large can of tomato juice as wrapping, and the ornament on top is made from paper, buttons, beads and tabs from coke cans.
And finally, some more packages I wrapped using recycled maps.
The bottom line is this -- you don't need to spend lots of money on holiday gift wrapping. Instead, reuse what you already have around the house in creative ways.
Me? I'm dreaming of a green Christmas. What about you?
What's the strangest, most creative gift wrapping you have ever used?
Related