But of course we'd expect nothing less from the reality maven extraordinaire; nay, the fashion press would pan her for it. Thanks to the phenomenon of reality stardom and ubiquitous paparazzi, Kim can't afford a what-is-she-wearing gaff: She must both dress for the job she wants and be always on the job.
The job, of course, is to be superhuman; to rise to a pantheon of demi-gods somewhere above this mortal coil where there's a Louboutin for every day and Hermès bags are like Lays potato chips -- you can never have just one. It goes without saying that demi-gods do not dress down to get a pedicure. They wear, ahem, another Balmain blazer and Chanel costume jewels. And while Kim may deign to wear post-pedi flip flops, she cradles her suede boots in her arms, their scarlet soles unscathed. (We guess the unworn Loubs didn't fit inside her Birkin.)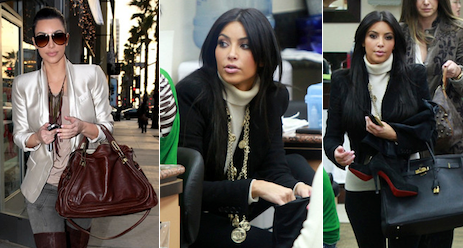 Kim Kardashian gets pampered in style.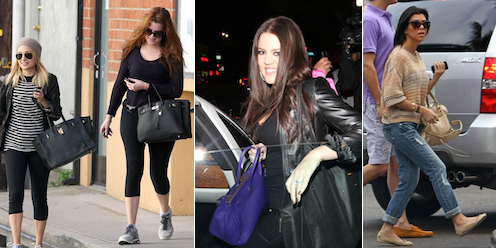 Khloe takes her Birkin from the gym to date night night; Kourtney lays low in jeans.
While Kourtney, the only mom of the bunch (Khloe is expecting), can be seen in laid-back mohair sweaters, boyfriend jeans and flats, she isn't without the Kardashian luxury bug. And when she dresses, she goes all out. While taping Kourtney and Kim Take New York, the former was also spotted carrying unworn Louboutins post-pedi. And that is to say nothing of her major furs and lots of leopard print.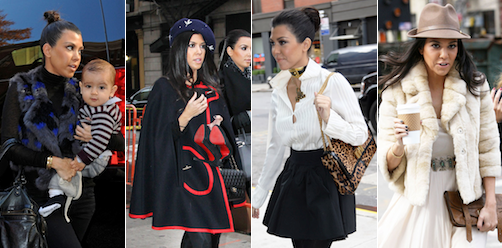 Kourtney plays mom and takes Manhattan in leopard print, capes and fur.
The new show debuted January 23 on E! The street looks on Kim and Kourt are, appropriately, out of this world.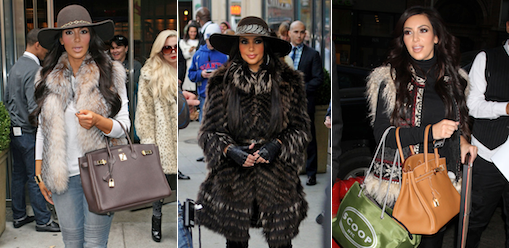 Kim on the set that is her life, while taping Kourtney and Kim Take New York.
Correction: Khloe Kardashian is "reportedly" expecting. No confirmation just yet.