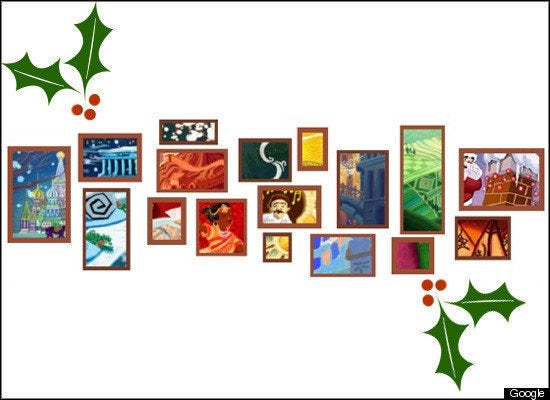 From December 23 through December 25, the Google homepage will display a large interactive doodle in place of the regular Google logo.
The impressive holiday doodle features 17 illustrations, designed to look like framed paintings that depict scenes of peace, joy and beauty around the world. The small pictures expand when you mouse over them, and clicking each frame links to a Google page explaining that particular scene.
For example, a frame on the far right enlarges to show Santa and his reindeer on a snowy rooftop. If you click that picture, you're brought to a Google search results page, where you'll find an animated video of the holiday carol "Up On the Housetop."
Another frame enlarges to show three women in bright clothes performing an Indian classical dance. Yet another frame shows a snow-capped Mount Fuji.
Chief doodler Micheal Lopez and his team of four artists worked on the complex project for roughly 250 hours. "We want to end the year with a bang," said Lopez, who began work on the holiday doodle back in July, according to the Wall Street Journal.
Take a look at the screenshots (below) of this year's holiday doodle. To view the interactive version, visit Google.com before evening on December 25.
LOOK: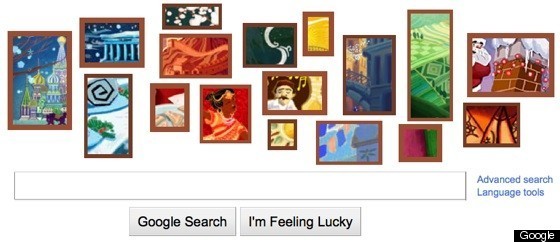 HOLIDAY GOOGLE DOODLE DETAIL: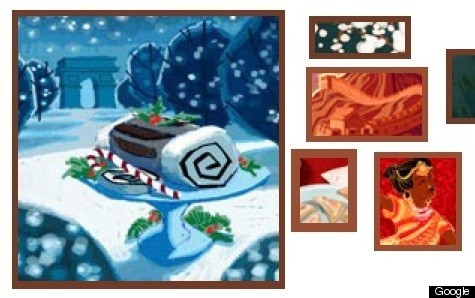 Popular in the Community