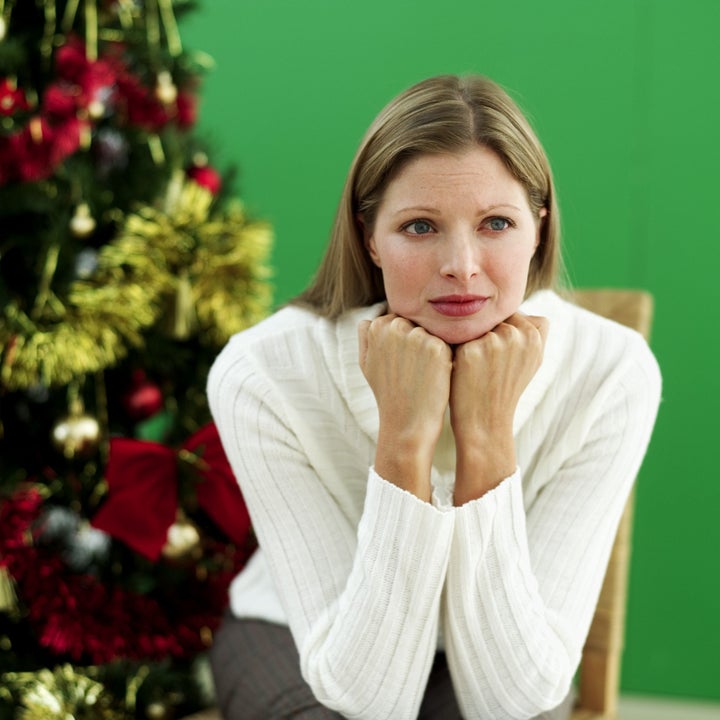 The table is set. One chair is empty. Meanwhile, the rest of the world goes merrily on its way, as if nothing whatsoever has happened. Traditional songs are sung, festivities held, presents purchased, speculations made about whether the economy is "back." But there is one group of people too-oft overlooked, not out of indifference, but really out of confusion. What do you do when someone you love is grieving, especially this time of year? Do you really know how to best support those who mourn during the holidays?
Intially, it is tough for those suffering profound loss to find their footing, much less connect with the hustle and bustle of what comes this time of year. Too often, those of us who are aware of the bereaved get tangled up in our efforts to help, feeling incredibly awkward. What follows is a simple guide that can boost your confidence, and their sense of being understood, and loved.
Bridge Building. Keep it simple. The real issue beneath loss is that love needs an outlet and a means of contact. When someone dies, physical connection seems broken. Love's flow gets interupted. Now, you know what happens when a river gets obstructed: cess, turbulence, and disturbance. Holding back your compassion, for fear of "blowing it," only makes matters worse. The bereaved are not looking for perfect. They are longing to re-establish connection with what heals their heart. Be this bridge.

What if you simply shared how grateful you are that your loved one is in your life? If you knew the person/s they lost, you could add a brief statement about your appreciation for them, as well. It helps to get specific. What we are "going for" here, is a means of bridge building across the chasm they are feeling, which tends to estrange them from life and living. They are where they are. This will shift, over time, if they are willing to take their time, be real, take themselves seriously, and open to growing forward through what's happened. But, that is then and this is now. At this time, connection is what's needed.
Let's get real. It might surprise you to know, increasingly, what the grieving are finding annoying is the statement: 'I'm so sorry for your loss.' Believe me, privately, they tell me.
Listen in, and I'll share some quotes:

"Gretta": This 47 year Old Dutch widow, who lost her husband four weeks ago, whispers the following:
I know that my friends are trying to be nice. But if I hear that statement one more time ("I'm so sorry for your loss.") I'm going to scream. I know they don't know what to say, so they are trying. I wish they wouldn't try so hard and just be real. I have no idea how to be with myself, especially now with the holidays. I feel really isolated.
"Harvey": Following a 4 year marriage to his "dream girl," Helen is killed in an accident two weeks ago. Says he:
I have no idea what to do or where to go this year. I'm alone. Really alone. It's too quiet. I like the quiet, and I don't like it. People look at me with pity. I'm uncomfortable at work, although I know people feel for me. But, no one really says anything. I feel like a leper. The subject of the holidays is up and, maybe I'm paranoid or something, but they seem to start to nearly whisper when the subject of plans comes up. I'm afraid they must be worried and not know what to do.
"Martin": Martin and his wife lost their 4 year old to leukemia in August.
I'm having such a hard time going to work. I can't even imagine making it through the holidays. Halloween was the pits. Annie was so happy last year, trick-or-treating in her Dora costume. I'm a mess. I never know when 'the wave' will hit, and I'm reduced to tears, when I least expect. How in the h---- am I going to get through Christmas? We just love Christmas, always went to our cabin in the mountains. Nobody gets it, either. They try, but they don't. I need a playbook. So do they.
Playbook for Supporting Those Who Mourn During the Holidays: 8 Practical Tips
Let them grieve. No kidding. Do not underestimate what I call the Power of the Listening Heart.
Make contact statements that are true for you.
Example: "I've been thinking about you. I don't know what to say. I can imagine that the holidays are pretty charged this year." Now, just listen.
Your job is neither to be the fix-it person, nor be clever. Lay down that burden. Just be you. When you are fumbling for what to do, say it! e.g. 'I'm fumbling for what to say. I wish I were good with words.'
Listen to your instinct. Trust it. When the time seems right, say something like: "I find myself wondering if there is something I can do for you during this time? An errand to run? A time to share a cup of coffee? Maybe we can just be together, without agenda? A walk through the park, or in nature, where we are away from the entire hustle bustle? I'm open to what seems right." Listen.
Offer some form of acknowledgment to them. How can you share something that represents how grateful you are for being in their life? Keep it simple. Perhaps you could do one of the following:
a) Compose a little love note that let's them know their qualities that you are especially fond of, and give you cause for appreciation for your relationship.
b) Collect some autumn leaves, tie some ribbon/raffia around them, and offer them as a token of your love. If you have the energy: put the aforementioned around a votif candle in a glass holder, and offer it as an 'I'm thinking about you, especially now." You won't find this token at the Mall, nor on Cyberspace.
c) Find a picture in a magazine that reminds you of some memory or dream for the future you share. Mount it on paper, say a few words, and drop it by, or send it.
d) Share a cup of hot cocoa. Feel good remedies are winners.
When you think of this person, call them! Even if you have only a few moments, that's O.K... You can even say: "I've only got a moment, but I was thinking about you just now and wanted you to know I'm here."
Evenings can be especially tough since the noise of the day subsides. It's a great time for check in, just to give the message, 'you are in my heart.' Use your own words. You cannot fail.
Remember, your job is not to take away the loss. Your job is to be you, be real, and be a fair witness to one of the most difficult times in your loved one's life. One of the most supporting factors in growing forward through grief is reconnecting with life without feeling pushed.
Never underestimate the power of your love, the beauty of your outreach. It is a gift that is so rare, it will never be forgotten. It is a treasure so rich, that it cannot be purchased. Priceless, just like you!
Now, your turn. What's helped you most during the holidays when you've struggled, or known someone else who is hurting? What's helped? What's hindered? What do you wish others knew about how to build a bridge to you? I'm listening!
Thanks for passing this along to those you love.
Dr. Cara Barker is an author, analyst, and founder of The Love Project, Love Fests and Retreats. For more, see carabarker.net. For updates, contact her at www.carabarker.net, or dr.carabarker@gmail.com. To save time, click on Become a Fan. Stay tuned for upcoming developments with The Love Project, including "Practicing Love." I've got a great idea for those of you who are willing to step out on the playing field and have an amazing time. Stay tuned! Follow Dr. Cara Barker on www.twitter.com/DrCaraBarker.