My father died four days before Thanksgiving 1992. I was only 11, but I well remember that Thanksgiving meal at a chain restaurant. I remember poking my fork at dry mashed potatoes and bland sweet potatoes that couldn't compare to my mother's.
I remember feeling very unthankful that I was fatherless at such a young age; that my mother was now a widow, that my grandmother was childless. I remember wanting to go home, crawl into bed with my mom and sister and pretend it was all a terrible nightmare.
The Christmas after he passed away was just as heartbreaking as Thanksgiving. Mama tried to make up for his absence by buying me two "big gifts" instead of only one -- an American Girl doll and a Brother electric typewriter. She signed the cards on the presents, "Love, Mama and Daddy." There was no singing of Christmas carols, and mother didn't even hang one of her beautiful homemade wreaths on the front door. I believed then that the holidays would never be the same without my father. There was no joy in the season.
There was only a void that would never be filled.
But as the years passed, our joy was slowly restored. His absence was always painful, but it became normal. We still spoke his name at the dinner table and reminisced of holidays past when he pretended to be Santa and left boot prints in the snow and letters by the empty cookie plate on the mantle. Mama still made his favorite casseroles and she still signed cards, "Love, Mama and Daddy." There was still a void, but we managed to celebrate and tis the season to be merry.
The holidays were always tough without my dad, but I still had my mama.
Mama and I cooked together as National Lampoon's Christmas Vacation or "You'll Shoot Your Eye Out" (she never called it A Christmas Story) played on the living room television. We stopped chopping celery when Cousin Eddie showed up on the front lawn in the rusty RV or the fra-gee-lay leg lamp arrived so we could watch and laugh. We'd take breaks from baking and Mama would sit at the piano and play Bing Crosby hits. Then she'd invite me to share the piano bench with her and we played a duet of "O Holy Night."
She instructed me how to make her famous cornbread dressing (that's stuffing for you northerners) and we'd stand around the kitchen talking about her wonderful childhood and Christmas in the '50s. When crying at the onions was too much to bear, she'd hand me the knife and I'd take over. We still talked about Daddy, too -- how I believed for years that those really were Santa's prints in the snow. As casseroles baked and delicious scents filled her home, she would wrap my children's presents for me because I always misjudged how much paper to cut or tape to use. She adorned gorgeous, elegant homemade bows on the gifts as I joked that I would take credit for wrapping them.
The holidays were always tough without my dad, but I still had my mama.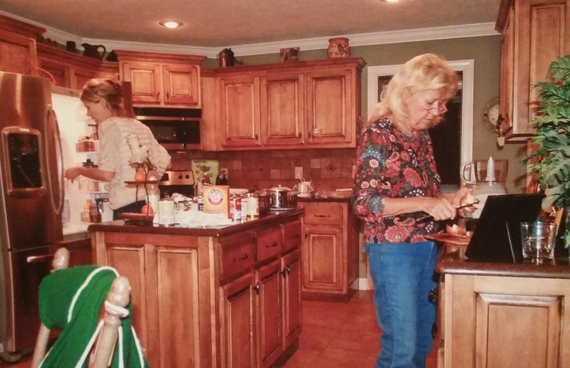 My mother passed away, suddenly yet peacefully, in her sleep eight weeks ago. On the day she died, I was in such shock and despair, with so many thoughts and memories flooding my chaotic mind, but one thought that rocked me to my core was, "The holidays. I'll never eat her chocolate pie or broccoli casserole again. I'll never cook with my mother again. How will I get through the holidays without my father and my mother?"
And to be honest, I don't know how my family will get through it. I don't know if we'll relive 1992 all over again -- poking forks at restaurant food, staring blankly at the tree, wanting to go to bed and pretend it's all a terrible nightmare. I don't know when things will be merry and bright for us again.
I don't know how I'll ever pop my favorite Christmas movies into the DVD player knowing my mother isn't here to watch them with me. I don't know how I'll ever play "O Holy Night" on the piano without her fingers grazing against mine as we scaled up and down the keys. I don't know how I'll make her famous dressing or casseroles without her standing beside me to explain what a "pinch" of something is. I do know, however, that I'll have to use gift bags for the rest of my life because I can't wrap a present worth a damn and she isn't here to do it for me.
I have my own children now, and I know I need to pull myself together for them. I am their mama, just as she was mine. I will invite my 9-year-old daughter into the kitchen and teach her how to make her grandmother's cornbread dressing. I'll put the Chevy Chase classic (edited version) on the television and laugh at Cousin Eddy sailing down a hill with nothing between the ground and his brain but a piece of government plastic. I'll share a piano bench with my little girl and teach her "O Holy Night." I'll keep both of my parent's spirits alive as we converse around the dinner table.
I'll smile for my children. I'll buy them two "big gifts" instead of one. I'll carry on for them, and I know that our joy will slowly be restored as the years pass. But still, it won't be the same. The food won't taste the same. The tree won't be as beautiful. I'll shed tears with my siblings when we realize we don't have any presents to open with tags that read, "Love, Mama and Daddy."
Because the holidays were always tough without my dad, but I still had my mama.
Popular in the Community