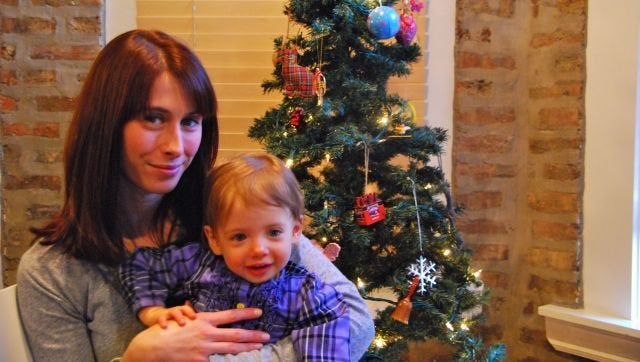 The holidays are a special time to carry on time-honored family traditions of yore and, if you're a parent, they're a golden opportunity to create brand new ones that your kids will one day pass on to their own children. Or else... they're a time to think about a bunch of awesomely festive stuff you totally would do -- if you weren't so darn busy with all those pesky projects around the house, and by that I mean catching up on The Mindy Project. Here are seven things I will surely not be doing during the most wonderful time of the year. Won't you not join me?
1. Bake. You are cordially invited to the cookie exchange -- in my head! I've been planning it since June, but now that it's December, gosh! Those weekends get filled up fast. I sure hope you like those jam thumbprint cookies! Because I would have made like six dozen for you to bring home in one of those tin circle container things with snowflakes and trains on them that I would have no idea where to buy.
2. Make Martha Stewart crafty homemade gifts. Again, best laid plans. Every year, I vow this is the year I will marinade your favorite flavor (Cucumber! Lemon! Ranch!) in a bottle of good (read: cheap) vodka and let it infuse. Instead, I shall infuse you a glass of Trop50 that expired seven weeks ago, because that is what's in my fridge. But I will pour it from the bottom of my heart, because I cherish you.
3. Get a real Christmas tree. I treasure my childhood memories of coming home with a fresh tree in tow. My parents, brother and I would decorate it together before basking in its blinking glow as we listened to Bing Crosby on the record player (even though it was the '90s). My daughter, however, gets a glorified pipe cleaner that we dug out of storage. We can only hang ornaments from the tree waist-up, or else the cats will eat them. They're already throwing up fake pine needles, which, when viewed in this capacity, look just like the real thing! Well done, Target!
4. Remember to light the candles on the first or even second night of Hanukkah. What kind of a holiday starts on a different day each year? How am I supposed to help my daughter celebrate one-fourth of her heritage if Google Calendar doesn't even have an orange bar reminding me to? I promise to be totally on top of it for nights three, four, five -- and then, let's face it, even eight nights of Harry from One Direction would get old. Wait, who typed that?!
5. Watch Miracle on 34th Street. I will DVR it, just like I do every year. I will tell my husband 1,400 times that it's my favorite, favorite, favorite Christmas movie. I'll probably even start it two or three times. And then, come Valentine's Day, I'll admit defeat and delete it to make space for the eventual premiere of the Boy Meets World redux. And really, my kid is still obsessed with Spookley the Square Pumpkin, so we're a little behind schedule.
6. Take a seasonal family photo. Please. I know, I know, the mom stays in the picture. But how can it be scientifically possible that I can hire a surrogate to carry my child, but I can't pay someone to grow out my bangs for me? Now that would be a Christmas miracle. Which leads to...
7. Mail out holiday cards before December 26th. Hey, send me your new address, so I can not put it into my address book and will have to ask you for it again next year after I open up your adorable Minted card and panic because your family wasn't on my mailing list! Happy Holidays!
Related