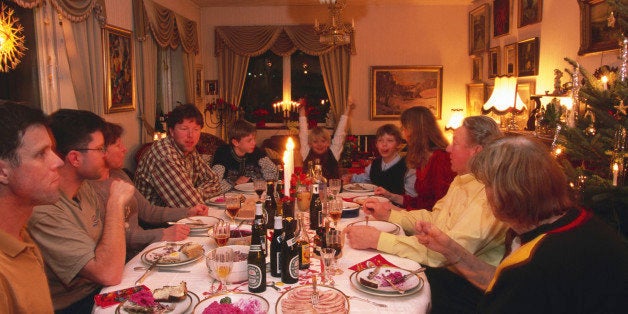 With the holidays quickly approaching, the stress of getting your holiday meal on the table may be starting to build. Thankfully, there is still time to plan, prep and -- more importantly -- simplify your time spent in the kitchen. Here are 10 timesaving holiday food hacks that will minimize the craze and leave you feeling like a kitchen whiz!
Remove potato skins. Potatoes are a staple in many holiday dishes, but peeling them can be a drag. Instead, using a knife, make a shallow slit around the circumference of the potato prior to boiling. Once they are cooked (or even blanched), simply shock them in cold water and the skin will slide right off.
Collect egg shells. Holiday baking calls for many a cracked egg and fishing for shell pieces can be maddening. Make it easy on yourself and scoop out rogue bits with a larger egg shell. This will naturally attract the smaller pieces.
Poach eggs. Did you know you can batch cook eggs in a muffin tin? Preheat your oven to 350 degrees. Pour 1 to 2 tablespoons of water in each cup of a non-stick muffin pan and then gently crack the eggs into the cups, keeping the yolks intact. Bake the eggs for 10 to 15 minutes or until the whites are cooked yet the yolks remain runny.
Get a handle on ginger. Ginger and the holidays go hand in hand -- think cranberry sauce, pie fillings and cocktails. This tough, woody root can be difficult to handle, but you can make it easier on yourself. Purchase a large piece of ginger root and peel off the skin using a spoon. Freeze the ginger (whole) and simply grate it for use. A microplane zester works well.
Roast a pumpkin. Skip the peeling and seeding and just cook the thing whole. Yes, you can roast an entire pumpkin (small, sugar pumpkins work well) by poking the flesh with a fork to create steam holes and then placing the pumpkin in a baking dish with about an inch of water. Cover it and cook it at 375 degrees for 1 to 1.5 hours or until the flesh feels tender. Cut open the top, scoop out the seeds and you are left with perfectly cooked pumpkin meat for use in stuffing, pies and purees.
Mine for pomegranate seeds. Harvesting pomegranate arils -- the fruit's juicy red seeds -- can feel like mining for gold. It can be timely if you attempt to pick out each one, and you are likely to make a huge mess. Instead, halve the pomegranate across its belly. Then, with the cut side facing down into a large bowl, gently tap the skin with a wooden spoon and watch the arils pour out into your bowl.
Pre-cook grains. Don't waste valuable stovetop space cooking grains on the big day. Instead, pre-cook rice, quinoa or beans and freeze them for use in recipes for your holiday dinner.
Best butternut squash. Tired of wrestling with your butternut squash? Using a fork, make several steam holes in the skin, then pre-cook it just a bit. You can microwave the whole squash for a few minutes or roast it at around 400 degrees for 10 minutes. Grab your peeler to peel the skin with ease.
Freeze in flavor. Your freezer may just be your best friend this holiday season. Puree savory herbs such as rosemary, thyme and oregano into olive oil and freeze it in an ice-cube tray for use as a recipe starter for soups, dressings, stuffing, your holiday turkey and more. Speaking of ice-cube trays, this is the perfect way to store leftover wine or broth for perfectly portioned use in recipes.
Make food ahead of time. From pie crusts and bread to cookie dough, stuffing and gravy -- there are several components of your holiday meal that will keep well in the freezer. As for appetizers like spiced nuts, dips and condiments like cranberry sauce, they are great make-ahead items and will keep in your fridge for at least a few days