The holidays are upon us. New York is buzzing with harried shoppers, end-of-term students, and people working hard to finish projects before taking a little time off. Overwhelm abounds. This weekend is the perfect time to take a break, grab a friend, and get relaxed, inspired, and refreshed by some good art. Here are three ideas pared with off-the-beaten-path opportunities to see something new.
1) Have a long gift list to fulfill? Spend an afternoon in the East Village, a shopping mecca sure to satisfy your every need. Make sure to stay for dinner in one of the hundreds of local cafes, then end your day with the world premier of Devouring Devouring a new work by Netta Yerushalmy (a recent recipient of the prestigious John Simon Guggenheim Foundation fellowship, 2012). Presented by La MaMa at the Ellen Stewart Theatre, 66 E. 4th Street, Devouring Devouring evolved through long-distance video exchanges between dancers as well as repeated residencies in New York and Tel Aviv over the past two years. The performers embody a clash of aesthetic modes, ranging from detailed and robust physicality to formalized postures hinting at Baroque iconography. A flurry of gestures and forms meander between the representational and the abstract, the elegant and the awkward. For tickets visit: their website. (December 13-16)
2) Need to stay in and get those presents wrapped? Having friends over and want something to watch? The En Route Dance Film Festival -- an online (only) festival of beautiful, experimental and compelling short films -- is playing on a screen near you (could be the one you're staring at now). Presented by Dances Made to Order, a $15 ticket grants complete access to the festival's films, and includes a $2 donation to Free Arts for Abused Children. En Route is curated by champions of art and dance film: award-winning filmmaker, Cari Ann Shim Sham*; FRAMEWORKS dance film series founder, Michael Bodel; Third Coast Dance Film Festival founder, Rosie Trump; and Kingsley Irons and Bryan Koch, founders of Dances Made. For the line-up and to purchase tickets visit: their site.(December 13-17)
3) Want to get outside? Have friends/family visiting over the weekend and want to do something different? Include Dumbo in your schedule this Saturday and make sure to stop by Brooklyn Bridge Park. Artist C. Finley, along with a coterie of collaborators including choreographer Katherine Helen Fisher, dancers, sculptors, performers and a film crew, will be giving the city of New York and lucky passersby a gift in the spirit of free and accessible art. FURNISH (3:30-5:30 p.m. Dec. 15 only), wonders through the park, and consists of a dance performance on sculptural objects and customized furniture. After the performance/intervention, the art objects -- which include but are not limited to, sculpture, customized design furniture, and original paintings -- will be left behind for the public to take, free of charge. FURNISH is an inquiry into permission, and is concerned with a gut liking for an object uninhibited by a dealer, curator, institution or theater to referee the experience. This collaborative work would like to challenge the status quo of such events through a juxtaposition of free performances and objects in the context of the post hurricane Sandy shore.
Finley states "For me this work is 100 percent about having a poetic moment with performance art, taking a piece of that experience home with you -- to feel art's cultural worth all with the thrill of the hunt in tact."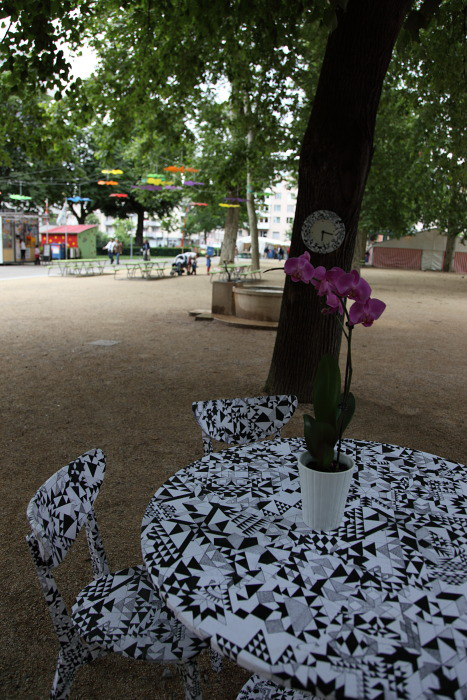 Image courtesy of C. Finley