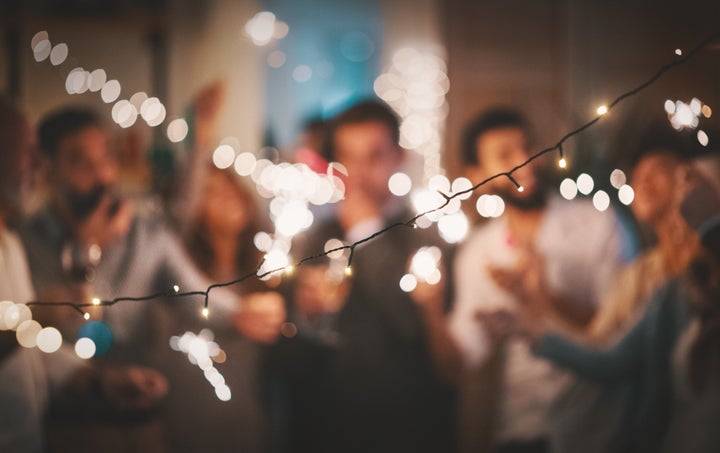 The holidays are here, and so are the fun parties.
The end of the year is a perfect time to reminisce with friends and family by planning a get-together wrapped up in a creative theme. While ugly holiday sweater parties are typically a big hit, there are many other themes you could adopt for your event.
HuffPost spoke to event planners to get their party suggestions. Whether you're willing to put in some money for the event or looking for more of a low-key hang-out with friends, these themes are sure to be memorable.
Check out the planners' ideas ― organized by the host's interests ― below.
For The Host Who's A Foodie
The holidays are, of course, a popular time for breaking out family recipes and indulging in your favorite food. If your crew is made up of kitchen pros, Anthony Navarro, creative director of Liven It Up Events in Chicago, suggested having a "Top Chef" party with stations for guests to make their own dishes. For a small get-together at home, think foods that can be assembled, such as tacos, or treats that can be decorated, like cookies. The host can then pick the best dish and crown the winner.
For The Host Who Doesn't Take Life Too Seriously
If you and your guests are the type of people who start listening to holiday music the day after Halloween, this party theme is for you. Lisa Cokinos and Brandy Carbone, co-founders of B. Lee Events in New York, told HuffPost a fun way to celebrate the end of the year is with a "Mingle and Jingle" karaoke party in which guests sing their favorite holiday songs (YouTube is a good place to start for smaller parties at home).
The event planners said this creates a "playful atmosphere" and is perfect for a group of friends willing to let loose.
Carbone also suggested having a photo booth so guests can take pictures with each other, posing with holiday-themed props. This can be as simple as setting up a tripod with an iPad or another sort of camera. Becky Levin Navarro, the founder of Pearl Events Austin in Texas, echoed the importance of having photo ops available, especially in the age of social media.
"I really think it's not a party anymore unless there's an amazing Instagrammable moment, and that's what our clients are aiming for," she told HuffPost via email.
For The Host Who Doesn't Love The Holidays But Wants To Hang Out
After all, the holidays aren't for everyone. Whether it's because of the loss of a loved one, a difficult year coming to a close or another reason, it's important to keep those friends in mind, too.
For this group of friends, Summer McLane, owner of My Simply Perfect Events in Atlanta, suggested throwing a low-key get-together in which friends can still participate in the holidays without having to fake their holiday cheer. Instead of focusing on the glitter and the glam, friends simply spend time together while acknowledging that some of them may be going through a difficult time.
"It's during the holidays, so people still have somewhere to go," McLane said. "People who have lost someone, they still have something to look forward to."
She added, "It's sort of like saying, 'I know this sucks. Come drink some eggnog.' Or 'I know this sucks. Come eat some challah.'"
For The Host Who Knows Everyone
If your invite list is five pages long, a holiday party could be a fun opportunity for everyone to share how they celebrate. While the ads at the end of year are often dominated by Santa, McLane reminds hosts to be inclusive of all of their guests by encouraging them to bring something that represents their celebration, whether it's food, a piece of music or something else.
"Whatever holiday you celebrate, we all come together and we celebrate that," she said.
For The Host Who Wants To Give Back
The holidays are a season of giving, and the idea of a "gift-together" party revolves around just that. Celia Duncan, of wedding and event planning service Unions With Celia in Springfield, Missouri, described this event as an easy way to spend time with friends while also giving back to the community.
For the "gift-together," the host invites guests to bring over items for a specific mission or local organization. During the event, guests spend time organizing the items and wrapping them if needed. The item collection could benefit a holiday toy drive for kids or a group gathering canned goods. What matters most is giving back as a group.
"The most important thing about gifting to a local community," Duncan said, "is knowing what the actual need is."
Related