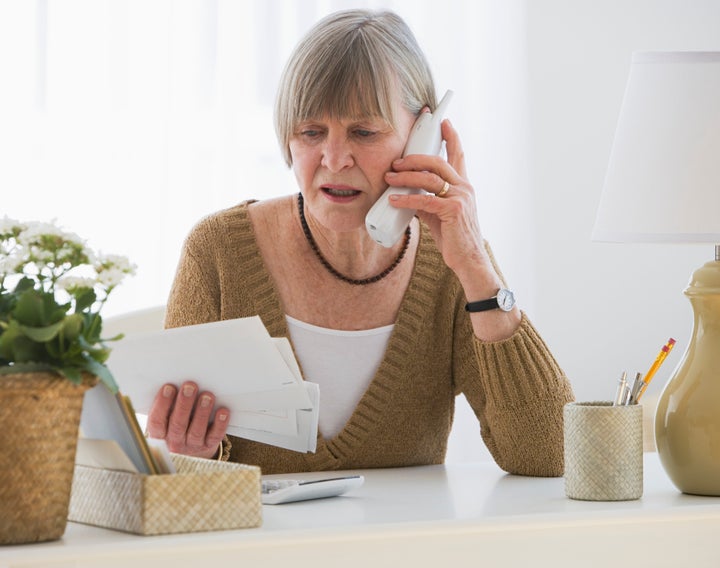 Scams that target older people happen every day, but scammers ramp up their efforts around this time of year when people are more inclined toward generosity, according to the Consumer Financial Protection Bureau.
During the holidays, there is an uptick in the popular "grandparent scam," which first came on the scene in 2008. This one relies on a grandparent not recognizing the voice on the phone of the scammer pretending to be their favorite grandchild. It also may come in the form of an email. The grandchild purports to have gotten in trouble and is asking for money to help ― to avoid jail, to come home from a foreign trip, to get their car repaired ― and to please not tell anyone (parents) about the problem. The holiday twist is that the grandchild wants to be "home for the holidays."
An 81-year-old New Jersey woman fell victim to a variation of this scam. Scammers convinced her that a relative was under arrest and needed her help. They directed her to go around to different stores, loading $12,000 on iTunes Gift Cards, and then reading them the cards' serial numbers over the telephone. The con artists then drained the cards dry, reported the Asbury Park Press.
The iTunes Gift Card scam is so popular that even the Apple store issued a warning about it. iTunes cards can only be used to pay for goods and services at the iTunes Store, App Store, iBooks Store, or for an Apple Music membership ― not to help a relative make bail or send him cash.
There is the predictable increase in false or imposter charities around this time of year, many of which sound identical to the real ones. The pitch is wrapped in requests for year-end, tax-deductible holiday donations. All they really want is your credit card number.
The Consumer Financial Protection Bureau says that some sophisticated scammers actually scour the internet and social media sites looking for a special connection to your life, such as a family member or community connection, to get you to trust them so you'll be willing to part with your money. Many prey on seniors' fears of dementia and memory loss, and tailor their pitch to say "when we spoke last summer, you told me to call back now" ― when of course there was never a previous conversation.
1. Beware of a caller who insists on secrecy. Never allow anyone to discourage you from seeking information, verification, support and counsel from family members, friends or trusted advisers prior to making any financial transaction.
2. Before you donate to a charity, call the charity directly and ask if it is aware of the solicitation. 
3. The IRS does not make phone calls or insist you use a specific payment method such as a prepaid debit card. They also will not threaten you with arrest for not paying.
Stay safe out there, and may all scammers find a lump of coal in their stockings.
Calling all HuffPost superfans!
Sign up for membership to become a founding member and help shape HuffPost's next chapter
BEFORE YOU GO
PHOTO GALLERY
10 Tips From The Better Business Bureau To Avoid Online Dating Scams