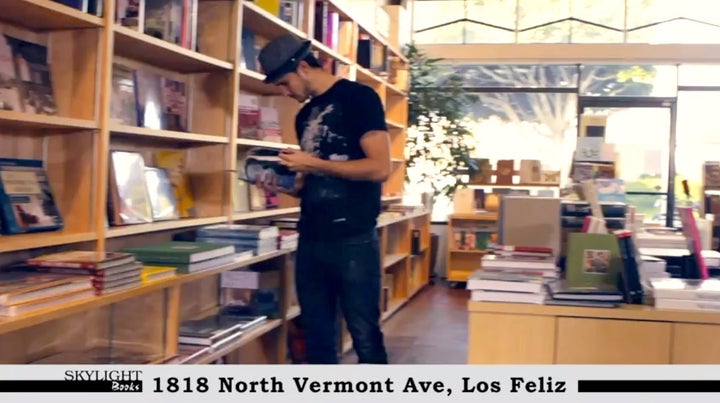 Have you noticed the trend of people asking for gift cards for the holidays? I get the ease and even the appeal, but it results in missing an opportunity. The perfect gift to receive or give is one that reflects an understanding, an appreciation, or a quirk of someone. In the razzle dazzle of the pace of our lives, why miss the opportunity to show someone that you took the time to think of them -- took the time to think of what might delight or surprise them?
In this increasingly frenetic world, there's something to be said for personalized, thoughtful, even intimate gift giving. And so, if your list has one too many gift cards, bottles of wine or fruit baskets, why not abandon mindless gifting and instead shop mindfully?
The triumph of selecting the perfect gift -- that right one -- is as addictive as it is contagious. I've been in the book business for two decades, and that brings with it a certain bias. But I could tell you countless stories of people coming in the store, telling us about the person they want to find something for -- and then their pure delight, the sense of satisfaction that they have found just the right book. Even better is when they return to tell us about the smile, the pleasure when that person opened that gift. But just how do you match the right book to the right person? At our online book shopping service Just the Right Book, we guarantee we will pair the right book with the right reader. Our customers always have a team of real booksellers waiting on them virtually. And whether the book is from a micro-press or published by one of the biggest publishing houses, our suggestions are individualized, personal, and intimate (not to mention ahead of the curve and the masses). Consider us your personal shopper for books.
Picking the right book is an art. It's about people, moods, tastes, interests. It's about taking the time and asking the right questions to be sure the right book gets into the right hands. So here are my top tips to help you select just the right book for anyone on your list.
Below you'll find parts of our "human algorithm" -- the system we designed and that is constantly tweaked by our roundtable of book experts. Our algorithm is made up of many ingredients, including facts, statistics, intuition, a century of combined bookselling experience, and a sprinkle of magic.
And isn't magic what the holidays are about?
1. Really think about the person you're buying for -- start with the obvious things, like their age and gender. This is the very first thing a bookseller would ask you if you came into a store, and it will lead you to a good starting point. Then begin thinking about the person's hobbies and interests -- does she have an appetite for history and long books? Maybe she'd love to sink her teeth into Catherine the Great. Does he love The Daily Show? Then John Hodgman's latest, That Is All, will give him plenty of laughs.
2. Take into account your relationship with this person. How well do you know her or him? You might feel comfortable buying Alice Hoffman's latest heart-wrenching novel, The Dovekeepers, for your sister or best friend, but if you're buying for your office Secret Santa, stick to light non-fiction -- something fun like Robertson's Book of Firsts or Listomania.
3. Look at the bestsellers for ideas -- but only if they make sense for the person you're shopping for. Plenty of people are interested in reading Walter Isaacson's Steve Jobs, but don't assume that just because it's popular, everyone wants to read it. After looking at the bestseller table in the front of the store, or the Top Ten list on the website, continue on and remember tips 1 and 2. The bestseller list is useful because it can often spark other, more personal ideas on what type of book is right for somebody. See that biography of Steve Jobs? Maybe your sister-in-law would like a biography -- but she's a film buff. So instead of Steve Jobs, you find Diane Keaton's book Then Again.
4. Ask for help! If you're fortunate enough to have a great independent bookstore in your area, take advantage of it. Every good bookstore I know of is full of knowledgeable booksellers eager to help. The bookseller will likely ask questions similar to those above. After thinking about your answers for a bit, the bookseller will, no doubt, call to mind a book she remembers leafing through when it first came in the store. She'll put it in your hands and you'll know, in an instant that it's just the right book and you would never have found it yourself.
5. Still stuck or can't make it to the store? Take our Holiday Gift Giving Quiz. Answer some easy and fun questions about the person you're shopping for, and the quiz will recommend three books they'll love. At the end of the quiz you can start a book-a-month gift series for your loved one, choosing one of the recommended books as the first book in the series, and we'll continue to select just the right books for him or her all year long.
The other day I was at Saks in New York City, and as I was waiting looked up and noticed the bright lights and beauty of the holiday decorations (which typically I do not even notice). It took me back to being a little girl in the 1950s when my mother took me "uptown" to Macy's -- I remembered that feeling of entering a fairy tale. That moment came back to me and reminded me of how holidays can still be about magic -- the magic of expressing with a gift your connection -- your appreciation -- your understanding -- of this person who is in your life.

Related
Popular in the Community