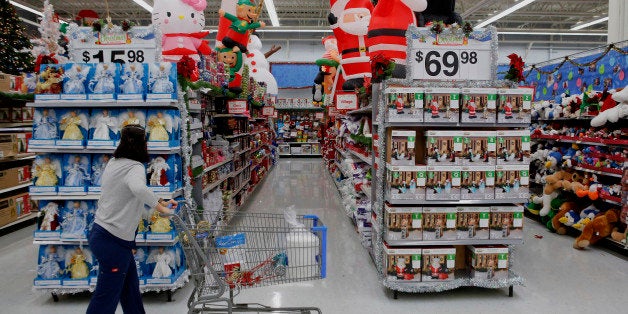 The holiday shopping season officially kicks off on Black Friday, and so begins that annual hunt for the perfect present, at the best price -- and with the fewest poisons.
Store shelves, as consumers have been warned, can be filled with everything from lead-contaminated jewelry and toys, to hormone-disrupting perfumes and lotions. Just in the last month, watchdog groups reported finding potentially toxic levels of phthalates in Spongebob Squarepants vinyl rain ponchos and flame retardants in Toys R Us furniture.
Despite growing recognition of toxic dangers that may lurk in consumer products, avoiding these chemicals is another story. Advocates continue to lament weak and outdated federal regulation of toxic chemicals, even though they cheer incremental gains, such as California's announcement last week that furniture manufacturers will no longer be required to fill their foam with flame retardants starting in January. The controversial chemicals are the subject of an award-winning Chicago Tribune series and a documentary, "Toxic Hot Seat," which premiered Monday on HBO. (In light of this news, people with furniture on their holiday shopping lists may want to consider gifting an IOU.)
"Right now, the dangers are invisible, unlabeled, and a consumer has no basis for making a reasonable and health-protected choice," said John Wargo, an environmental health expert at Yale University. "The onus is on the consumer, who needs to do research product by product," he added. "People don't have time for that and often opt for buying whatever is available."
Some environmental groups are now attempting to make navigating around toxic chemicals easier for concerned shoppers, with a fleet of new consumer guides and mobile apps.
An increasing number of tools are also available for shoppers on the go. Mobile product-rating apps from the Good Guide and the nonprofit Environmental Working Group allow users to simply scan a barcode. The latter, launched in mid-November, offers iPhone and Android versions of its Skin Deep database, which contains data on about 80,000 cosmetic and personal care products.
"A lot of people are surprised when they start scanning," said Heather White, executive director of the Environmental Working Group. The average American uses 10 to 12 personal care products a day, totaling some 126 different ingredients.
Among the most critical ingredients to avoid due to their hormone-mimicking, cancer-causing, antibiotic-resistance-promoting or development-disturbing properties, according to White, are parabens, formaldehyde, triclosan, polyethylene, phthalates and "fragrance."
Fragrance formulas are protected as "trade secrets," so their ingredients are rarely disclosed. White noted that the additives often include phthalates. Research published in November added an increased risk of preterm birth to the list of phthalates' potential health hazards.
"Lip gloss, mascara, perfume. They are popular stocking stuffers," White added. "But there are some serious concerns being raised each day."
An app very similar to Environmental Working Group's is available for mobile phones called Think Dirty. Launched in October, its database includes close to 14,000 products -- primarily "best sellers," according to founder and CEO Lily Tse.
A comparison of the two apps by The Huffington Post showed significant differences between scores on the same products. Edge sensitive skin shave gel, for example, rated 4 out of 10 on Environmental Working Group's app, and 10 out of 10 on Tse's. Higher values mean greater toxicities, according to both scales.
Tse suggested the discrepancy reflects differing philosophies on toxic chemical exposures.
"For myself and many others with chemical sensitivity, it's important to stay away if a certain chemical is present, regardless of how much of it is there," said Tse. In this case, the presence of PEG-90M, triethanolamine and fragrance put the shave gel in the red.
Tse's advice for the holidays: Minimize fragrance use to protect yourself and others around you who may be chemically sensitive. "You don't need to overload to show holiday spirit," she said.
Perhaps no sight or smell represents the holiday spirit more than a Christmas tree. But the season staple isn't without chemical dangers, from pesticides at tree farms to lead and phthalates found in fake plastic versions and on the lights traditionally strung across branches.
Yale's Wargo said he will likely be on the hunt for a Christmas tree this holiday weekend. "I can't bring myself to buy a fake tree. We go to a tree farm every year," he said, choosing one that runs sustainably, without pesticides.
Still, Wargo's family falls short of avoiding chemical dangers. He recalled shopping for an extension cord the other day and seeing the ubiquitous warning label for lead. He said he uses old Christmas lights that are also likely contaminated.
Mike Schade of the nonprofit Center for Health, Environment and Justice, who helped create the SafeMarkets.org website, emphasized the health hazards associated with PVC, also know as vinyl, used widely in fake Christmas trees, lights and in products wrapped and put under trees. He called PVC the "poison plastic."
"From production to use, to disposal, it releases harmful chemicals that are building up in our bodies and are linked to chronic health problems on rise," Schade said, listing links to cancer, learning disabilities and obesity, among other conditions. He noted that heat from lights can encourage chemical additives to leach out.
Phthalates and lead are among chemicals that have been commonly added to PVC to soften and stabilize the plastic. While some companies have eliminated those chemicals, scientists are finding that organotins and other replacement additives may be toxic, too.
"We don't want to be a grinch," Schade said. "We just recommend consumers avoid purchasing trees, toys or infant products made of PVC, even if they are labeled lead or phthalate-free."
A potential red flag are items imported from China, added Schade. Several such products have been found in recent years to be contaminated with lead or elevated phthalates.
"But just because it's made in the U.S., doesn't mean it's necessarily safe," Schade said. "Our chemical safety system is broken."
Even the patches in place to help protect consumers, advocates warned, are far from foolproof.
While laws restrict certain chemicals from products aimed at younger children, for example, Penelope Jagessar Chaffer warned that parents also need to be cautious about what they bring into the home for older members of their family. Play jewelry gifted to a teen girl, for example, may find its way into the hands and mouth of a more vulnerable little sister or brother.
Jagessar Chaffer is the director of the film "Toxic Baby," which will be released next year as an innovative iPad app with additional footage, an interactive map of toxic sites across the country and an encyclopedia of information on toxic chemicals. One of the awards for pledging to her soon-to-launch Kickstarter crowdsourcing campaign will be a toxic audit -- available for Christmas or New Year's.
"People do tend to buy a lot from Black Friday onward," said Jagessar Chaffer. "I can help them navigate what presents to get, what they bring into their home."
She added that if people plan to purchase big-ticket items during after-Christmas sales, she can also help them manage toxicity levels or even decide if now is the time to buy an air filter or HEPA vacuum.
It's this rise and dispersal of information that experts and advocates said they believe is the key to solving our toxic chemical woes.
Wargo likened it to the evolution of organic food. That was caused, he said, by "widescale recognition among consumers that pesticides are potentially dangerous."
"As more people are educated, our hope is that they'll take action to move the market," said Environmental Working Group's White. "As the market changes, we hope the political climate changes -- giving more hope for revising our outdated law."
"We can't shop our way out of this problem," White added.
Calling all HuffPost superfans!
Sign up for membership to become a founding member and help shape HuffPost's next chapter
BEFORE YOU GO
PHOTO GALLERY
EWG's List Of Cleaners Hall Of Shame