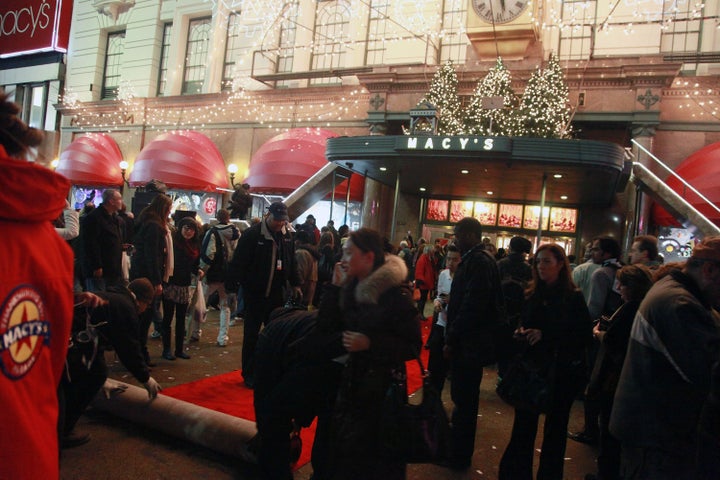 Going head-to-head with online retailers in a squeezed economy, stores like Walmart and Best Buy have focused on low prices and minimal frills. But there is another option: dazzle customers into spending more.
In December, Macy's flagship store in New York City transforms into a Christmas theme park. Glittering signage, jazzy piano soundtracks, pine tree fragrances and an army of elves at "Santaland" make it impossible to forget the time of year. "Believe," the store's bags remind shoppers.
If the latest retail numbers are any indication, this year's shoppers are a hard sell. Online or non-store retail sales increased 1.5 percent in November, while overall sales ticked up just 0.2 percent, the smallest jump during that period since 2008, the nadir of the recession, according to U.S. census data released Tuesday.
While luxury retailers have always tried to wow clients with unique store experiences, now even middle-brow retailers have to work to get customers in the door. On a recent Saturday at the Short Hills Mall in New Jersey, Ann Taylor -- known for outfitting middle-aged middle managers -- offered complimentary champagne to shoppers. High-end jeweler Bulgari also offered bubbly.
"The New Ann Taylor," as its ads proclaim, also put DJs in 225 of its LOFT stores and 25 of its Ann Taylor stores for holiday sales events. "We look at [the holidays] as our peak season," said Devon Stein, the director of Events for Scratch, the company that books DJs for Ann Taylor events. "[Having a DJ] brings traffic into stores and puts shoppers and employees in a good mood."
Even if shoppers don't admit it -- or know it consciously -- they seem ready to pay for comfortable experiences. Department stores did a bit better than other types of retailers in November. Meanwhile, BestBuy, which barely decorates for the holidays and focused on high-profile Black Friday discounts in November, saw its same-store sales rise only 0.3% in the third quarter.
In 2008, retailers slashed their marketing budgets, aiming to stay competitive by cutting costs. While budgets have not recovered overall, "smart retailers are spending, just as they expect their customers to spend," said Donna Sturgess, president of Buyology, Inc., a New York-based branding firm. "In the past several years, stores have begun to turn their attention not just to merchandise but to the whole environment," she said.
Macy's has worked hard to maintain its pre-recession image. In 2008, CEO Terry Lundgren told NPR's Marketplace that despite the economy, the department store did not want to be known only for low prices and sales.
"Shoppers are attracted to stores for their merchandise, but also for excitement and enjoyment of the experience. It's been called the 'theater of retail' because the customer wants to be entertained, appreciated, or even surprised while she's shopping," said Holly Thomas, Macy's vice president of media relations and cause marketing.
With the most foot traffic of the whole year, the holidays are a time when stores can creatively sell in ways that sterile web graphics cannot. Macy's works with DMX, a multi-sensory branding company, to create the holiday-themed sounds and smells -- including pumpkin pie and pine cone scents that it disseminates in its stores.
Branding experts maintain that these extra touches are good for business. "Smell enhances the customers' moods and keeps them in stores longer," said Jaime Kane, scent project manager at DMX.
Shoppers interviewed at Macy's flagship location expressed a more mixed view. Kimberley and Tim Kleczka of Villanova, Pa., come to tour New York City department stores every year to see the window displays. "Macy's is classy," said Kimberley Kleczka. "Color is important, so are smells." Tim Kleczka added that he enjoys the live piano in Nordstrom, a feature that the company is retiring this year.
But the Kleczkas insist that they don't make any impulse buys on the trips just because a store is nice. "We know what we're looking for and buy it where we want," Kimberley said.
Another couple, Jim Micallef and Kathy Soloway of Bayonne, N.J., also come to the Macy's flagship store just to check out the scene. "You find what you want here, then you buy it on Amazon," Micallef said matter-of-factly.
Micallef, meanwhile, said he doesn't even bother to check prices at Macy's. "Everyone buys on the Internet now," he said. "Even my kids make their lists on WhatIWantForXmas.com!"
Still, the fact that the Macy's flagship remains a tourist destination can't hurt business -- more traffic means more spending, even if shoppers set out with more frugal intentions. In November, Macy's saw same-store sales increase 4.8 percent, beating many of its competitors. On Nov. 1, it announced a $400 million renovation of its flagship store.
"Macy's does Christmas well," said Donna Sturgess. "The arches of red, the people bustling. Then the music hits you. It feels like Christmas. It feels like there's no economic downturn."
Related
Popular in the Community