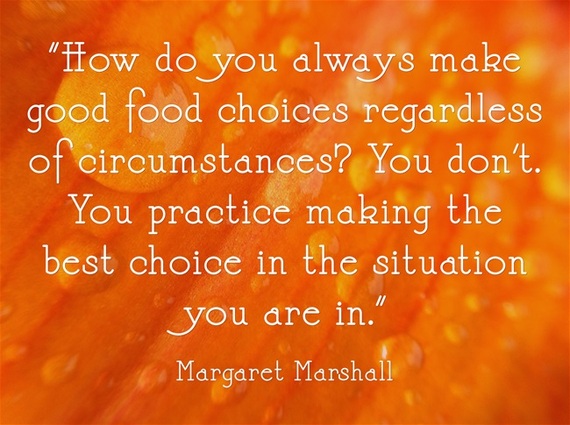 December can reach both sides of the spectrum by being the most exciting and fun month, or the most depressing and lonely. It's the month that people gain the most weight.
For four consecutive weeks, we are faced with stressful situations and stressful people. We attend gatherings and office parties and celebrate holidays. Each occasion offers excess food and drink. Your body reacts to good and bad stress, and this month can offer both. Either way, the way you treat yourself in December will help you handle the season more effectively.
You might have time restraints and much to accomplish. Financial burdens always seem worse during the holidays. You may feel apprehensive about seeing certain family members or missing loved ones, and those who are sick or hospitalized during the holiday season cause everyone heartache.
"Do not deal with a temporary situation using permanent behavior," I always say.
December and the holidays will only last a month, and if you eat or drink to excess to deal with stress, the effects will be long term. It seems this time of year I have this conversation with many clients.
Alcohol is a depressant and can disguise any joy that you might experience. It can affect your ability to sleep soundly, which can influence your mood and health. Alcohol can slow the rate of or completely stop a weight loss.
"The main problem with holiday drinking is that people are often drinking for longer periods of time than they normally do, and they're staying up later than they normally do. They may not have a good frame of reference for how the alcohol will affect them," says Dr. Dennis Twombly, a scientist at NIH's National Institute on Alcohol Abuse and Alcoholism.
My theory is your first thought is impulse, but your second thought is common sense. Think twice before deciding how much to drink or eat. Give it a few minutes and let your common sense enter to calm your impulse.
Common sense encourages us to be wise in our food and alcohol choices, and to have a plan for parties, shopping, and people who cause stress. Be prepared for situations that in the past have lead to impulse or binge eating and drinking, and always expect the unexpected.
Think of your outcome first. Ask yourself, if I overindulge, where will it lead me, or how will I feel after? Your outcome is more important than any beverage or food item.
Search out and spend your holidays with people whose company you enjoy, sit with them at gatherings, and keep others who cause you stress at an arm's length. Again, remember your outcome.
Find other ways to release stress. I believe the spirit of giving is the strongest during the last month of the year. Think about how you can help others. You may be surprised that helping others is a powerful stress release. Keep your holidays joyous by spreading love to yourself and others.
Here's wishing you a happy, healthy, and stress-less holiday season, full of love and joy!