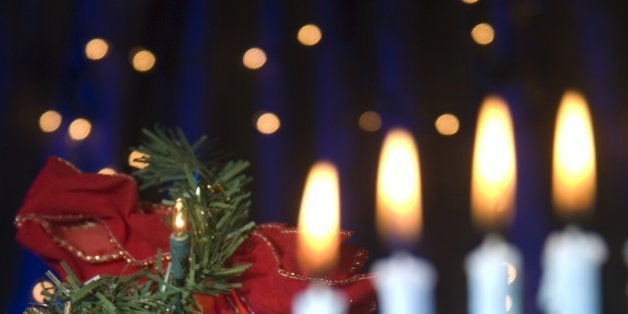 Family gatherings, gift-buying, work events, travel, relationship etiquette and more can take its toll. Late November through the beginning of the New Year presents many of us with a lot of pressure and worry. The 'joyous' holidays have a bit of a reputation for bringing up family drama, negative attitudes, debt, poor self-care, anxiety, and work & relationship strains - just to name a few things!
Here are a few of my favorite tips for getting through the holiday season with more ease and joy:
Stay on schedule! Repeat after me: "I am the master of my schedule". Repeat it, feel it, live it. Don't let holiday demands throw you off course. Pick and choose your social and family obligations so you can maintain your normal schedule as much as possible. It is completely acceptable to be selfish with your time. If you want to skip your neighbor's holiday cocktail party because you have to be up early for work in the morning, then skip the party. If you want to use vacation days for an actual vacation instead of trekking to your family potluck, then by all means take the vacation. You decide what works for you- and proceed with confidence!
What is most important to you this holiday season? Is it family gatherings, traditions, having a day off from work, or something else? Whether it's one element or several special factors -- do not jeopardize what's most valuable to you. Be sure to keep your most meaningful element(s) in the mix this season, even if you do nothing else.
What do you want to avoid this holiday season? Is it family tension, blowing your holiday bonus on gifts, awkward workplace parties, etc? Make a plan right now to make peace with what ticks you off. The key here is to think things through and plan ahead so you can get through it and maybe even make the most of it. Or bypass anything that causes unnecessary stress as long as there are no repercussions.
Budget! The holidays are rarely worth going into debt for. If you plan on exchanging gifts, giving holiday tips, or attending holiday events that require special dress, transportation, babysitting and other expenses -- plan ahead, figure out a budget and stick to it. In a nutshell, figure out who you will give gifts/tips to, list gift ideas and the amount of money you want to spend so you can keep things in check. (Pun kind of intended). If you have any special occasions where you might incur other expenses such as travel, dressier/warmer clothing, hosting a holiday party, etc - consider these costs in your holiday budget too.
Gratitude! That's what the season is about! You may easily find gratitude, detest the holidays, or some degree in between. Whatever your mood, I urge you to practice appreciation for the holidays or yourself... but mostly yourself! Authentically being grateful is a skill and the best way to experience it is to consciously practice daily. You may not become a holly-jolly holiday cheerleader, but I promise your outlook will change for the better and you will feel happier well beyond the season. Some of my favorite suggestions for practicing gratitude include:
Gratitude journal: Every evening write down five specific and different things you are grateful for.
Counting your "blessings" or good fortune: Every night taking inventory of three things that happened in the day that you are grateful for. Acknowledging (to the universe and/or out loud) that those things made your day and say at least one thing you will look forward to tomorrow.