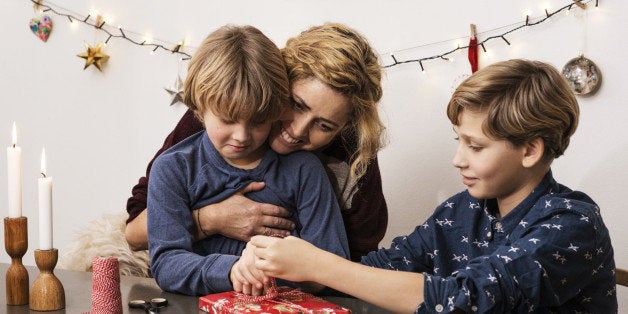 One of the most difficult challenges for families experiencing transitions such as separation and divorce occurs at holiday times, particularly when it is the first event after a family transition. Whether it is Hanukkah, Kwanza or Christmas, there is such hype about the holidays and the picture perfect image created by the media that the meaning and what matters most to children is lost. This is not unique to families in transition but relates to most families. The children and teens who volunteer at our center always remind us about what children and teens really want at holidays, as do the parents with whom we work. I hope their thoughts and comments that I summarize can contribute to a happier holiday for you and your children, one in which all of you truly celebrate each other.
1. Children and teens want to retain the fantasy of the holiday -- the picture perfect notion of parents being together, celebrating the excitement, surprises and traditions that make the holiday special. Most kids say that they are excited about the latest electronic gift but what matters most is that their parents are there for them.
One parent recently shared last year's Christmas morning with a group of parents. "I didn't think I I could do this but I did this for my four kids. I invited their other parent to brunch. I set strict times, limited it so that we would just eat together and open gifts. We made a commitment to be respectful." The children, ages 8, 11, 15 and 18 commented that while they loved their new gifts, they loved seeing their parents together without fighting.
Setting a brief time dispels wishful thinking about a prolonged celebration.
2."Don't make me travel half the day," said one young teen. Another child said, "I feel so alone, why can't my parent come and visit me." Unless traveling together as a family, having to get on a train, bus or plane the day of a holiday is no fun.
Children in one support group came up with creative ways to spend time with each parent. The parent with a child may visit a friend, enabling the co-parent to spend private time with their child. Another possible solution is celebrating the holiday on another day.
3."The worst," a 13-year-old girl said, "was being told that my parent's new significant other was spending the holiday with us. I feel like this person is going to be in my face -- it rubs it in that my parents aren't going to be together anymore."
Other kids informed this teen that the first such celebration is the most difficult.
The hope is that parents love their children more than they dislike each other. Taking the high road, such as including another parent in a brief gift opening is one activity that reassures children and keeps the focus on them.
Try to refrain from introducing children to significant others during this time. Some children are still grieving and aren't ready to be happy for their parent. Children, regardless of age, want to remain first in their parents' lives.
Support your children's relationships with extended family members from both sides. Being together at holidays also reinforces traditions that have been part of the children's lives. Encourage both parents to support each other in a cooperative co-parent relationship.
Allow your children to grieve. If this is the first occasion since the separation, all of you may feel sad. It is all right to cry. Being with your child in the moment, perhaps not even saying a word, conveys that it is all right to feel whatever they are feeling.
Try to keep some of the most meaningful traditions you shared with the children. Include the children in creating new traditions. One family combined a new and old tradition. The old tradition was thinking of and giving to others; the new one was doing a physical activity together. The family decided to do a run to support children suffering from cancer.
In a world of turmoil, fear and dealing with many unknowns, children more than ever need your love and attention, certain that you are there for them and always consider their needs.
Best wishes for a peaceful, healthy and happy holiday!
Related