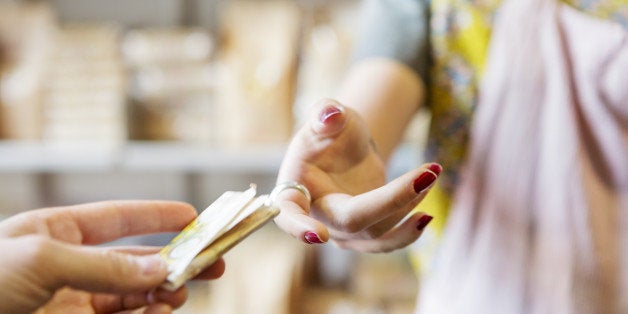 Tis the season for eggnog, good tidings, and exchanging gifts with family and friends. It also includes expressing gratitude to those that provide a much-needed service throughout the year. From your children's teacher to your mail carrier, the list can easily get out of hand.
The first rule of thought is to gift and tip within your budget. No one wants to see you struggle to tip through the holidays if you have just lost your job, or you are having trouble paying the rent. But if you are in a position to give a holiday tip to those who have given you loyal service, by all means do so with consideration and good judgment. Here are a few things to keep in mind...
Put your thoughts down in writing. Everyone has different lifestyle preferences and providers. One person may use a hairstylist once a week while another person may visit the salon every three months. Adjust the tip accordingly. If you don't see them regularly and they can't remember your name, you may opt to skip the tip. If you enjoy a close relationship regardless of frequency, drop a tip by the salon or put it in the mail, generally the cost of one service.
Don't feel obligated to give cash. If money is tight this year but you want to do something to show your appreciation, give a gift that you know will be meaningful. Perhaps a pot of fresh herbs from your garden to someone who likes to cook, or a basket of scones and homemade jelly or walnut fudge for the person with a sweet tooth. No apology needed for not giving money.
Check the tipping policy before you proceed. When in doubt as to whether someone can legally accept a tip, call the company and ask about their holiday tipping policy, or refer to their website. Your intentions may be good, but you don't want to put the other person in jeopardy of losing their job by accepting a tip.
Who gets a tip? A tip is generally given to a service provider, rather than your doctor, lawyer or periodontist. Here is a list of a few commonly tipped providers.
Children's Teacher - Usually funds are collected at the beginning of the year to buy a class gift. If not, give a gift rather than a tip. Don't forget the teacher's aide who spends a great deal of time with your child as well. Gift cards to stores that sell a wide variety of items are also a good option.

Babysitter - Give a holiday tip equivalent to pay for a day or evening of babysitting, or a gift card with a handmade card from your children.

Nanny - A live-in nanny or a nanny that spends most of the day with your children is invaluable. One week's pay and a special gift or card from your child would be appreciated.
Boss - It's best to pool your resources with the office to give one office gift. Or, bring a batch of your special fudge to share with the entire office. Make an extra tray for your boss to take home to the family.
Building Handyman - If they have saved you in the middle of the night when your toilet was overflowing or jumped your car more than once when you forgot to turn off your headlights, a holiday tip of $20 to $50 would be helpful.
Pet Caretaker - Our pets are our family and someone that takes care of them while we are on a trip, or walks the dog on a regular basis is worth their weight in gold. The tip of gold is not necessary, but a tip of one day's service would be a thoughtful gesture.

Housecleaner - If you use a service, and you don't see the same person on a regular basis, or the person is brand new, you may not feel obliged give a tip at all. If you have a relationship with the person(s), or they come weekly, consider a gift card per person or a tip equivalent to one visit.
Beauty and Health - Hair stylists become our confidants, barbers our sounding boards and personal trainers often double as counselors. It would be uncomfortable to arrive empty handed the last week of the holiday season. A tip of one service or a gift that has personal significance would say "Happy Holidays" and "Thank You" for your loyalty.

These are just a few of the people who will probably make your list this year. For a more extensive guide, visit my article Holiday Tipping: Recommendations from A-Z.

And, finally, don't forget to include a personal note wishing the person you are tipping "Seasons Greetings," communicating your appreciation for a year of great service. Remember, it's not very festive to slip your barber a $20 without a card or note attached.
Related