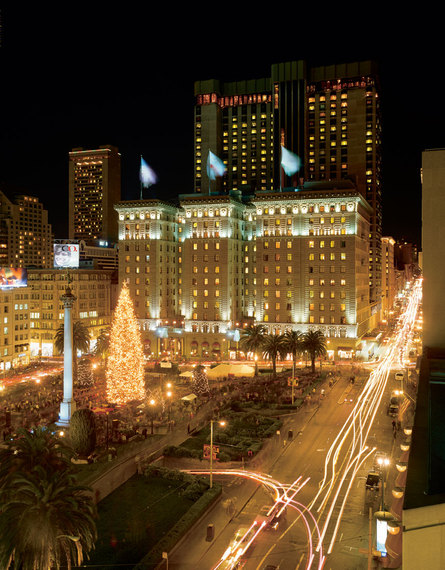 Until I had children of my own, I never fully appreciated the beauty and importance of family traditions. Much to my delight, my daughters are at an age where they look forward to the many traditions that we have created over the years. One of our all-time favorite holiday activities is our annual getaway to San Francisco in December. There is no place that we'd rather be than enjoying the sights, sounds, smells and magic of Union Square during this festive season.
Our favorite hotel, the historic Westin St. Francis, sits right in the heart of Union Square and always dazzles our senses with its beautiful holiday décor. I often feel like a small child as I enter the historic Landmark Lobby of the hotel for our weekend getaway because each year, we eagerly anticipate seeing the magnificent 12-foot sugar castle, which has become a part of our holiday festivities since its inception in 2005. Resembling a French medieval city, the sugar castle weighs in at over 1,300 pounds and features more than 20 grand circular towers, approximately 30 rooms, glowing windows and a running train. Each year, Executive Pastry Chef, Jean-Francois Houdré and his team add new additions to the castle and we were told that this year's creation will feature the top newsmakers over the past century in celebration of the hotel's upcoming 110th anniversary on March 21, 2014. Our family is already looking forward to locating and identifying these life-like elf replicas of politicians, celebrities, athletes and well-known personalities! I have an inkling of our favorite parts of the display will be the brand new snow village with an ice-skating pond where little elves can be seen having fun in the snow and sliding down the hillside!
If you have the privilege of visiting San Francisco during the holiday season, I'd love to share our family favorites, which may inspire your next holiday tradition!
Top Family Friendly Adventures in San Francisco during the Holiday Season:
Safeway Holiday Ice Skating Rink
As a family, this is our all-time favorite event during the holiday season. This magical, winter wonderland stays open through January 20th and provides hours of fun. After the 90-minute ice skating session, grab a cup of hot cocoa and cuddle up with the ones you love to watch the young and old come to life on the rink.
Macy's Christmas Tree in Union Square
Stand under the magical, 83-foot tall Christmas tree, which towers over the Ice Skating Rink and take a family photo for the memory books! This has been a San Francisco tradition for 24 years and one that I personally cherish.
Lighting of the Menorah
While our family is not Jewish, I feel strongly about teaching my daughters to respect the traditions of other families. Take a stroll through Ghirardelli Square where you will experience the lighting of a nine-foot menorah while celebrating with music and good company.
San Francisco Ballet Nutcracker
From December 11th through the 29th, the San Francisco Ballet presents their sparkling production of the "Nutcracker," a beloved family classic year after year. This is a great opportunity to expose children of all ages to the magnificent world of ballet.
Exploratorium
Transport yourself to another time and place when you enter the Exploratorium in its grand new place on the Embarcadero, which provides an amazing platform for learning, thinking, tinkering and exploring. For the past forty years, the Exploratorium has been building creative, thought-provoking exhibits, tools, programs, and experiences that ignite curiosity, encourage exploration, and lead to profound learning. Now it's more than triple in size!
The Walt Disney Family Museum
Visit the Walt Disney Family Museum in December for the film of the month, "Christmas with Walt." Your family can take a peek into Walt's life during the holidays--with his family, at the studio, and at Disneyland. This Don Hahn produced film is exclusive to the museum and includes rare Disney family footage, film clips, scenes from television specials, and vintage commercials.
San Francisco Fire Truck Tours
Hop onboard a shiny red fire truck where you will be whisked through some of San Francisco's most festive and decorative holiday locations. Authentic fire gear is provided for those who wish to keep warm as they get into the holiday spirit! This is a must-do for those with little ones in tow!
San Francisco Cable Cars
Experience the holidays in San Francisco by cable car that takes you to many well-known sights including Fisherman's Wharf, Ghirardelli Square, Chinatown, North Beach, Union Square and more! Bring a warm jacket, blankets, hot cocoa and the ones you love to experience the historic cable cars of San Francisco.
Happy holidays from my family to yours and best wishes for the New Year!