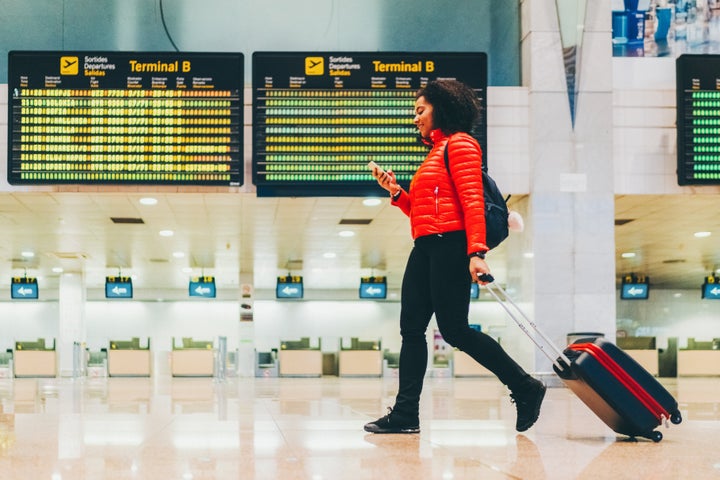 Holiday travel can be a stressful endeavor. Between the airport crowds, premium prices and the emotional toll in pursuit of "holiday magic," our end-of-year traditions come at a cost.
But there are ways to cut down on the travel expenses and keep stress to a minimum. It just takes a little planning and budget savvy.
Below, experts to share their advice for tackling 2023 holiday travel like a pro.
Generally speaking, you want to book ASAP.
"Limited airplane seats exist for Thanksgiving and Christmas travel, and they tend to fill up quickly," said Phil Dengler, co-founder of The Vacationer. "Waiting until the last minute increases your odds of having to pay a premium as well as the possibility of not finding a desirable flight."
He recommended booking holiday flights by the end of September if possible for the best deals.
"I view Halloween as the cutoff date for getting a reasonable price on a Thanksgiving flight," Dengler added. "After Halloween, prices will increase considerably as Thanksgiving gets closer. For Christmas flights, you should really book before Thanksgiving, but the best deals are between now and Halloween."
Katy Nastro, a travel expert and spokesperson for the flight alert service Going, pointed to the idea of the "Goldilocks" window ― booking travel far enough in advance but not too far. Your likelihood of finding a great price diminishes once you pass that window.
"If you are considering traveling for the winter holidays this year, do not wait much longer," Nastro emphasized. "Wishing and hoping holiday prices will magically decrease the week before is not a good idea, and you may not just find expensive flights but extremely expensive flights."
If you're heading to a popular destination, book your accommodations, tours, rental cars and other important arrangements ASAP as well.
"Demand for holiday travel is high, and hotels in all different kinds of destinations, from beach hotels to ski resorts, are filling up quickly," said Laura Motta, digital editorial director at Lonely Planet. "Expect deals to be hard to come by unless you're planning to avoid the holiday dates themselves and travel before or after."
Monitor for better deals or price changes.
Even after you've made your bookings, feel free to continue monitoring the prices to see if a better option arises.
"Track prices to get a great deal," advised Laura Lindsay, a travel trends expert at Skyscanner. "Like prepping the perfect turkey feast, when it comes to getting the best price, timing is everything."
She pointed to the price alerts feature on Skyscanner, which can keep you up to date on changing costs for your saved routes.
"Flight prices evolve as airlines track interest in routes and add capacity to meet demand, allowing them to fly at scale to the most popular destinations," she explained. "A route which may be close to being sold out might be allocated more capacity (flights or seats) nearer to departure, and this often drives the price back down for a time as the balance between supply and demand shifts back in favor of the passenger."
Advantage Rent-A-Car's vice president of operations, Elie Michaels, similarly recommended that travelers make their holiday car rental reservations early to secure the car and rate, as companies can run out of cars or escalate the prices as the winter holidays approach.
"But it is also recommended to continue browsing the travel websites leading up to the holiday period to see if you can find better deals simply because sometimes things change and the demand gets shifted, which could drive prices down," he added.
Try to avoid flying on the busiest days.
According to the Transportation Security Administration's daily passenger screening numbers, the busiest travel days of the year are typically around Thanksgiving and Christmas.
"The worst travel days for Thanksgiving will be Wednesday, Nov. 22, and Sunday, Nov. 26," Dengler said. "Those are always the busiest days for Thanksgiving travel, and I expect the same for 2023. If possible, fly as far in advance of Thanksgiving as you can."
He similarly expects the busiest travel days around Christmas to be Dec. 21-23 and Dec. 26-27.
"The goal is to fly as far in advance of Christmas as possible as well as waiting a few days after to fly home," Denger said, suggesting Dec. 18-20, Christmas Eve or Christmas Day (which tend to be cheaper) for your outgoing flights and Dec. 28 or 29 for your return.
"If your schedule allows, try to travel a few days before school lets out in your area," advised Jessica van Dop DeJesus, founder and editor at The Dining Traveler. "Midweek is always better than flying out on a Friday."
Give yourself extra time for delays.
"Between the weather being unusual this year, high travel demand and understaffed airlines, it's important to have contingency plans in place for flight disruptions or cancellations," said Gabby Beckford, a travel expert and founder of Packs Light. "Flying during the week on less popular days and times as much as possible helps mitigate some of these issues and gives you more backup flight options should something go wrong and you need to reschedule your flight."
Try to fly a day earlier than you need to arrive if possible or choose a day's first flight out. Building in extra room for last-minute changes can be a lifesaver.
"In addition to generally being cheaper, very early morning flights tend to experience fewer delays and cancellations, which is not something you want to deal with during the holidays," Dengler said. "Aim for flights at 8 a.m. or earlier if you can swing it."
Give yourself buffer time on your actual travel day as well.
"When making holiday travel plans, it comes as no surprise that airports will be more crowded and stress levels will be heightened, so it's smart to plan and prepare for delays, traffic and longer queues," said Melissa DaSilva, president of Trafalgar, North America.
Avoid checking a bag if possible.
"If possible, do not check a bag if you are flying during the 2023 holiday season," Dengler said. "With a record number of travelers expected, baggage drop lines are going to be very long. Additionally, airlines lost and misplaced a lot of bags last year."
Baggage delays can be particularly annoying during the holiday season when many people are traveling with gifts for loved ones.
"With the increase in passengers flying to their holiday travel destination also comes a higher risk of lost or damaged luggage," DaSilva said. "Travelers should consider shipping their gifts directly to the final destination and travel lighter via carry-on to not only save money but also time and stress."
Consider mixing and matching flights.
When it comes to making travel plans at any time of year, flexibility can pay off in all aspects of transit.
Consider mixing and matching different airlines and broaden your search to include multiple airport options, for example.
"Look at flying out with one airline and back with another or out of one airport and back into another," Lindsay said. "Comparing and contrasting dates, providers, departure airports and destinations will enable you to find the best deal available for your needs."
Don't be afraid to think outside the box.
"The best time to book holiday travel largely depends on what destinations you are visiting," Lau said. "For the majority of the time, planning six to nine months in advance can help ensure that all of the activities, tours and accommodations you are interested in are available. However, if you are visiting places that are off the beaten path, you might often find last-minute getaway deals and discounts."
Don't be afraid to think outside the box with your holiday plans.
"Thanksgiving is a great time to travel internationally," Dengler said. "Many countries do not celebrate Thanksgiving, which means you'll be traveling during a non-holiday period. Many great flight deals are available to hotspots like Italy and France."
Lindsay recommended making use of Skyscanner's "Everywhere" search function to discover new destinations you can visit at a low cost.
"Ordered by lowest to highest price from your departure airport to destinations around the globe, an Everywhere search can inspire you to go somewhere you've never been before, and for a lower price than many traditional destinations," she said.
Support HuffPost
A No-B.S. Guide To Life
Popular in the Community