My cheerfulness sounds forced to me as I chatter incessantly on the way to the airport. There is little traffic, and for once, I wish for a delay, just a short delay so I can sit beside my son a little longer. I pull up to the terminal and get out to say goodbye, wrapping my arms around him and wishing him a safe flight.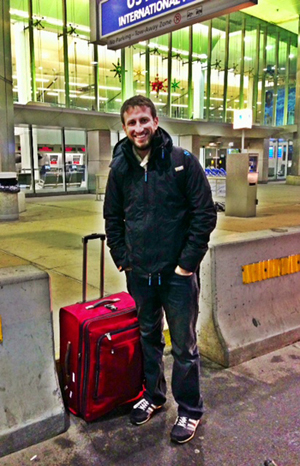 "Don't forget to text me when you land," I call out as he lugs his bag over the curb and makes his way to the entrance. He turns to wave, then disappears into the crowd of holiday travelers.
And with that, the last of my three children has left the family nest for a home many miles away.
I come back to a house that is much too quiet, devoid of the shrieks of laughter, good-natured ribbing and late night comings and goings that marked my children's stay over the holiday season. My husband is already going from room to room, picking up a stray sock or an empty soda can, getting our house back in order. Tomorrow I will return to my normal routine, but tonight, I will wallow in a bit of sadness.
My son and two daughters have grown up to be delightful young adults, funny, thoughtful, affectionate. We have great times together.
Problem is, we just don't see each other all that often.
For the past six years, my son Evan has lived in England, a whopping 3,500 miles from our home outside Philadelphia.
Last June, my daughter Emily moved to Montana, just a hop, skip and a 2,200 mile jump from home.
And Laurie, my youngest, lives the closest, just 100 miles away. But it wouldn't surprise us one bit if her next move takes her just as far away as her siblings.
Where our children get this wanderlust, don't ask me. I'm pretty much a homebody who thinks the best part of a trip is coming home, and my husband feels the same.
I'm reminded of the lyrics sung by the artist Carole King: "So far away, why doesn't anybody stay in one place anymore?" Families used to stay together, sometimes out of necessity but other times just because... well, because that was home. For some, multi-generational households made sense, financially and otherwise. Growing up, most of my relatives lived nearby.
My husband and I raised our family just an hour from my hometown, where my parents still reside. In my mind, that's the way things should be. An hour away is about right.
My husband is sympathetic -- to a point. He misses them, too, but is adjusting quite easily to being an empty nester. I have mixed feelings.
In a way, I would prefer my little chickens to repopulate the coop. But in my heart of hearts, I know that's not the way it should be.
Because as much as I miss them, I am proud of them for being self-confident and adventurous. I admire their sense of independence. I love that they are savoring new experiences and learning about different parts of the world. Knowing that they are healthy and happy and living life to the fullest is truly the best feeling a parent can have.
And in their absence, new technologies and social media have given us unexpected ways to stay in touch. If we can't reach out and hug each other, Skype, Facebook, texting and Instagram are the next best things.
I don't know when we will be together again, but we've got their rooms ready. Just in case.
Related
Popular in the Community