If you're worried about holiday weight gain this year, you might have cause for concern: It seems weight gain surrounding festivities is a nearly universal truth, according to research conducted in Germany, the U.S. and Japan.
Discussing their findings as a letter to the editor in the New England Journal of Medicine, researchers found that citizens of these three countries put on weight at different times of year, each time corresponding to specific holiday celebrations in each country. This may come as a surprise to those who believe that weight gain in the holidays is a unique phenomenon in the U.S., or even only in the West.
The common denominator in all three countries was the Christmas-New Year holiday. The first 10 days after Christmas led to the highest average weight increase for all three groups: Americans gained an average 1.3lbs, 1.8lbs for Germans and 1.1lbs for the Japanese.
But the study also found that Americans gain weight during Thanksgiving, too, while for Germans the equivalent is the period around Easter. And for the Japanese, the bump happens surrounding a holiday period in the beginning of May called the "Golden Week."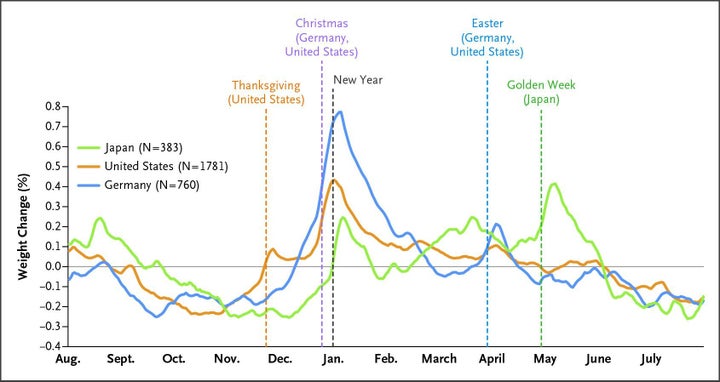 Researchers chose the three countries because they represent different continents, said co-author Elina Helander, a postdoctoral researcher at Tampere University of Technology, Finland.
Her study included 3,000 participants in all three countries who were given wireless digital scales to monitor their weight every day for a full year, starting from August 1, 2012. The researchers then assessed changes in the participants' weight compared to their initial weight.
The most interesting discovery the researchers made was that, while people would shed around half of the weight they gained during the holiday season almost immediately, the other half would remain intact well into summer and even longer.
Of course, seasonal variations in weight could also be at play: Studies show that most people exercise less and eat more during the winter. But the researchers said that holidays specifically accounted for at least some of the weight gain in the study.
"Holidays are sharper peaks, whereas seasonal (gain) is associated with slowly varying trends," Helander told HuffPost. In other words, we gain weight more abruptly during a holiday period, while weight changes over a season tend to fluctuate more slowly.
Overall, the study confirms what people suspected for a long time: gaining weight over the holidays is real almost everywhere. But instead of frustrating us, this fact might actually help us get more savvy with our food next time we get into festive mood.
Clarification: Language has been updated to clarify that the research was published as a letter to the editor rather than a study.
Related