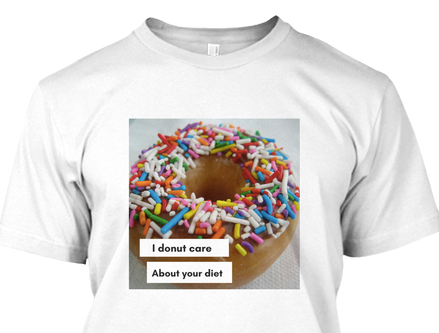 Want to spread the body-positive and non-diet love this holiday season? I've got an awesome lineup of gifts that will do just that.
Because no one should have to obsess over trying to change their body or spend their valuable energy on diets, here are some gift ideas that help the recipients to accept themselves-just as they are.
1. I Donut Care About Your Diet Apparel by Jennifer Rollin, MSW, LCSW-C.
As an eating disorder and body image therapist, I created this line of apparel for people who are not looking forward to braving the "diet talk" that can often come up around the holiday season.
Spread the non-diet and "all foods fit" message with these t-shirts and tanks.
This is an easy way to let your family know that you aren't interested in hearing them talk about their diets, this holiday season. Because honestly, I can't think of a more boring subject.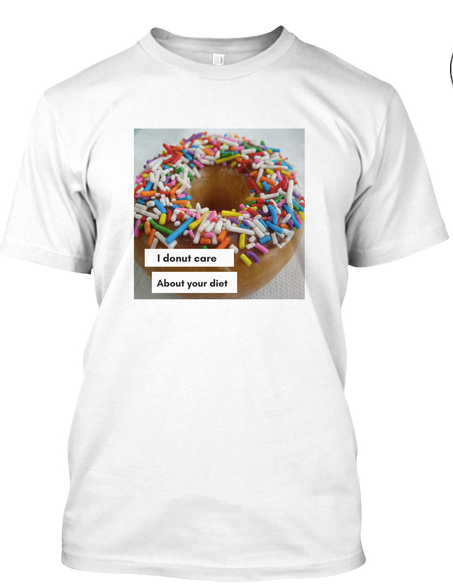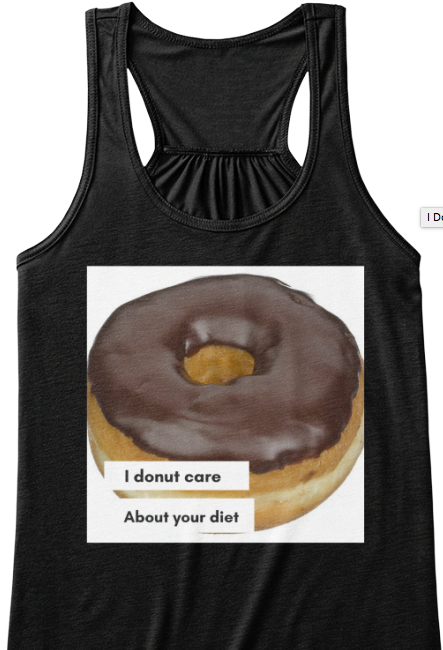 2. Body Kindness by Rebecca Scritchfield, RDN.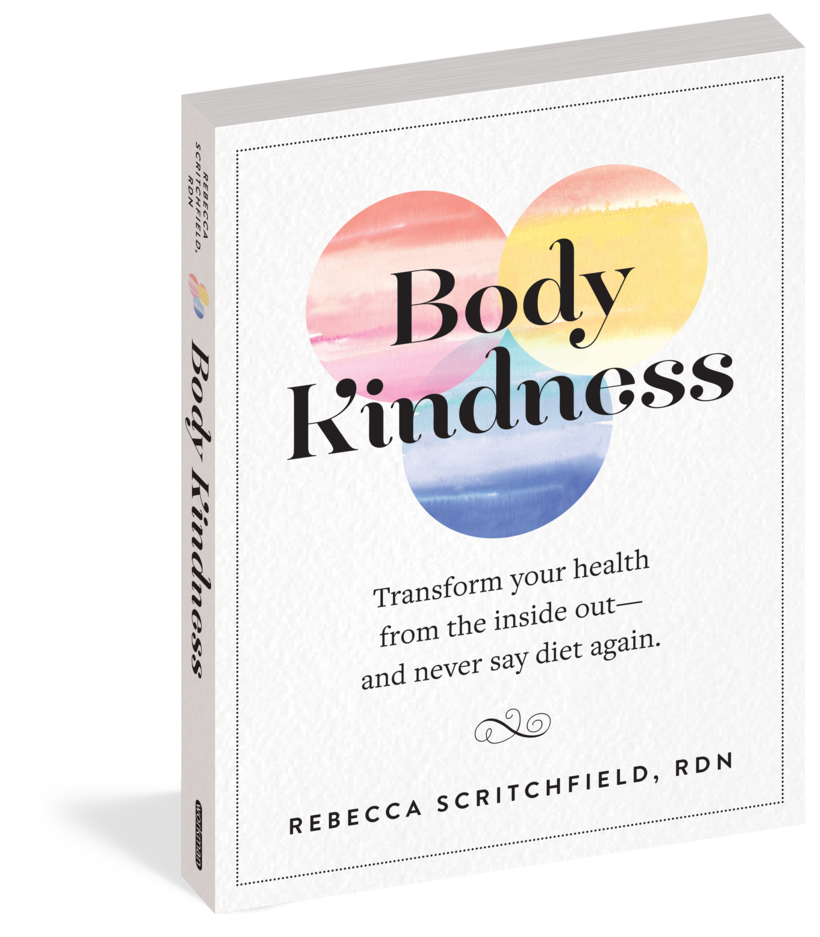 "I believe all bodies are good and people should be free to choose habits that fit them best. When you make choices from a place of love, connect to your body, and fully commit to taking care of yourself, you spiral up in energy and mood," says Rebecca Scritchfield, RDN.
Rebecca is an awesome dietitian based out of the Washington D.C. area who provides fantastic tips for transforming your mental and physical health from a place of kindness, rather than self-punishment.
This book is a must-read for anyone looking to enhance their health and well-being in a compassionate and sustainable way.
3. Body-Positive Art by Rachele Cateyes.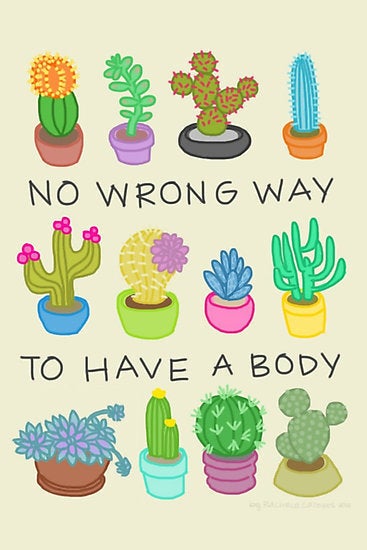 I'm obsessed with this collection of body-positive art by the amazing Rachele Cateyes.
4. The Diet Survivor's Handbook by Judith Matz, LCSW, and Ellen Frankel, LCSW.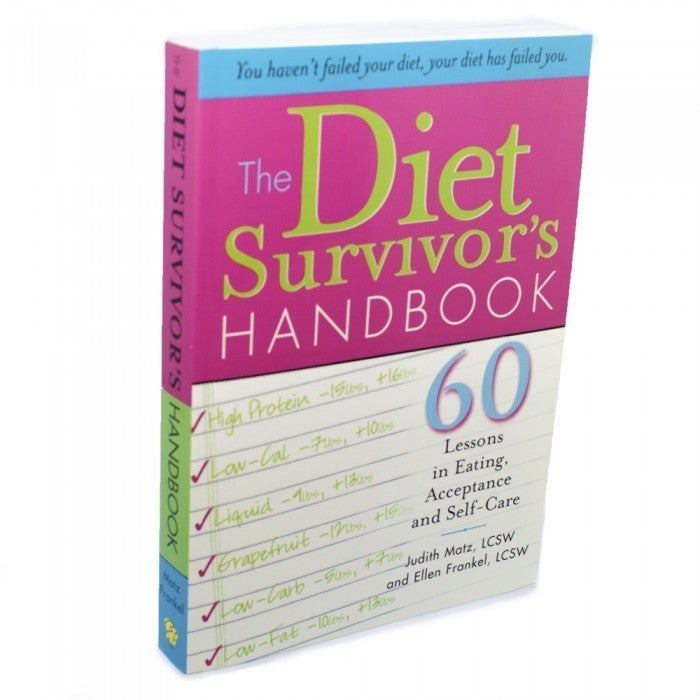 This book is especially great for those in recovery from binge eating disorder or individuals are looking to break free from the diet mentality. It contains a series of lessons and a brief exercise at the end of each chapter to help you to make peace with food and your body, and ditch dieting for good.
5. Intuitive Eating by Evelyn Tribole, M.S., R.D. and Elyse Resch, M.S., R.D., F.A.D.A.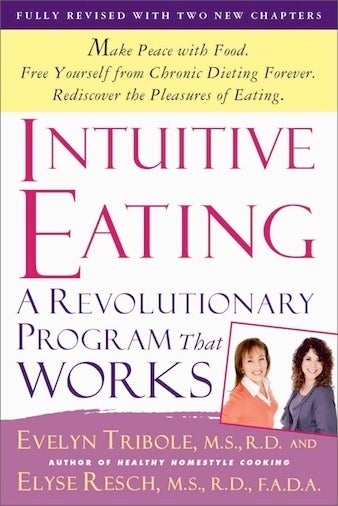 This book is a classic when it comes to breaking free from dieting and discovering a new approach to eating, which entails learning how to listen to your body and it's innate wisdom.
This is the perfect way to learn how to actually honor your body, instead of trying to ignore your natural hunger cues.
6. Webinar on Healing From Body Image Issues by Jennifer Rollin, MSW, LCSW-C.
I created this webinar to help individuals who are struggling with body-image issues. It contains a variety of tools and strategies for making peace with your body and practicing self-compassion.
If you are a professional who works with clients with body image issues, this webinar will equip you with the skills and tools that you need in order to effectively help. It's received wonderful feedback so far.
You Are Not More Valuable If You Take Up Less Space
So there you have it. Some of my favorite body-positive and non-diet gifts for yourself or your loved ones.
Despite what the 60-billion-dollar diet industry may tell you, I know this to be true. You are not more valuable if you take up less space. Further, your worth is not found in your body size or shape.
Your true value is found in the sparkle in your eyes when you laugh, the way that you pursue your passions, how you help others, and in your relationships. You are enough, and you are worthy of love and belonging, just as you are.
Jennifer Rollin, MSW, LCSW-C: is an eating disorder therapist in private practice in Rockville, Maryland. Jennifer specializes in helping teens and adults struggling with anorexia, binge eating disorder, and bulimia, and body image issues. Jennifer provides eating disorder therapy in Rockville, MD, easily accessible to individuals in Potomac, North Potomac, Bethesda, Olney, Germantown, and Washington D.C. Connect with Jennifer through her website: www.jenniferrollin.com
Calling all HuffPost superfans!
Sign up for membership to become a founding member and help shape HuffPost's next chapter
This post was published on the now-closed HuffPost Contributor platform. Contributors control their own work and posted freely to our site. If you need to flag this entry as abusive,
send us an email
.