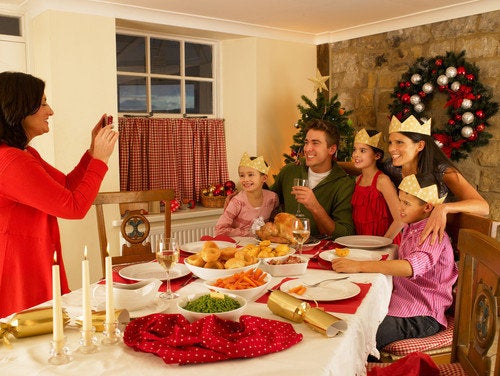 Thanksgiving: the day we watch the Macy's Thanksgiving Day Parade, gather around the table with our family and overindulge by eating ourselves into a tryptophan coma before the final touchdown of the day's big football game. It's a day to give thanks for the food on our table, for the many blessings life has given us and, for better or for worse, to give thanks for our family. No doubt there is at least one member of the family, ok maybe even two, whom you would like to trade with someone else's family, but I'll bet you a drumstick that when you really think about it, you know there's nothing that person wouldn't do for you.
Family -- that word means something different to each of us. For some, it's the epitome of a Rockwell painting and brings a smile to our face and warms our heart; to others, happiness is having a loving, caring family... in another city! However, I think we'd all agree, good or bad, we couldn't live without them. Perhaps in a perfect 1950's kind of world, it consists of two loving parents, a couple of kids, a house and maybe a dog or a cat. But who says those two loving parents aren't two men or two women? And who says there even has to be two parents?!
Television tends to reflect the day's culture; in the 1950's it was Father Knows Best and Donna Reed, today it's Modern Family, The New Normal or even Glee with Rachel Berry and her two gay dads. While having a "traditional" family is amazing and wonderful, isn't a family really the group of people who make you feel loved, safe, and happy?
They say you can choose your friends, but you can't choose your family. However, I'm under the belief that a family isn't always one of shared blood. In fact, rarely do members of one's family ever grow up under the same roof. Isn't the very definition of a family those people who don't judge you, would do anything to see you happy and love you no matter what? A family is people you go to first that when something spectacular happens and you're jumping out of your skin you can't wait to share your joy and excitement with them. They're also the people whom you go to when the world is crashing in around you because you know they'll protect you and take some of the weight off you. t's like you're wrapped in cotton when you're with them because you know nothing bad can every happen to you when they're around. While that may define blood relatives, it also defines my closest friends. They also love me, accept me and support my every hope and dream. When you think about it, isn't that what defines a family most?
So this holiday season, look around your table and give thanks to those you chose to be your family. Your wonderful, loving family, diverse and dysfunctional though it may be. That blended group of people you call family that, yes, may make you crazy, but they also warm your heart, make you smile, support and accept you, but most of all love you... always and all ways.
REAL LIFE. REAL NEWS. REAL VOICES.
Help us tell more of the stories that matter from voices that too often remain unheard.