Well, it's that time of the year again, when you need to find just the right gifts for all your loved ones. And of course some of your family members are inevitably part of the LGBT community. One important factor to be aware of is that companies are increasingly becoming conscious of their corporate responsibility when it comes to being inclusive.
What I mean by that is that companies are clued in to the fact that we as consumers want to buy from businesses that support equal rights for lesbian, gay, bisexual and transgender people. A great resource that I would like to direct you to is the Human Rights Campaign's Holiday Buyer's Guide, which provides a comprehensive review of a great number of businesses concerning how LGBT-friendly they are.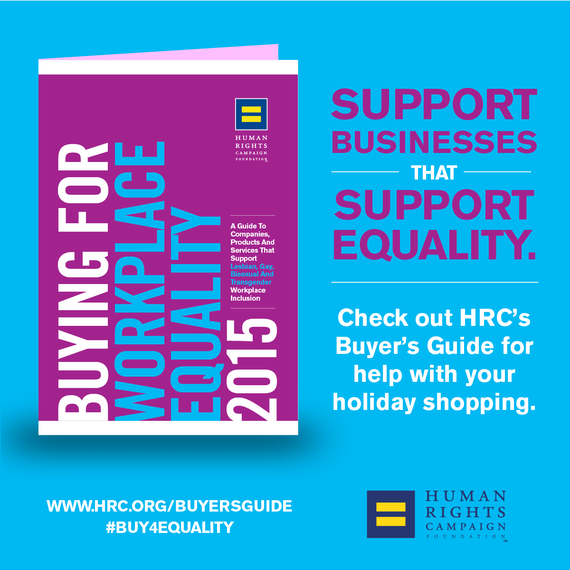 Businesses are rated on a scale from 0 to 100, based on whether or not they have policies that support LGBT employees. These include anti-discrimination protections, domestic partner benefits, diversity training and transgender-inclusive benefits. We provide an estimated score to businesses that have not, after repeated attempts, responded to the survey. An estimated score is reflective of the information that HRC has been able to collect without help or input from a business.
Here are some of the scores that I want you to be aware of when you're shopping around:
Other stores that have really poor ratings include Radio Shack, which has a 45, but that's not that big of a deal, because who still shops at Radio Shack anyway? Kohl's and Michaels both have only a 15. A good alternative for those two would have to be Target, because you can pretty much get anything there.
I encourage you to look at the full HRC Holiday Buyer's Guide here. We as consumers definitely have the power to support businesses that promote inclusion and equality in the workplace. The more we engage in shopping with a conscience, the better our world will be. With that I'd like to wish you all happy holidays.
Calling all HuffPost superfans!
Sign up for membership to become a founding member and help shape HuffPost's next chapter