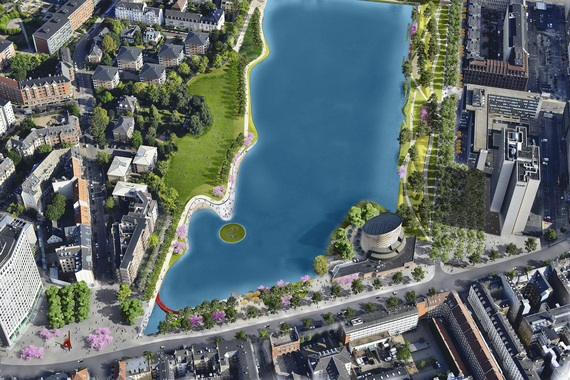 The year before I came to Ramboll, the City of Copenhagen was hit by a record-breaking devastating cloudburst. On that night in July 2011 flood water was few mm from turning off the emergency generators in the two central hospitals, thousands of basements were flooded, and motorists were stranded on the freeway in water up their chests inside their cars.
However, this episode accelerated the transition towards green growth. The cloudburst made the city council realize that the cost of doing nothing is not zero. It is far more expensive to let cloudbursts and other extreme weather events simply strike than to develop a climate-resilient and liveable city. In fact an initial economic analysis indicated that the cost of doing nothing to mitigate flooding would triple in 100 years.
On the other hand, climate investments can have substantial added value in welfare and urban liveability if cities dare to take an innovative approach to the challenge -- as Copenhagen and other Nordic cities have done. If we do it right, investments in city infrastructure become value drivers instead of cost drivers.
In the climate adaptation initiatives Copenhagen has adopted, the water will be used to transform grey areas into blue and green areas -- which the citizens can enjoy. The innovative solution above ground in just one project -- transforming one of Copenhagen's inner-city lakes to an urban lake and green park solution -- will save 44 million Euro compared to a traditional engineering solution with construction of an underground storm water pipe. And the expanded recreational possibilities will get even more people and companies to move to the city.
We in Ramboll know, however, from working with cities all over the world, that these win-win solutions can only be successfully implemented with good governance and long term urban planning. In practice collaboration across different disciplines and sectors can be challenging. The so-called silo mentality -- the mindset present when the experts and officials involved in a project are only focusing on each their own field of expertise -- can be a major hurdle in climate masterplanning. Thus, in order to solve several challenges with one, holistic solution, we not only need to connect the sewage systems with the transportation nets and parks, lakes and buildings. We also need to connect these elements with the governance structure and the social and cultural offers. Only by working together and facing the challenges together, can we succeed as societies, redefining the nature of our cities and leaving them in better shape for generations to come.
In Denmark and other Nordic countries' municipalities, private companies and knowledge institutions have established several partnerships to avoid this silo mentality and accelerate green transitions in cities. These partnerships help municipalities form a clear-cut vision for their cities and define specific focus areas for achieving the overall goal.
The holistic thinking has not only worked in cloudburst adaptation: Special bicycle paths and other initiatives designed to make life easier for people on two wheels has here in 2015 once again made Copenhagen the most bike-friendly city in the world. Another example is the coherent energy system where one of the largest district heating network and a strong commitment to streamline the heat and power plants have resulted in one of the highest energy efficiencies in the world.
We try to develop a close collaboration between the authorities, citizens and businesses that provides a stable framework for investments in infrastructure, technology and last but not least knowledge building. All stakeholders need to know where we are heading, and that the aim is to solve several challenges at the same time.
With this holistic, multidisciplinary approach to climate masterplanning Copenhagen and other Nordic cities will not only be more bike-friendly, energy efficient and better prepared for the next record breaking cloudburst. It will also be a city where everyday life for me, all the other citizens and our future generations is more livable.
This post is part of a "Nordic Solutions" series produced by The Huffington Post, in conjunction with the U.N.'s 21st Conference of the Parties (COP21) in Paris (Nov. 30-Dec. 11), aka the climate-change conference. The series will put a spotlight on climate solutions from the five Nordic countries, and is part of our What's Working editorial initiative. To view the entire series, visit here.
Calling all HuffPost superfans!
Sign up for membership to become a founding member and help shape HuffPost's next chapter