Co-Authored with Hannah Morrow, Delicious Israel
"Dibs on prepping outside!" Chef Jonathon Sawyer called out upon entering Studio FeinCook -- home base for the day. One look around the indoor/outdoor kitchen and the nature of Sawyer's request was apparent. Fresh herbs lined the outdoor patio, overlooking a sprawling Tel Aviv cityscape.
The atmosphere was relaxed as nine renowned American chefs unpacked fresh market vegetables, native Israeli spices and tender meats. At the forefront of the group is Michael Solomonov, chef of Philadelphia's award-winning Israeli restaurant Zahav. Solomonov was in Tel Aviv with a few good friends... who just happen to be some pretty accomplished chefs. The chefs were in town preparing dinner for the 10-year memorial of Solomonov's brother David who was killed in 2003 while serving in the Israeli Defense Forces. Despite the solemn occasion, the chefs were in cheerful spirits, "How's this apron look?" Sawyer asked, grinning widely as he posed for the camera, donning only a navy blue pinstripe apron and sneakers.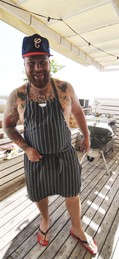 Contrary to the "multiple chefs in one kitchen equals competition" vibe commonly portrayed on TV, the chefs were all about camaraderie. Team America, captioned under the crew's group photo on Sawyer's Instagram, confirmed the harmonious setting in which the chefs worked to complete their dishes.
Solomonov didn't just pick eight run-of-the-mill chefs; he created the dream team. Among the group was Chef Mourad Lahlou of San Francisco's Michelin-Star, Moroccan-themed restaurant: Aziza. Sweet red cherry tomatoes glistened on the counter next to Israeli-born chef Alon Shaya of Domenica (New Orleans), as he gutted a squash the size of small canoe for the grill. Preparation was in full swing as Chef Jason Marcus of New York's Traif and Xixa shaved melons while across the kitchen Lahlou separated four jumbo cartons of eggs.
Tel Aviv is oozing with culinary innovation. Simply walking around and tasting provides chefs like Solomonov and his team with inspiration. Dinner ingredients were sourced throughout Tel Aviv with assistance from Inbal Baum: owner of culinary tour company Delicious Israel. Baum spent the previous day with the chefs, taking them to shops celebrating select local spices, fresh produce and olives and cheese, all the while tasting foods that would root their Israel experience. Also joining the shopping excursion were Whole Foods spice buyer Simone Cormier and award-winning cookbook author Joan Nathan.
"Want to roll my meatballs?" Chipotle's culinary manager Nate Appleman offered, holding an enormous bowl of raw meat. He demonstrated the proper technique: one palm extended while the other hand rolls the meat in a circular motion, creating perfect spheres each time. James Beard Award nominee and head chef at Greenhouse Tavern (Cleveland), Jonathon Sawyer, got down and dirty with what he aptly called "Israeli meatloaf." He kneeled over a tub of ground meat up to his elbows, kneading with his forearms. Sawyer was in his element as he flipped the meticulously shaped "meatloaf" on the grill before deconstructing the loaf into a huge metal bowl. Herbs, breadcrumbs and cheese were then added -- stuffing for the previously hollowed out peppers, onions and potatoes, purchased fresh from Tel Aviv's Carmel Market.
"Try not to eat too much of this cheese." warned chef Adam Sobel of San Francisco's RN74, "It's worth more than your life." The half wheel of hard goat cheese, purchased from Shai Seltzer's goat farm in the Judean Hills, transformed as it slipped luxuriously through the grater onto the wooden table.
A wave of culinary serenity washed over the studio. Was it all a dream -- nine American chefs working harmoniously in a small kitchen in Tel Aviv, creating a carefully crafted dinner? The smell of simmering tomato sauce penetrating the air confirmed reality as spices sprinkled, knives chopped and spoons sampled in the kitchen.
The chefs rotated in shifts to the charcoal grill, constant fan duty required. "Call Inbal and tell her to pick up some more coals." Solomonov said. "I don't care if she's coming on a bike. She can do it." Since it was the Sabbath, the gas station was the only place open within walking distance -- another reminder of how far away we were from American luxury, only highlighting the admirable improvisation these chefs adopted while coming together in honor of a fellow chef's slain brother.
Little by little, individual components came together to form complete dishes for the evening's 100-person feast. Multiple rolls of tin foil and one or two obligatory group photos later, the chefs took one last look from the 6th floor balcony towards Solomonov's homeland. Now, how to get this food downstairs...
Recipe Courtesy of Chef Jonathon Sawyer, Greenhouse Tavern
Israeli Style Caramelized Ginger and Pomegranate Soubaise
Ingredients:
10 pieces Israeli Onions (sliced)
2 Cups Ginger (sliced)
2 Cups Fresh Pomegranate Juice w/o bitter pith removed
1 Cup Soy
4 pices Jaffa Orange (zest and juice)
2 Cups Labneh (goat)
Season Onions with salt and sweat with lid on for 45 minutes
Add Ginger and sweat for another 45 minutes, stirring vigorously
Uncover
Add Pomegranate Juice and reduce by 3/4
Add Soy and reduce by 3/4
Add Orange Juice and Zest and reduce by 1/4
Puree and cool
Add Labneh and puree again
Enjoy!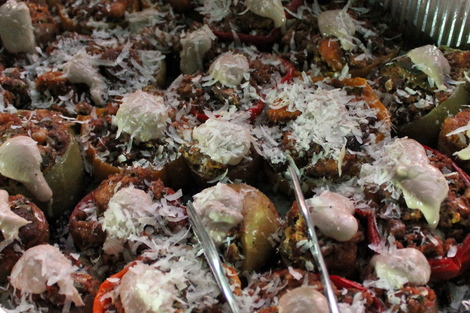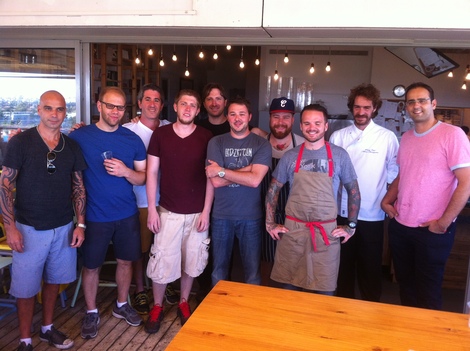 Related