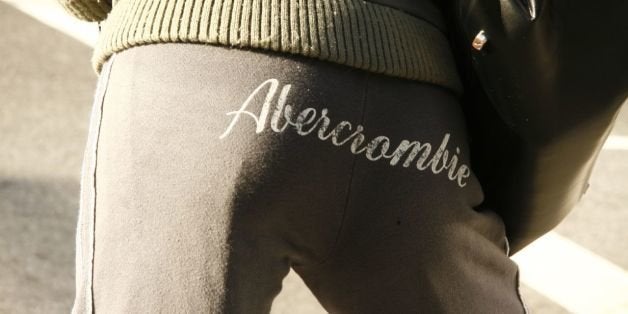 Soon, that Hollister logo sweatshirt might be a collector's item.
Abercrombie & Fitch, which owns Hollister along with its namesake chain, announced Thursday that it will eliminate logo attire from its U.S. stores by spring 2015.
The once-mighty pair of teen retailers were the champions of the logo-era -- when teens and college kids everywhere loved showing off exactly where they bought their clothes. The shops used to be filled with tees, henley shirts and hoodies and proudly displaying the brands' names.
Now those days are over. On Thursday, Abercrombie reported a 10 percent drop in sales at its Hollister brand last quarter compared to the same period in 2013, as the company struggled to adapt to the changing non-logo times. The flagship brand has fared better, and Abercrombie saw only a 1 percent dip in sales in the past three months compared with the same period a year earlier. That's a small change, considering Abercrombie saw its sales plummet 10 percent in 2013.
Teens are ditching clothes emblazoned with logos for cheap, disposable fashion items. In the fall, the Abercrombie and Hollister will cut the amount of clothes repping their brands by half, Abercrombie Chief Executive Officer Mike Jeffries said on a conference call with analysts on Thursday. By spring, the North American logo business will be reduced to "practically nothing," he said.
Earlier this year, Abercrombie unveiled a plan to revamp Hollister and turn it into a "fast-fashion" brand, taking styles from the catwalks and bringing them to stores. It's aiming to better compete with the likes of H&M and Forever 21, which have become increasingly popular with teen shoppers.
"We're thrilled with the rate at which we're selling fashion," said Jeffries. "I think everyone has seen that in our assortments and it is working."
But the change so far has come on slowly.
Hollister began testing new storefronts in early 2014, dumping its beach shack-inspired porches for gleaming glass. Jonathan Ramsden, chief operating officer at Abercrombie, said on the call that the company is pleased with the Hollister remodeling thus far, and will speed up the rollout in 2015.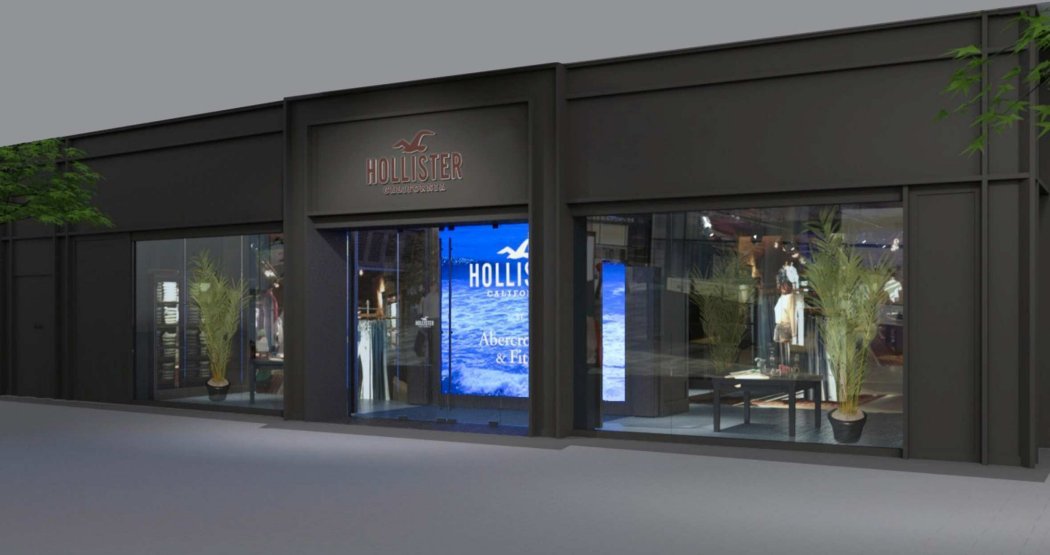 Hollister unveiled its new store concept in November 2013. (Photo: Hollister analyst day presentation)
Abercrombie expects to close up to 60 stores in the U.S. this year, the company said. Hollister operates around 600 stores, while the Abercrombie brand has about half that number. The retailer is also searching for a new executive to take the role of president at Hollister.
Analysts are not totally sour on the company. In early August, Nomura Securities analyst Simeon Siegel said Abercrombie had gone from the "most hated" name of all the teen retailers to "loved" as it cut costs and became more fashionable. Abercrombie's stock price is up 22% over the past year. And Eric Beder, an analyst at Wunderlich Securities, wrote in a note to clients on Tuesday that Abercrombie is "the best positioned teen retailer in our universe" as rivals Aeropostale and American Eagle continue to falter — meaning a comeback is still possible.
Calling all HuffPost superfans!
Sign up for membership to become a founding member and help shape HuffPost's next chapter