We hadn't heard about a mom being shamed in public for breastfeeding all year. Granted, it has only been a week, but we were hopeful that 2013 might be a more tolerant time than 2012. Not so fast. A recent chain of events involving nursing moms and supporters proves that our country still needs to be educated that breastfeeding in public is normal, necessary and legal (in most places).
It started when Brittany Warfield, a mother of three from Texas, nursed her 7-month-old outside of a Hollister store in a Houston mall. Warfield told KHOU that a manager forced her to move. "He said, 'You can't do this here. This is not where you do that. You can't do that on Hollister property. We don't allow that.' I said, 'It's Texas. I can breastfeed anywhere I like.' He said, 'Not at Hollister. Your stroller is blocking the way. You have to go,'" she recalls.
Three women, Diana Hitchens, Autumne Murray and Jessica Hitchens, participated at their local mall in Delaware, one of 45 states which allows mothers to nurse in any location. They entered the store nursing their babies and holding posters. One read, "Hey Hollister, my baby has a right to eat. It's the law," NBC 10 reports. The mothers claim they were reprimanded.
Murray told the news station that two security guards said they either "needed to leave or cover up." After an argument, the guards involved the Delaware State Trooper in the matter. "He was asking if we were exposing ourselves saying that the security guards said we were exposing ourselves and that we could be kicked out of the mall if we didn't cover up," Murray told NBC 10. According to the news source, Delaware State Police are calling the incident a "civil matter."
But the story doesn't end there.
Following their experience at Concord Mall, the three women began to share their story within the online breastfeeding community. One mother, who was not involved in the incident, wrote on a Facebook page that she says belonged to the mall: "Shame on your mall for calling the police on women for feeding their babies! Shame!" The response? "Hope you guys don't mind if I suck my wife's breast in public," the mall allegedly wrote. That Facebook page has since been deleted, but Bethany Klebes who blogs at Jubilee Baby Co. took a screenshot of the exchange.
Representatives for the mall, however, deny that that Facebook page even belonged to them. In an email to the Huffington Post, mall management wrote (in part):
There were anonymous postings on a Facebook page shortly after this event occurred allegedly generated by the Concord Mall. These posts were crude and offensive and were not posted nor authorized by the Concord Mall. The Mall does not have an official Facebook page and communicates via its web-site [sic]. There is a Facebook icon on our homepage, however the account has never been officially in use by the Mall.

We are in the process of contacting Facebook to report these violations and hope to find the person or persons responsible for these posts. Again, neither the Concord Mall nor anyone authorized to speak on behalf of the Concord Mall made these posts to this unofficial Facebook page.
The response also indicated that the two officers involved have been removed pending further investigation.
A similar statement was sent to Michelle DeanRuben who posted the original comment on Facebook. Dionna Ford, of Best for Babes posted a screenshot of the email to her site, a breastfeeding advocacy destination. Ford (who has blogged for HuffPost) doesn't buy the mall's response and thinks both emails were a "poorly executed effort to cover any evidence of wrongdoing."
Despite the injustice that these three moms faced during the nurse-in, updates on the event's Facebook page suggest that the demonstration was successful. Dozens of mothers posted photos from Hollister locations around the country and left hopeful messages. Brittany Warfield, the mother who was originally reprimanded in Houston expressed her gratitude to all who took part.
"This incident is so much bigger than myself or just getting an apology from Hollister! It opens the door for the great people of this world to show and express that there are alternative ways of life and parents breastfeeding be it private or public is an awesome act of nurture and love and down right good eating for the young," she wrote.
Related
Before You Go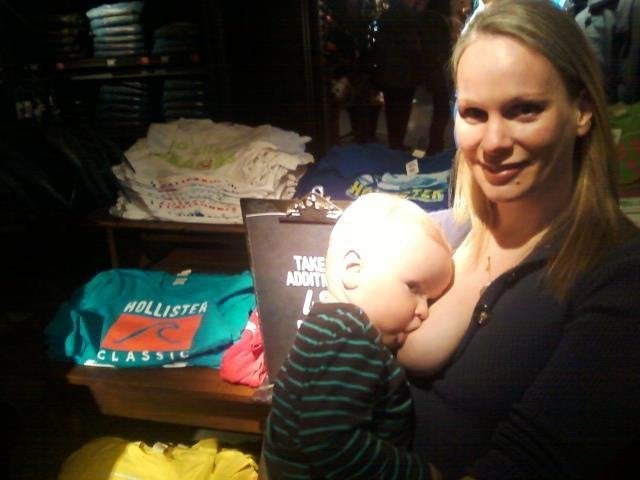 Hollister Nurse-In Photos