Five days after executing a kick to the head that floored heavy favorite Ronda Rousey, newly crowned bantamweight champion Holly Holm spoke out on behalf of her opponent on Thursday, discussing the courage it took for Rousey even to step into the octagon last Saturday night.
"This is a hard job to be in and a lot of people can't get in there," Holm told Dan Patrick. "When you get in that octagon, it's one of the loneliest places in the world, because it's only up to you to do it. A lot of people wouldn't even have the nerve to be able to get in and just put it all on the line."
While both Holm and Rousey are now back in Los Angeles, Holm said that the two haven't seen or spoken to each other in the days since the fight. The dialogue surrounding Rousey's literal and symbolic fall was further fueled on Tuesday, when Rousey refused to show her face to onrushing cameras at LAX.
"She's been pretty vocal in her career, so I think it's easier for people to want to pick at things," Holm said. "I think she's strong enough. She can handle that, but I hope people don't get too brutal with it."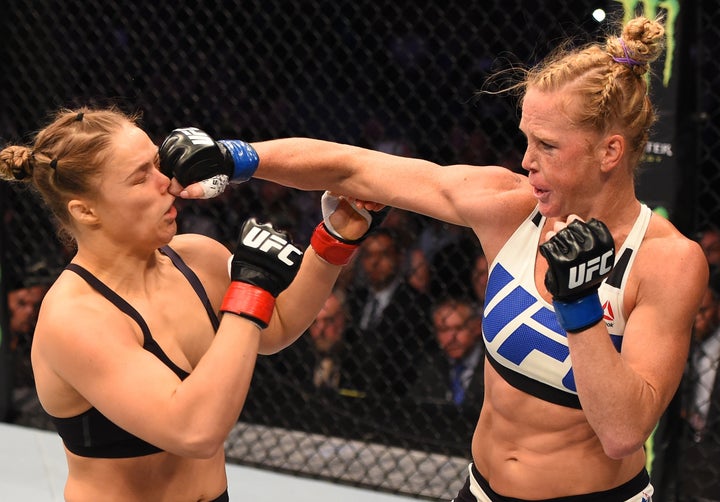 Holm's compassionate words in defense of Rousey are a far cry from her aggressive mindset throughout Saturday night's fight. Holm says that she remembers watching to see if her shots were "starting to take their toll" on Rousey and trying "not [to] give her the chance to recover," taking advantage of Rousey becoming "rocked."
"I [was] like, 'Don't mess it up, you're almost there, finish strong,'" Holm recalled.
For her part, Holm is open to a rematch, as soon as Rousey is done serving her six-month medical suspension. She'd rather it be sooner than later, but whenever Rousey agrees to put on the gloves and step into the octagon once more, Holm says that she will be ready to defend her crown.
"If you're the champ [and] you lose your belt, I think the only logical thing is to be able to have a rematch and avenge the loss," Holm explained. " … [The octagon can be] a brutal place to be, but that's what makes winning that awesome … And if you're a fighter, you're always chasing that feeling of victory, so that's why we do it."
And, as Holm made clear, it takes a special kind of person to be able to do it.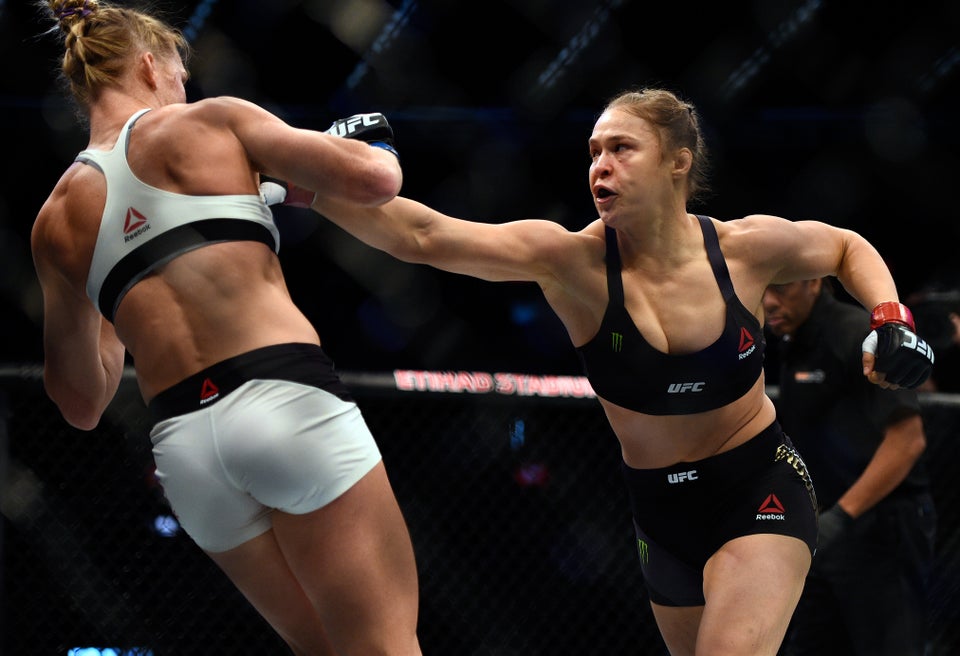 Holly Holm Knocks Out Ronda Rousey At UFC 193
Related