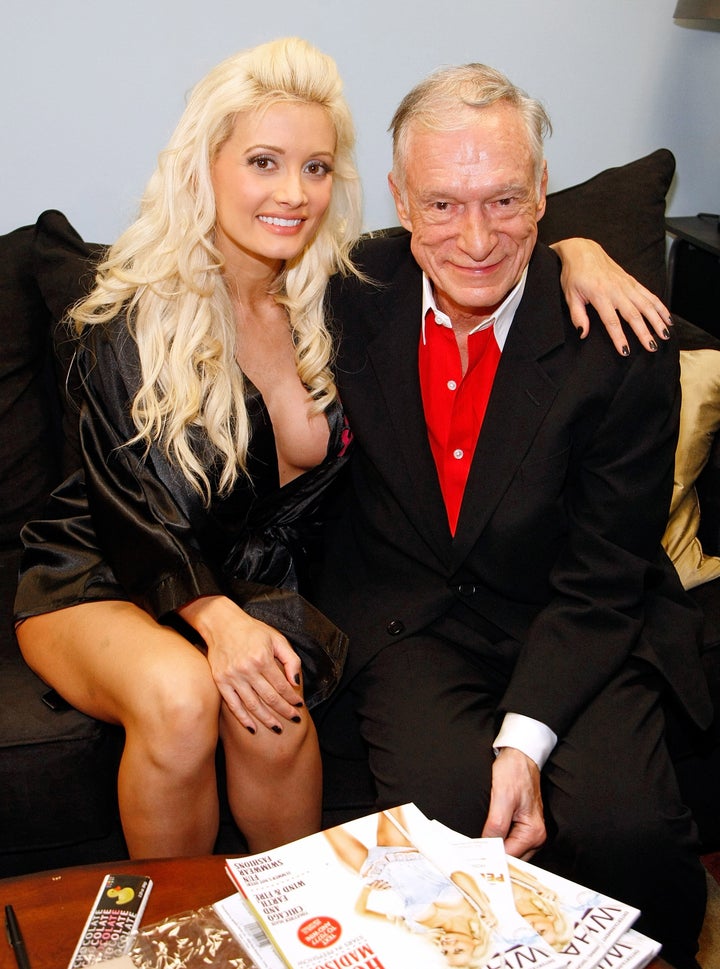 Holly Madison is speaking out again about the engagement of her ex-boyfriend, Hugh Hefner, to Crystal Harris.
Last week she told E! Online that she's "very surprised" about the engagement and now she's given an interview to Life & Style in which she questions Crystal's motivations - and plugs her reality show, which will air footage of her confronting Hef & Crystal in person.
In 2009 Hef, 84, added Crystal, 24, to his posse of girlfriends, which then included the Shannon twins.
Life & Style's press release follows, read more in this week's issue.
Holly Madison, shocked to find out about her ex-boyfriend Hue Hefner's marriage proposal to Crystal Harris over Christmas, is now breaking her silence in the new issue of Life & Style - on newsstands now - warning Hef to reconsider.

"I'd like to see Hef settle down," Holly told Life & Style during the exclusive interview on Jan. 6. "I just want it to be with the right person, and I feel like he's making a hasty decision. I'm not sure Crystal is the best thing for him."

While Crystal, 24, moved into the Playboy Mansion only in January 2009, Holly was Hef's right hand for six years until the two split in October 2008. "Crystal hasn't been around very long - she's a mysterious character," says Holly. "No one knows much about her. Plus, she's very young, probably too young to settle down. I've seen a lot of girls try to date Hef, and some have ulterior motives. I don't think it would be a bad idea for him to get to know her a little better. I think it's possible Crystal could break Hef's heart. They could end up divorcing, and she could take half his money."

So she arranged a face-to-face with the duo on Jan. 5 to witness the duo's supposed joy for herself. "I wanted to check up in person," Holly says about of the emotional encounter, which was filmed for season two of her E! reality series, Holly's World (premiering on Jan. 23). "I told them that I wish them the best and that Crystal had better not do him wrong or else I'll kick her butt. It was definitely awkward."

In the end, Holly just hopes Hef has indeed found his perfect match. "I'm not jealous that he'd marry someone else. I just don't want it to be a girl who's using him to start her career," she tells Life & Style. "Basically, I think he could do better than Crystal."

Speaking via her manager, Michael Blakey, Crystal told Life & Style, "I've never been happier in my life. I'm so excited to be marrying Hef."
Popular in the Community