The celebrity trainer and master Flywheel instructor Holly Rilinger certainly knows how to encourage others to do their best to get into shape. The lovely master fitness instructor holds an impressive resume. Holly is a Nike Master Trainer, Flywheel Sports Master Trainer, Certified Personal Trainer, and Group X Instructor with numerous certifications. She is also a TV celebrity appearing on the Bravo television show Work Out New York.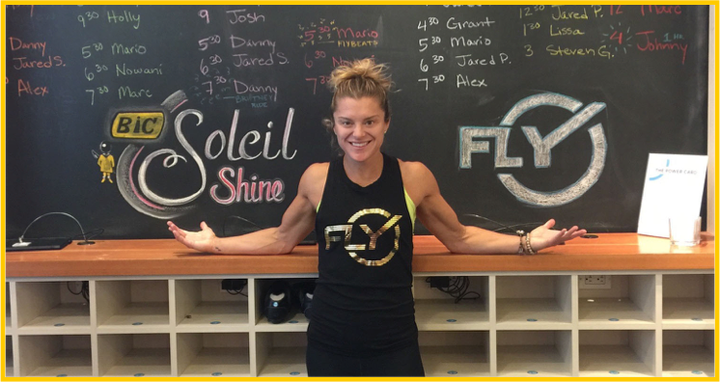 Ms. Rilinger has now added a new position to her credentials working with Bic Soleil Shine. Her goal is to help women "make their own sun" going into the colder fall and winter months. The colder and nastier weather tends to have us cooped up inside with our comfort food, and making more excuses to not eat right and get to the gym. Holly understands the importance for women to feel good about themselves both inside and out.
Interview with Holly Rilinger
I was fortunate to be able to take the opportunity ask some questions of this beautiful expert on how to get motivated to keep shining through the year.
Carol Ruth Weber: With cold and nasty weather as a deterrent and excuse to not get out to the gym, what are your tips on the best ways to stay motivated and maintain a solid fitness routine year-round?
Holly Rilinger: Start your morning by throwing on your ear buds to get up and move! Music is a proven mood booster so the good vibes will set you up for a good day.
Having a buddy system is a great way to stick to a fitness routine. Pick a friend and select a workout schedule together. That way, you can keep each other motivated to work hard - and it passes the time more quickly!
Set achievable goals for yourself. You're not going to turn into an all-star athlete overnight and that is perfectly okay! Set short-term goals throughout the day or week and you'll feel more optimistic about achieving your goals long-term!
Find five to 10 minutes each day to practice mindfulness by closing your eyes, focusing on your breath and finding yourself in the present moment. When we become mindful and present, we renew optimism into all parts of our life.
I love the BIC Soleil Shine razors because they deliver a clean, close shave, which makes me feel excited about the day ahead and ready to start my workout! According to the company's survey a close shave makes women feel optimistic about their day.
CRW: You always seem to have a smile on your face but I am sure you have your down times like the rest of us. What is your secret to staying positive and optimistic?
HR: That's 100-percent correct, I have down times just like anyone else. I try to remind myself in the morning that to some degree, we can choose the way we feel. I can choose to make it a great day, or drag myself through it. People depend on me. It's important for me to check my personal issues at the door and show up for them. I think we can all do that in some way. Even if it's just for your kids or your co-workers.
CRW: What are the benefits of mixing physical activity with mindful meditation?
HR: Our workouts should prepare us for life. That means there are highs and lows, ups and downs. There are parts we are great at and parts we could do without. The one thing that is constant is our breath. Our breath will either help us or hurt us at any moment. When we use mindful meditation in our classes we can let the rest of our day go, and bring our full attention to ourselves for that hour. I think we all deserve that.
CRW: What type of healthy diet do you subscribe to and what are your favorite foods that you may cheat with?
HR: I'm big on real foods, so that means it either comes from the ground or it has a mother. I try to make the bulk of what I eat plant based - tons of veggies. I stay away from processed foods as often as I can. I don't like to think of foods as "cheats". It's not the foods that get us in trouble - it's our habits. However, the indulgences that I gravitate towards are ice cream, key lime pie and tequila – [with a smile] Obviously not together!
CRW: As a woman, yourself always on the go, so what do you advise for must-haves for the female's gym bag?
HR: I'm usually on the go and a close shave makes me feel amazing so I definitely keep my Bic Soleil Shine Razor in my bag. Since I can't always fit shaving in at home, it works great for on the go. My other must go-to's are beach spray for my hair, and as we head into winter, both face and lip moisturizer.
CRW: Time is precious and often keeps us from doing all that we would like to do. What are the best ways to optimize your workouts so you get the most out of your training?
HR: Focus! Leave your day behind you. Get off your phone. Take a few moments before your workout to close your eyes and breathe. Tell yourself that the next hour is all about you - we have the rest of the day for the rest of the day.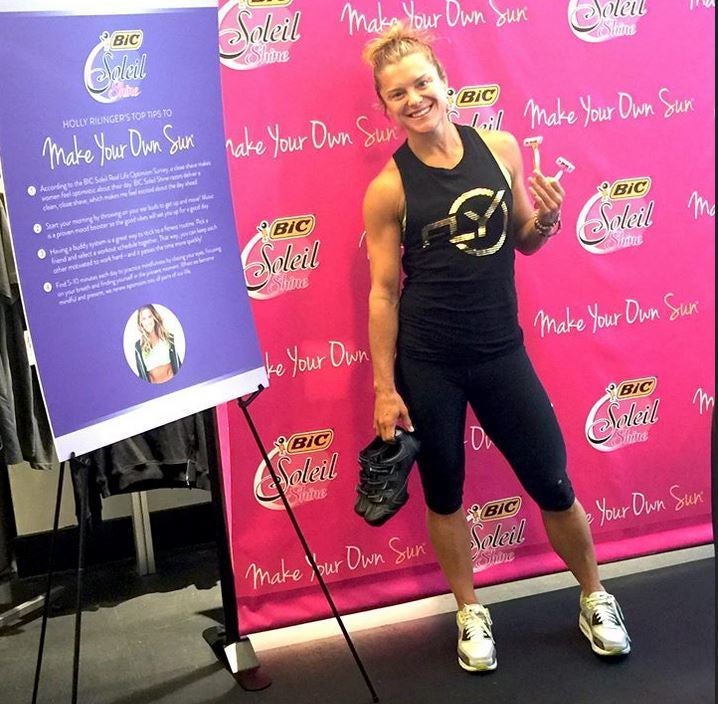 Keith Last, Senior Brand Manager for Bic Women's Shavers, has faith that the masterful celebrity trainer is the perfect woman to get other women to shine both inside and outside.
"She encourages women to be optimistic, and to feel confident and comfortable with who they are. Her positive outlook on taking care of herself and being her best self is the essence of the Soleil brand."
Taking time out of her busy schedule to respond to my questions proves that Holly is passionate about her business to assist others to feel their best. Holly's well thought out answers to my questions gives excellent advice to help woman to keep the metaphoric sunshine going from their own motivation and actions. Holly Rilinger is a true female to look up to for both her actions and her infectious attitude and smile.
Popular in the Community