I love a great film festival -- people, together, not merely your flatscreen between your toes! -- and currently in Hollywood the 9th annual HollyShorts Film Festival is rolling in grand style. Running until Thursday the 22nd, the festival -- LA's largest shorts fest, this year boasting 350 films! -- has grown by leaps and bounds in less than a decade, celebrating filmmakers from around the world at the TCL Chinese Theatre on Hollywood Boulevard, with festivities at the glorious Roosevelt Hotel just across the street and over to the right. HollyShorts features all manner of films, panels, parties, meet-'n'-greets, and above all encouragement for filmmakers. Terrific group of people.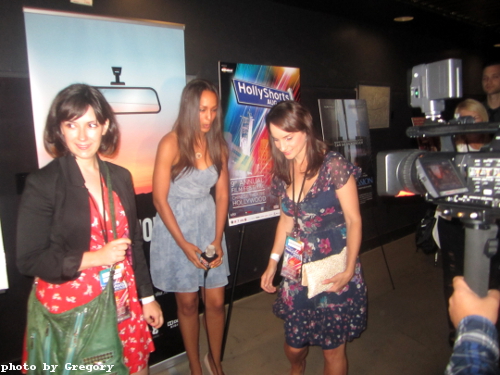 HollyShorts 2013 gets rolling!
I attended opening night, and it was sensational. First, HollyShorts proved they can do anything, by screening a new feature film: David Rodriguez' mob-and-reckoning drama, Last I Heard, starring Paul Sorvino, Michael Rapaport and Chazz Palminteri.
Opening night's block of shorts showcased eight compelling films, kicking off with the new "Zero Hour" by director-producer Dan Carrillo Levy, an intense desert drama written by Guillermo Arriga (Babel), starring Camilla Belle and Jaime Camil. Also, look out! -- we saw "Punisher: Dirty Laundry," a hardcore superhero piece featuring Thomas Jane and directed by USC's own Phil Joanou (Rattle and Hum). This intensity was fancifully followed by the far funnier superhero romp, "The Sidekick," directed by Michael J. Weithorn, from a script by Rob Benedict.
We also received stunning performances from April Parker-Jones and Walter Fauntleroy in the hard-hitting "Heaven," helmed by Chadwick Boseman -- a.k.a. "Jackie Robinson" in Brian Helgeland's recent 42 film.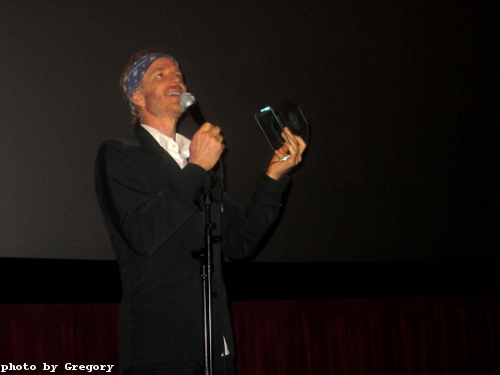 Matthew Modine brought "Jesus Was a Commie."
Awards were awarded. Celebrating the 30th anniversary of Private School, actor Matthew Modine showed up in an intriguing combination of formal and fitness-wear, imparting to the crowd pleasant sentiments about cinema being like stars of light in a dark night sky. He also fielded a cry of "Birdy!" (such a great film: "Keeeep!") with a fond comment for the days when his co-star Nicolas Cage was still acting. (Ha.) Mr. Modine also screened his documentary, "Jesus Was a Commie," which is somehow simultaneously slick and spiritual.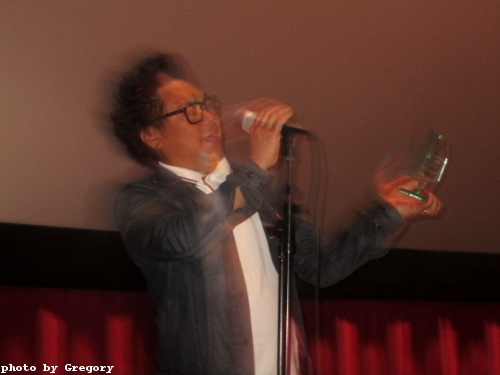 Director of Photography Matthew Libatique: in motion!
Also celebrated in the flesh was Matthew Libatique, the cinematographer/genius-of-the-lens behind such popular entertainments as Jon Favreau's sci-fi trilogy: Iron Man, Iron Man 2, and Cowboys & Aliens. Oh, and ladies? Mr. Libatique also lensed Black Swan.
Prior to the shorts proper, we saw a rather terrific PSA for Boston's Peace First. I couldn't find that precise clip online (yet), but here's an equally good one, also featuring astute futurist and humanitarian Joshua Williams:
It was a wonderful night, and I recommend coming back -- a lot -- over the next week, for HollyShorts will be screening those 350 shorts in the mode of comedy, animation, sci-fi and horror, music videos, web-series -- all juried and judged so talent can rise -- plus who knows what sort of meet-ups you'll have with both established talent and some of the brightest up-and-comers in the industry!
Looking ahead, I'm intrigued by Kim Garland's "Deal Travis In" (part of Sunday night's Sci-Fi block at 9:30 p.m.); "Notion" by director and educator Jim Stevens (part of Monday: 11:30 a.m.'s Monthly Screening Winners showcase); the big block of Music Videos (also Monday: 9:30 p.m.); and Wednesday's Women Directors Showcase, at 2:00 p.m.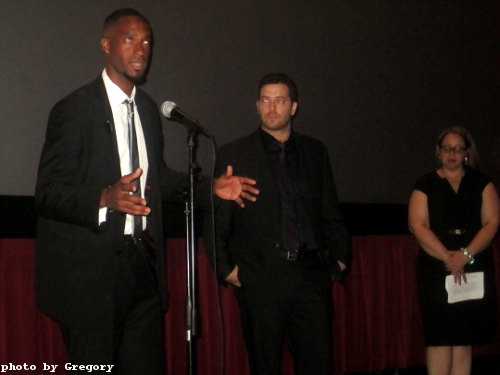 Theo Dumont, Daniel Sol, Nicole Castro: HollyShorts 2013 begins!
I was fortunate to speak with the way-cool and very, very busy Hollyshorts Film Festival founders, Theo Dumomt and Daniel Sol -- of the craftily-named SOLmont Events -- about the origins of their festival, what's going on this year, and where they feel they're headed in the future.
School friends from Miami, Theo and Daniel like to throw an awesome party. "One day we just started talking about doing events, and the idea of a film festival came," reveals Mr. Sol. This from a family venue (the Sphinx), one-act comedy shows, literally putting up a sheet and finding a projector! From humble seeds (and 23 films). "Of course, it's grown 10,000 times from where it started," he adds.
Mr. Dumont enthuses: "We used the approach that we have now, which is to bring people together, so they can network, so they can meet, and possibly meet someone in the industry, get signed -- and get that person to the next level! Or meet another filmmaker and collaborate on a project." He fondly reflects: "We're very proud of that first festival, right? And it just got bigger and bigger."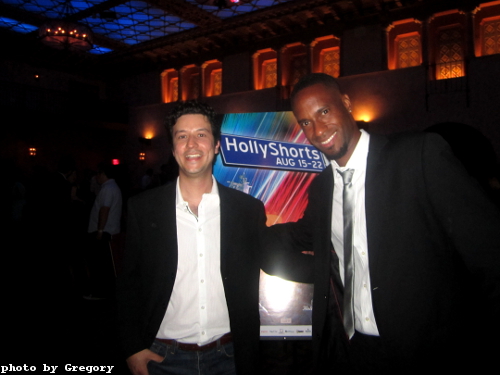 Media Man Alexis Varouxakis & Mr. Dumont celebrate opening night.
The two regale me with tales of their evolution through LA's CineSpace venue, and of the hordes of talent who've poured through their events: Zachary Quinto with his short film just last year, casting director Robert McGee, fun-scary stuff like director Rick Rosenthal bringing Halloween II and Eli Roth bringing an early, U.S.-sneak-peek cut of Cabin Fever -- "We're big fans of horror," notes Theo -- plus, "one year we kicked it off with a bizarre short film from Adrian Grenier, who was just starting Entourage at the time." This year's films include work from Michael Cera, Margaret Cho and Dave Foley, amongst many others.
Mr. Dumont is all about community. He and Mr. Sol and their festival manager Nicole Castro (an Emerson grad with VH1 and HBO experience) keep things happening.
"We don't care where you're screening, we don't care where you're going with it!" exclaims Mr. Dumont, "We want you to show up for a day, and say, 'I met some cool people at HollyShorts!' That's the whole point. That was at the beginning, and that's what's happening still. It continues to catapult.
"The other thing I want to say," he continues, "further along we realized, 'Why are we just doing this for one time out of the year, when we could be a local community, all the time?' So we've started doing monthly screening events, and they're kind of like workshops -- whether the films got into the festival or not, or it's a new movie, we screen them in L.A. -- we've started doing it in New York this past year -- and then networking events, putting it out, announcements. Obviously August is our Super Bowl, but we also have other opportunities for filmmakers to get their voices heard."
I ask Mr. Sol about the criteria for admission to HollyShorts. "It's not an exact science, of course," he explains, noting that merit ("First of all, we want to find the best movies") as well as applicability to the programming are factors. "We look at all the movies we get. This year we got about 1,400 submissions, and we had to pick the best of those." He clarifies: "The things we're judging are narrative, cinematography, production value, acting, writing, directing across the board." However: "You also get a feel, when you're watching certain films, there's a soul energy about them, and there's something there."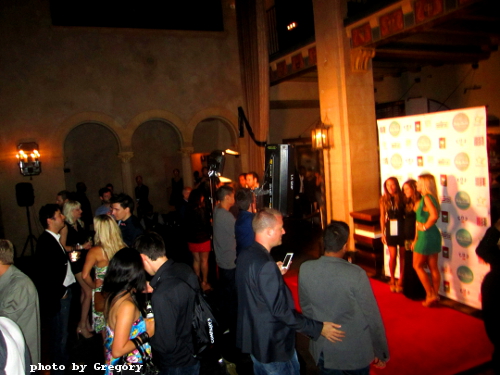 HollyShorts: Did we mention that it's also a week-long party?
This much is very clear: HollyShorts is all about being inclusive. Mr. Dumont and Mr. Sol discuss at great length (there isn't space here) their shared vision: To encourage the artists -- in all areas of cinema -- to share their works, extend them to new and developing platforms, and not to hide them or limit them, but to get them seen. The HollyShorts spirit is infectious, and fun.
"Last year, obviously Zachary Quinto, right?" smiles Mr. Dumont, summing up the vibe of HollyShorts. "Any filmmaker from LA can have a little short movie, get it accepted, come to this festival, and then rub elbows with Zachary Quinto. Who knows, you could pitch Zachary on the spot, and who knows what could happen? That's what we love! We encourage that."
Indeed. Come to HollyShorts, in the heart of Hollywood. Many, many films and many more creative people await you. Be excited. Be very excited.
REAL LIFE. REAL NEWS. REAL VOICES.
Help us tell more of the stories that matter from voices that too often remain unheard.