Halloween has become a huge holiday in many major cities across the U.S. Since Los Angeles is home to the Hollywood elite and talented artists, incredible costumes, unique performances, and special effects are what Los Angeleans have come to expect. KCRW's annual Masquerade Ball does not disappoint.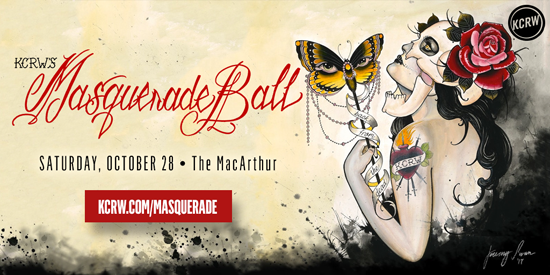 Executive producer Liz MacDonald has been involved with the event since its inception in 2009. The elegant event was created as a benefit for KCRW programming. "KCRW's Masquerade Ball truly is a feast for the senses, and it gets more and more colorful every year. The Los Angeles community is so creative, and we are always working with a tremendous group of talented people to bring new guest experiences."
The legendary building, the MacArthur, has been hosting KCRW's Masquerade Ball from the start with the exception of two years during renovations when the event was put on hold. The MacArthur was built in 1925, in a time when glitz and glamour reigned supreme in Hollywood. The building's Gothic Revival architecture is steeped in old world charm and is a perfect place to celebrate the revered and ghostly holiday. Now in its seventh year, KCRW's Masquerade Ball has taken on a life of its own.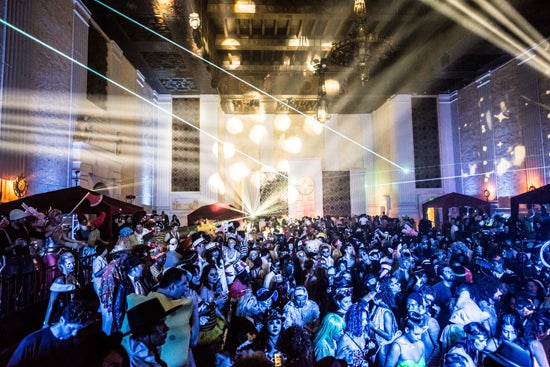 This year's event will feature multiple DJs, bands, special musical guests, performance artists, belly-dancing flappers, high-flying luchadores, and more. Performers include: The Black Madonna, Matthew Dear, Tensnake, Moon Boots, Gemini Rising, Yolanda Be Cool, Lucent Dossier, Lucha VaVOOM, Axon Orchestra, Les Petites Bonbons. Also present will be KCRW DJs Jason Bentley, Aaron Byrd, Anne Litt, Anthony Valadez, Chris Douridas, Dan Wilcox, Eric J. Lawrence, Gary Calamar, Jeremy Sole, José Galván, Liza Richardson, Mario Cotto, Marion Hodges, Mathieu Schreyer, Raul Campos, Travis Holcombe, and Valida. A curated selection of some of the top food trucks such as Border Grill, LocoL, Peaches BBQ, Mandoline, and more will be on hand at the event.
"The costumes every year are incredible," continued MacDonald. "You'll see everything from homemade costumes to people who clearly have access to the best prop houses in town. Some are clever, some are scary, some are funny, and some are topical. It's so much fun to witness the collective creativity of the Los Angeles community." She added that she was looking forward to seeing many of this year's performance artists including the high-flying luchadores and other-worldly creatures. She reminisced that throughout the years, she enjoyed the topical costumes the most - one being a couple dressed up as Miley Cyrus and ‪Robin Thicke. Another year, she especially liked the lead characters from the movie Her, Theodore and the OS. "But my all-time favorite was a couple dressed as ‪John Lennon and ‪Yoko Ono in their matching white pant suits - they pulled it off beautifully."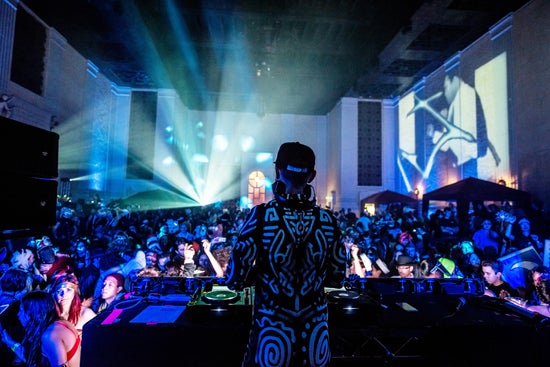 Of course, the MacArthur is a character unto itself featuring ornately embellished corridors leading to luminous ballrooms with an elaborate patio and garden. Originally designed by renowned Art Deco architect Claud Beelman, the large winged angels on the exterior of the building appear to beckon to those passing by, only adding to its allure. MacDonald went on to say that the building itself is staggeringly beautiful with lots of nooks and crannies to investigate - it is a spectacular venue to house the annual masquerade. "It's not open to the public, so it's very special to attend an event there." To find out more about the venue, visit http://themacarthur.com/#about
Click Here to order tickets now for $125 per person. KCRW's Masquerade Ball takes place this Saturday, October 28, 2017 from 9pm to 2am at the MacArthur, 607 S. Park View Street, Los Angeles, CA 90057; (310) 314-4635; http://masquerade.kcrw.com/
Calling all HuffPost superfans!
Sign up for membership to become a founding member and help shape HuffPost's next chapter
This post was published on the now-closed HuffPost Contributor platform. Contributors control their own work and posted freely to our site. If you need to flag this entry as abusive,
send us an email
.