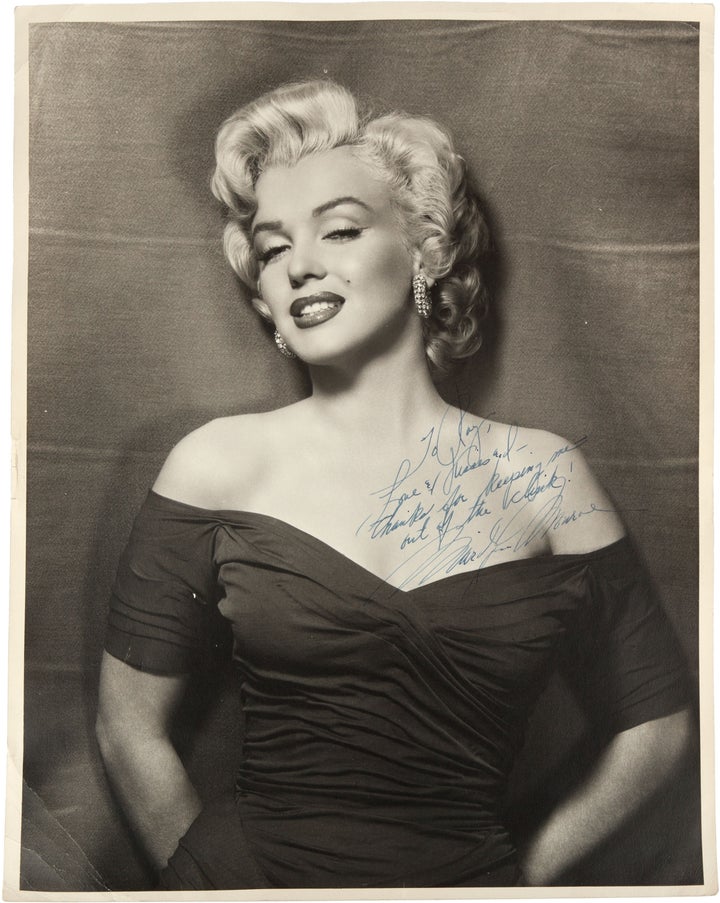 What would you do to get out of a speeding ticket?
For stars from Hollywood's Golden Age, there was no choice: send in an autographed glossy or face a stiff fine -- at least, that's how it was with Beverly Hills police officer Roy D. Garrett.
According to his daughters Shirley Brown and Donna Myers, Garrett -- who passed away 15 years ago -- would pull stars over on his Harley Davidson motorcycle and request a signed photograph. In return, he wouldn't issue fines or citations.
Some stars signed their photos with appreciative or blandly friendly notes. Marilyn Monroe's headshot contains this message: "To Roy, love and kisses. Thanks for keeping me out of the clink!" Ray Milland wrote, "All good wishes, Roy."
However, others sent back little poking jokes at the traffic cop. Lex Barker sent a menacing photo of himself holding up a knife and wrote, "To Roy, best wishes. And don't let this scare you." Dean Martin's use of scare quotes could be interpreted as sarcastic: "To 'Roy,' my new friend and 'pal.' "
All of Garrett's autographed photos are part of an auction of Hollywood memorabilia at Heritage Auctions in Beverly Hills, Calif. Margaret Barrett, Director of the entertainment and music department at Heritage Auctions, told The Huffington Post that she had never seen such an impressive collection of photos that was signed by the stars themselves -- not handlers or assistants.
"He would kind of pull movie stars over, and say 'I'll let you off from this speeding ticket if you send me a signed photo," explained Barrett. "The stars were so appreciative -- and it appears to be that they needed to sign it themselves, not their secretaries."
But Beverly Hills police department spokesperson Lt. Mark Rosen had a different point of view. While he declined to comment on alleged events that happened decades ago, he emphasized to HuffPost, "the professionalism of law enforcement doesn't allow for that today."
"We don't stop people for no reason, so we wouldn't sanction someone being stopped based solely on their notoriety -- nor let them off for their notoriety," explained Lt. Rosen.
Still, he admitted that the walls of the Beverly Hills police station are lined with celebrity shots. "Sometimes celebs just give you their photographs," he said.
All photos courtesy of Courtesy of Heritage Auctions. To bid on the signed photos, go to ha.com. Marilyn Monroe's photo starts at $4,000 and Dean Martin's starts at $250.
PHOTO GALLERY
Officer Roy Garrett's Hollywood Photographs
CORRECTION: A previous version of this article incorrectly spelled Ray Milland's name. We regret the error.
Calling all HuffPost superfans!
Sign up for membership to become a founding member and help shape HuffPost's next chapter