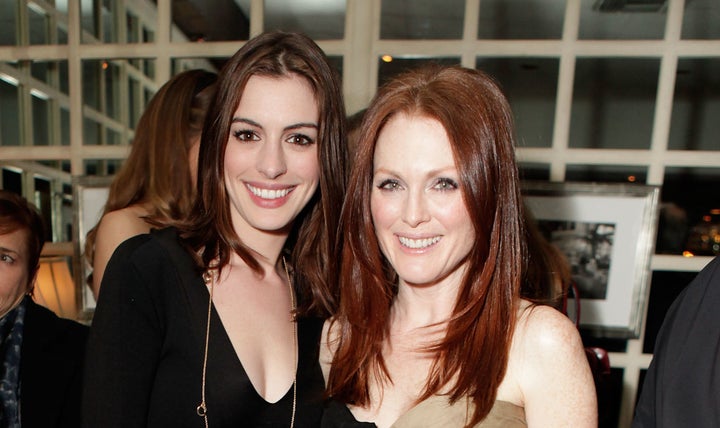 March 24 (Reuters) - Anne Hathaway, Julianne Moore and some 30 other Hollywood actors and directors added their voice on Thursday to entertainment industry threats to boycott Georgia if the U.S. state's governor signs a new law seen as discriminating against gay people.
Movie and TV studios 21st Century Fox, NBC Universal and Time Warner joined Walt Disney , AMC, Viacom and Marvel Entertainment in either opposing the bill, or saying they would take their productions elsewhere.
Lured by tax incentives, more than 240 film and TV shows were filmed in Georgia last year, bringing an estimated $1.7 billion into the state. They included AMC's hit zombie TV series "The Walking Dead," Disney's "Ant-Man" film and Lionsgate Entertainment Corp's "Allegiant" movie.
The controversial bill, passed by the Georgia state legislature last week, declares that no pastor can be forced to perform a same-sex wedding. Faith-based groups could not be forced to hire or retain an employee whose beliefs run counter to the organization, while churches and religious schools would have the right to reject holding events for people or groups to whom they object.
Georgia's Republican Governor Nathan Deal has said he will not sign a bill that allows discrimination. He has until May 3 to decide whether or not to sign the measure into law.
The Weinstein Co said in a statement that it planned to film a biopic of late comedian Richard Pryor in Georgia later this year "but will move the production if this unlawful bill is enacted." It called the measure "sanctioned bigotry."
Oscar-winning screenwriter Aaron Sorkin and "Glee" creator Ryan Murphy joined Hathaway and Moore in signing a petition addressed to Deal expressing concern that the bill would "sanction discrimination against LGBT people and others in Georgia."
"We will plan to take our business elsewhere if any legislation sanctioning discrimination is signed into state law," said the petition, organized by the gay rights organization, the Human Rights Campaign.
The Human Rights Campaign noted that only California and New York have a larger entertainment industry footprint than Georgia and both those states have laws protecting against discrimination.
The entertainment industry is the latest group to come out in force against the Georgia law. More than 300 companies, including Google, Coca-Cola, and Delta Air Lines have urged that it be dropped. The NFL said last week that if the bill is signed, Atlanta could lose the opportunity to host any future Super Bowls.
(Reporting by Jill Serjeant; Editing by Sandra Maler)