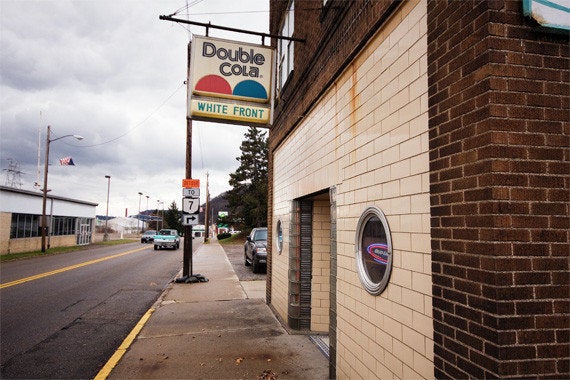 Beginning with "The Deer Hunter" in 1978 and probably wrapping up with "Reckless" in 1984, there was a small steel valley chic trend in cinema. Maybe the still-recent decline of the American factory town was fresh enough to resonate with the larger population and Hollywood. Of course, it didn't last long, and after the Aidan Quinn-Darryl Hannah vehicle, "Reckless," the plight of the steel valley was rarely used to goad teenagers into the theaters.
To some, "The Deer Hunter" is a masterpiece, its mill valley scenes working as a near-meditation for those of us who have witnessed or weathered this life; to others, it could be seen as a long ramble, equipped with a long Vietnam-based Russian roulette sequence that some have flatly called improbable. To those of us living in the region, acts one and three were not only recognizable, they were our home.
The film was supposed to take place in Clairton, PA -- a former chugging steel town near Pittsburgh, which has now been largely left to rot -- but most of the US-based parts of the film were actually filmed in and around Cleveland and Mingo Junction, Ohio.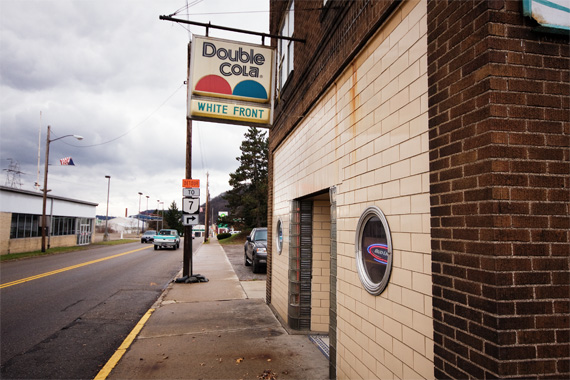 The White Front Bar, Mingo Junction, Ohio
Like Clairton, Mingo Junction was a steel-heavy town nearing the end of its life-cycle. The town became legendary due to its involvement in the film, but that notoriety hasn't staved off the decay and abandonment the town has endured.
"Reckless" was set in Weirton, WV and was largely filmed there, Steubenville, Ohio (right across the bridge from Weirton) and the aforementioned Mingo Junction. While still formulaic and marketed as a teen flick, "Reckless" was a small cut above, as well as being a better film than the Tom Cruise steel-town tale, "All The Right Moves," which was filmed in Johnstown, PA. In his inaugural starring role, Aidan Quinn somehow made sense in this role as Johnny Rourke, the angry factory town rebel, with an alcoholic mill-working father.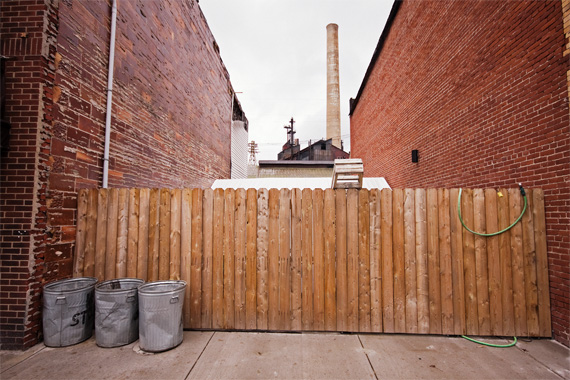 Mingo Junction, Ohio
Maybe sitting in the darkened theater along with my buddies, we thought (or wished) we were seeing a little of ourselves in Johnny Rourke. We were the teenage oddities listening to those early Clash and Elvis Costello records, and here was Rourke walking into his high school dance, yanking an insipid LP off the turntable and replacing it with Romeo Void's "Never Say Never" (not the absolute coolest choice, but it could've been worse). Rourke then goes into a whirling new wave-ish dance that seems to leave the other kids aghast, with the exception of our understanding heroine, Darryl Hannah.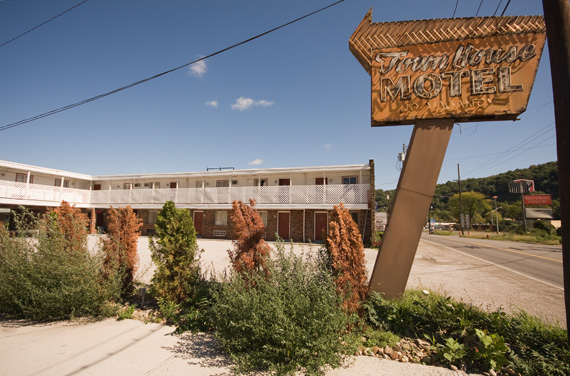 The Townhouse Motel, Weirton, West Virginia
Aidan Quinn's Johnny Rourke worked for us, because we understood why he hated his surroundings, but maybe we also knew that he wouldn't be the sort of cool, fucked up and even romantic catastrophe that he was, without those very surroundings.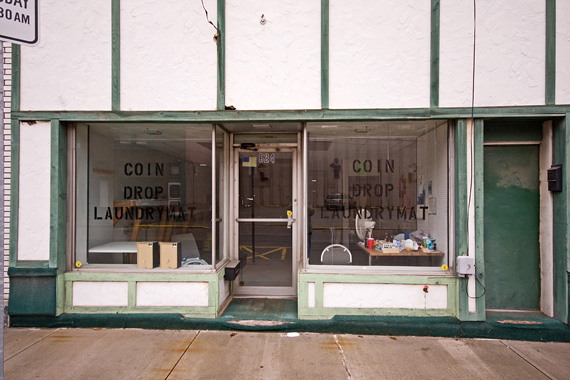 Coin Drop Laundrymat, Mingo Junction, Ohio
Today, Hollywood is alive again in the cities and valleys of Western PA and its surrounding areas. Pittsburgh has been especially busy with recent visits by Russell Crowe, Emma Watson, and Christopher Nolan's "Dark Knight" crew. And while it's wonderful that our area is being utilized for such projects, I doubt we'll see another "Reckless" among them; most of the liquor licenses have been sold to the Chili's, Applebee's and Red Lobsters on the outskirts of town, and the towns themselves now include more vacant lots than buildings. Yes, they'd now have to build or CGI in a set to recreate the lost towns of Mingo Junction and Clairton.
Please visit Randy Fox's website for more Rust Belt photography. Fox also manages the American Elegy website, which features the interviews and work of some of our greatest photographers, well-known and emerging.
Related