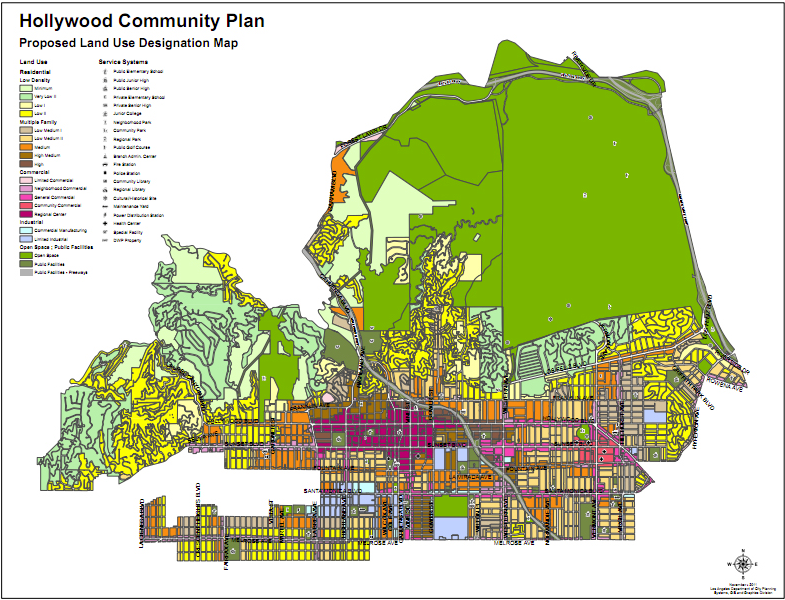 A planning document that will shape the way Hollywood looks for at least the next 20 years was touted by Mayor Antonio Villaraigosa today as a way to build effective transit-oriented development in one of the most popular areas of Los Angeles.
The community plan was approved by the city Planning Commission earlier this month. It still requires an OK from the Planning and Land Use Management Committee and Los Angeles City Council, though the two men who represent Hollywood -- Eric Garcetti and Tom LaBonge -- joined the mayor today in support of the plan.
"I don't have to tell you that land use can be an arcane policy area, but it goes right to the heart of what neighborhoods look and feel like, and has a major impact on the quality of life of the people who live in those neighborhoods," Villaraigosa said at a news conference atop the Hollywood Tower apartment building.
The plan calls for concentrating growth around existing Metro Red Line stops and the "downtown" section of Hollywood, which is defined as the area from Franklin Avenue south to Fountain Avenue and La Brea east to Vine Street. Single-family homes in the hillside areas would be protected with the plan's inclusion of the slope density calculation. Planning officials also included proposals for pocket parks, trails along the Los Angeles River, and support for a proposal to cover the Hollywood (101) Freeway with a park.
If approved, this would be the plan's first update in more than 20 years.
"A 1988 plan just doesn't cut it. In fact, trying to shoehorn a 23-year-old plan into 2011 stands in the way of jobs and business and in the way of preservation.," Garcetti said.
The community plan has been met by resistance from some community groups. At the morning news conference, members of the Beachwood Canyon Neighborhood Association handed out a flier stating:
If more density is allowed it will congest the streets to a state of permanent gridlock. Hollywood will lose all of its charm. There is no need for additional commercial zoning. There are 'For Lease' signs everywhere. The commercial zones are not built up to the maximums possible under the current plan.
It was not immediately known when the plan would vetted by members of the PLUM Committee. The Los Angeles City Council is on recess until after the holidays.
Related
Popular in the Community