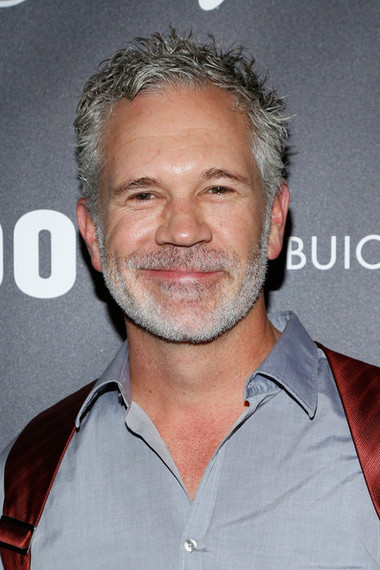 The entertainment world is much smaller than people might assume, and the Internet makes it even smaller. It was Twitter that first introduced me to actor/director Gerald McCullouch. After I caught him in the Web series Hustling, we struck up an online friendship. I also was able to catch him in a play in New York City this year, and now the openly gay actor (listed in the OUT 100 list just a few years back) has taken on a new project, and I needed to learn more.
Gregory G. Allen: It's been a few months since I last saw you in New York at the start of summer in Moonlight & Love Songs. What have you been up to since then?
Gerald McCullouch: Scott Sickles wrote such an amazing play, didn't he? Tony Award-winning producers Bruce Robert Harris and Jack Batman helmed GayFestNYC, which the show was a part of, as the only fundraising entity for the Harvey Milk High School-furthering education fund. It was incredible to spend my summer in NYC not only telling Scott's story but feeling like we were involved in something that was so special in supporting LGBT youth. I stayed in NYC for a bit after Moonlight & Love Songs closed to work on a new play called Cover, directed by David Drake, then popped back west to shoot a snazzy new thriller/suspense film, The Atticus Institute, and start the long process of pre-production on my directorial debut feature film, Daddy. 
Allen: Many folks may know you as a television actor (CSI: Crime Scene Investigations), but you are also such a champion of gay rights as you live out and proud. Tell us about the importance of that for you.
McCullouch: When I became friends with remarkable men like Bruce Cohen and Alan Poul, I learned by example. They inspired me to become politically involved and active. Consequently, saying "yes" to your own unique self and voice was the theme that inspired my first film, The Moment After, and it's been my "walk" ever since.
Allen: As a gay man who was just able to marry in my state of New Jersey this month, I can appreciate the significance of living an authentic life and being who you are. Do you feel that enough movies show the diversity of the LGBT community?
McCullouch: I've said this before, so I hope I don't sound like I'm repeating myself (which, obviously, I am), but society is changing daily. And therefore the stories that reflect society are changing. It's one of the reasons I'm so thrilled to be a part of the BearCity franchise. I think those films reflect a group of mature gay men that hasn't really been represented onscreen before. And my new project, Daddy, is very similar in that it's a story with mature gay protagonists. Usually in mainstream film the protagonists aren't gay unless they're very conflicted or the comic relief or it's a coming-out story of someone much younger. I'd like to try to champion stories that open that up a bit.
Allen: Such a great point! As a director/actor you have worked on so many projects. What was it about the play Daddy, which you starred in two years ago, that made you want to return to this piece as a film?
McCullouch: Daddy is one of the most powerful stories that I've ever come across. Dan Via, the writer and co-star, has such a keen insight into humanity, and a freakin' hilariously acerbic wit. His story and the role fit me like a glove from the first time I read the script. And from the New York production to the L.A. production, to experience not only the critical praise both productions received but to witness the impact the story had on the audiences night after night was intoxicating. I've been fighting for this to become a film ever since the play moved from NYC to L.A. 
Allen: That makes it even more exciting for it to finally be happening. You have successfully walked the tightrope between Hollywood and indie films. What is about indie that is so special?
McCullouch: The stories being told in the indie sphere just seem to be something my career has gravitated towards. Believe me, I wouldn't mind at all doing projects with much larger budgets, but I'm perfectly happy with things the way they are.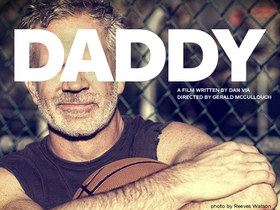 Allen: Your Kickstarter project for the film Daddy clearly states that creatively, so many of you are giving of your time. That is amazing in a world of "what can I get from this experience?" attitudes. That truly speaks to your passion for the project.
McCullouch: Do you know that Hitchcock had to mortgage his own home to get Psycho made?
McCullouch: No one thought it would go anywhere, Psycho. With passion projects, in any sphere, it becomes about the story we want to tell and put out into the world much more so than a "what's in this for me?" experience. And we bend over backwards to get our "babies" made.
Allen: I love that! So many big-name stars have taken to crowdsourcing in the past year. Do you think it has hurt or helped the ability to approach people to fund indie films?
McCullouch: Crowdsourcing is such a powerful tool to allow artists to retain their artistic vision. Any recognition brought to crowdsourcing, from my point of view, only benefits its potential.
Allen: As one working on my own indie LGBT film, I wish you all the best with yours, and I appreciate you speaking with me. Is there anything else you would want readers to know about you or this project?
McCullouch: I think the project speaks for itself. It's such an important story about friendship and family and love and equality and the heartbreaking consequences of the things left unsaid.
Photo: Gerald McCullouch at the OUT 100 Awards in New York City on Nov. 14, 2013 (credit: Cindy Ord/Getty Images)
Calling all HuffPost superfans!
Sign up for membership to become a founding member and help shape HuffPost's next chapter