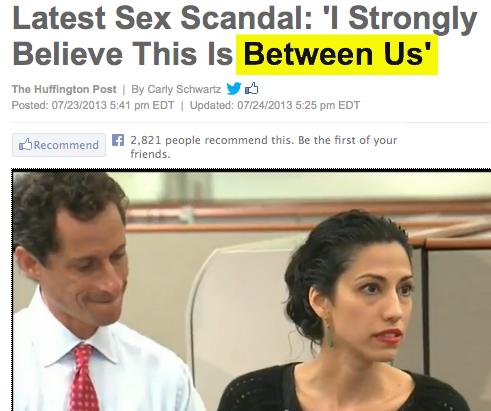 I would like to apologize for the horribly inappropriate product placement of my movie Between Us in Anthony Weiner and Huma Abedin's press conference, just in time for the movie's digital release next week. During the press conference, Ms. Abedin said, "Anthony's made some horrible mistakes, both before he resigned from Congress and after. I do very strongly believe that that is between us and our marriage."
Regrettably, there have been social media suggestions that we, the filmmakers, are in some way unduly capitalizing on a tragic marital drama in order to promote our drama about tragic marriages (that is already generating awards chatter for stars Julia Stiles, Taye Diggs, Melissa George and David Harbour).
I can assure you that, to the best of my knowledge, Ms. Abedin was not paid or compensated in any way for her mention of the film, which is a vivid story of two couples struggling with their own marriages. Whether she has seen the movie any of the twenty-two film festivals in seven countries where it has appeared (including the Bahamas International Film Festival where it won the Grand Jury Prize), or during its specialized theatrical release this summer, I can not say for certain. Perhaps it was a freudian slip of the tongue, based on her reading the rave reviews that have at various times called Between Us "brilliant", "genius", "hilarious" and particularly remarked on the "career best performances" of the ensemble cast.
In some way, I'd like to think that the title of the movie, based on the hit Off-Broadway play by Joe Hortua, has become some kind of idiomatic meme (ie. drunk dudes getting face tattoos in Vegas saying "This is so The Hangover!", half-eaten swimmers in Martha's Vineyard saying "This is so Jaws!", or Adam Sandler's high school friends saying, "This is so Grown Ups 2!"). I could imagine worse legacies than knowing that every wronged spouse in America will reflect on their awkward marital predicaments and say, "This is SO Between Us!"
In any case, if anyone was offended by the association of this scandal with our movie, I am deeply sorry.
Popular in the Community