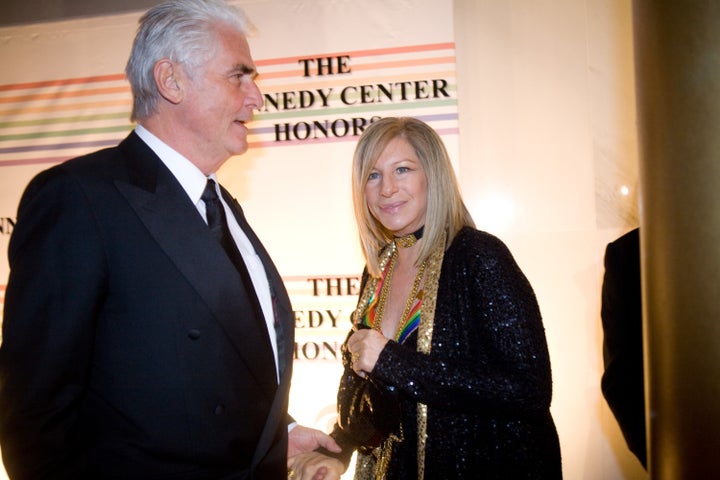 When Kat Kramer announced the launch of her "Films That Changed the World" series, she got a mostly enthusiastic response, but there were a few naysayers.
"You've got to be kidding me!" some said to Ms. Kramer, "Films don't change the world!"
As Kramer shared this story at the premiere luncheon for her series, groans of disagreement from approximately 100 women (and a handful of men) in the entertainment industry echoed throughout a "writer's garden" area on the Sunset-Gower Studios lot in Hollywood.
To those in attendance, films absolutely have the power to change the world.
Kat Kramer conceived her series when Sunset-Gower named a theater in honor of her father, the late producer and director Stanley Kramer. As a matter of interest, his classic Guess Who's Coming to Dinner? was filmed on the Sunset-Gower lot over 40 years earlier when the facility was known as Columbia Pictures.
Stanley Kramer's films, which also include Inherit the Wind and Judgment at Nuremberg, often gave him a reputation as a "message movie-maker."
"[My father's movies] effected change," says Ms. Kramer. "He didn't set out to do that but he wanted to tell stories and explore issues that were going on around him."
It is apropos that Kat Kramer's "Films That Changed the World" will honor both her father's legacy and the achievements of filmmakers whose movies contained significant social relevance upon their initial release and retain that relevance today.
Kramer chose the empowerment of women as her first social theme (hence the majority female invite list) and the film chosen was Barbra Streisand's Yentl.
Of course, the question to ask based on Kramer's series title is, "How did Streisand's film change the world?"
It seems forgotten that Streisand was the first "bankable" female figure in Hollywood to produce, direct, co-write, and act (not to mention sing) in a major motion picture. This may not seem important in 2009, but in 1983 Streisand had to overcome great obstacles to get Yentl made.
At that time, the film industry was not welcoming of female auteurs. Streisand's achievement blew the door wide open for many women to produce and direct their own movies (Penny Marshall, Jane Campion and Sofia Coppola are a few that followed).
Additionally, the plot of Yentl mirrors Streisand's battle for achievement. Streisand was trying to get a foothold as a director in an atmosphere that was largely "For Men Only." The character of "Yentl" has essentially the same problem. To study Talmud was forbidden to women, so "Yentl" has to disguise herself as a man and enter "a man's world" in order to get an education.
It stands to reason that women of varying industries and professions were equally moved by Streisand's on and off screen efforts, and felt inspired to prove they can hold positions of power as effectively as men.
Despite Streisand's impressive achievement, Kramer notes that women in Hollywood seem to have taken a few steps back in the ensuing years. She says, "It's unfortunate that even now, a lot of women in the film industry are not getting the chances they were even then [in 1983]. I think, 25 years later, we have to examine why that is happening."
In keeping with her intention to put a spotlight on a present day issue concerning women, Kramer expertly tied a primary theme of Yentl (that women are considered substandard in the world of men) to the current human rights violations of women and girls in the Congo of Africa.
A group called The Enough Project, which created a campaign called Raise Hope for Congo, was invited to be a part of the occasion.
In materials provided by The Enough Project, Major General Patrick Cammaert, a former UN Deputy Force Commander, is quoted on the situation in eastern Congo. He states, "It is more dangerous to be a woman than to be a soldier right now."
Vice-President of Participant Media Bonnie Abaunza (also Kramer's co-host) and actress Emanuelle Chriqui (of Entourage and You Don't Mess with the Zohan), were guest speakers before the screening of Yentl would begin.
Abaunza spoke of being haunted by stories she'd read as she started working for Amnesty International seven years prior. One of her case files dealt with an extreme form of sexual violence being perpetrated against women of Congo.
She cited the chilling account of a mother, grandmother and granddaughter who had all been gang-raped for hours by Congolese rebel forces. The little girl, five years old and named Precious, was so traumatized she no longer speaks.
When Abaunza first learned of these horrors, her own daughter was five years old. She looked at her child and thought, "How do I....we.....tackle the propensity for human beings to perpetrate this kind of violence and brutality?"
As she continued to read the file, there were stories of a few people who would go out of their way to help these women. These hopeful stories presented some form of balance and Abaunza realized, "The capacity for human compassion far outweighs the brutality."
When Ms. Chriqui stepped to the podium, she spoke about "conflict minerals" from the Congo and how they are utilized in electronic devices, particularly cell phones.
"It is not unlike the "blood diamonds" of Sierra Leone" reported Chriqui. "The armed groups and military units perpetrating violence in Congo are making millions of dollars off the trade of Congo's minerals. The mineral wealth should be a source of prosperity for the Congolese rather than a source of exploitation and violence."

Chriqui urged those in attendance to be certain the cell phones they purchase do not contain conflict minerals, and therefore are not financing violence and rape in Congo.
In addition to bringing awareness to the plight of the Congolese, Ms. Kramer honored the artistry of Streisand's film, which holds deep personal resonance for her. She and her father watched the film together many times and Kramer considers Streisand a personal heroine. The film is currently celebrating its 25th Anniversary with a DVD release.
Preceding Abaunza and Chriqui at the podium was Marilyn Bergman, who co-wrote lyrics to the musical score of Yentl and agreed to speak on behalf of the film. Bergman is also the first female President and Chairman of ASCAP, a position she has held since 1994. She will resign shortly to concentrate on other projects with her husband and songwriting partner, Alan Bergman.
In her introduction of Mrs. Bergman, Kramer said she considers the music the "heart and soul of Yentl." Bergman was very grateful for the compliment and Ms. Kramer's efforts to bring attention not only to the film but women's issues around the world.
"I am hardly objective on the subject of women, Yentl or Barbra [Streisand]," she said. "I think shining a light on women of accomplishment, not only in this [entertainment] industry, but industry in general has somehow faded. The women's movement used to have a kind of steam that I think has gone out of it. This is a time when many things are being revivified in this country because of the new Presidency and I think we have to keep talking about change and women's rights, not only here but all around the world. I think [this event] is a step in the right direction. I am certain Kat's father would be very proud today."
Jewelry designer Keren Barukh, a continual champion of women's causes, was a sponsor for the event and sold her unique pieces at an impressively generous discount in order to help raise funds for The Enough Project. Barukh's jewelry was sold out before the luncheon came to a conclusion and attendees were led to the intimate, 70-seat Stanley Kramer Theatre to watch an extended version of Yentl.
As the film played, when any male character questioned whether a woman's thoughts have any value, the gasps and indignation from the majority female audience made it clear that Streisand's film still strikes quite a nerve.
Candice Knezevic, a campaign manager for The Enough Project, had never seen the film and said, "I couldn't help but think about the obstacles that women continue to face today."
Music publicist Monica Wild was also seeing the film for the first time and felt that Kramer's use of Yentl was brilliant.
"Yentl" isn't just a character in a movie, she represents women all over the world," said Wild. "We take for granted that the United States is one of the very few countries where women can be free. We should strive to make more movies like Yentl that pull at the heart and make us realize how important freedom is."
Kat Kramer was mostly mum when asked about the next film in her "Films That Changed the World" series, but did say that after she completes work on an album of Mick Jagger music, she will make an announcement. One tidbit she did let slip?
"I'm considering an all male invite list next time out."
For more on The Enough Project and Raise Hope For Congo please click here.
For my previous Huffington Post article about Barbra Streisand's Yentl, please click here.
Support HuffPost
The Stakes Have Never Been Higher
Popular in the Community