MIAMI BEACH, Fla. ― A 11th person has died after a nursing home in Hollywood, Florida, had its air conditioning system knocked out by Hurricane Irma earlier this month.
City officials reported the latest death on Friday, more than a week after the first victims were discovered. The agency identified the most recent victim as Alice Thomas, 94.
Among those who died earlier, three were found dead at the Rehabilitation Center at Hollywood Hills on Sept. 13 when Broward County fire rescue crews received several calls from the nursing home starting around 3 a.m., the city of Hollywood said in a statement. Another resident had died Sept. 12 and the body had been picked up by a funeral home. The remaining victims died after being evacuated to a nearby hospital.
The other victims have been identified as Bobby Owens, 84; Manuel Mario Medieta, 96; Miguel Antonio Franco, 92; Estella Hendricks, 71; Gail Nova, 71; Carolyn Eatherly, 78; Betty Hibbard, 84; Albertina Vega, 99; Carlos Canal, 93 and Martha Murray, 94.
The official causes of death have not yet been determined.
Hollywood Police Chief Tomas Sanchez said his department has opened a criminal investigation into the matter.
"The initial investigation has determined that the facility's air conditioning system was not fully functional," a statement from the city of Hollywood read Wednesday afternoon. "Portable A/C units were being used in the facility, but the facility was excessively hot."
Florida's Agency for Health Care Administration issued an emergency suspension of the rehab center's license on Wednesday, nearly a week after Florida Gov. Rick Scott (R) ordered an emergency moratorium on admissions to the facility.
When Broward County fire rescue crews arrived on the scene Wednesday morning, they found "a number of people in respiratory distress and other distress," prompting them to evacuate the facility's 158 patients, according to city spokeswoman Raelin Storey.
"Once we determined that we had multiple deaths at the facilities and that the facilities are extremely hot, we made the decision to evacuate all of the patients," Storey said at a news conference.
Many of the patients were taken to Memorial Regional Hospital, across the street from the rehab center, Storey noted.
Randy Katz, the medical director for the hospital's emergency medical department, said the death toll could "potentially" rise, as more than a dozen patients remained under emergency care on Wednesday afternoon.
"The scene was chaotic when I arrived," Katz told reporters. "This is something unique, something extremely sad, and extremely unfortunate for the families of the patients."
Local ABC affiliate WPLG spoke to the air conditioner repairman who had been trying to fix the rehab center's cooling system.
Airstron employee Dave Long told WPLG that he had called Florida Power & Light several times over a period of days, requesting that the company fix a broken fuse that had popped out during Irma.
"There's nothing we can do," Long said. "We've been calling and calling... It just doesn't seem to be going anywhere and I can't do anything until we get that fuse popped back in."
Rob Gould, chief communications officer for Florida Power & Light, wouldn't comment on whether his company received calls for help from the rehab center. But he noted that Broward County officials never identified the facility as "top-tier critical infrastructure" as they had done with the hospital across the street.
"What we've seen is something extremely tragic," Gould said during a press conference. "It points to the need for having plans in advance when it comes to emergency preparation."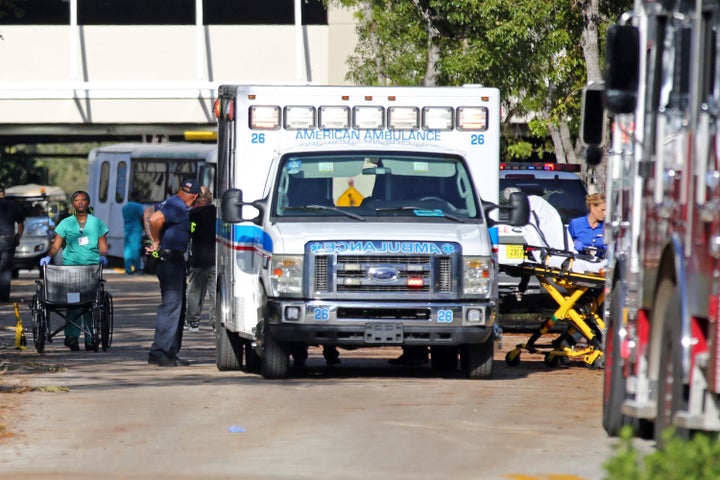 The rehab facility has been cited twice in the past three years for violations related to federal requirements concerning back-up power generators, according to STAT, a health-oriented news website.
The nursing home's owner, Jack Michel, also has a troubled history. Michel, a doctor, is listed on state health care records as the president of Larkin Community Hospital, which neighbors the Hollywood Hills rehab center and which was also evacuated Wednesday.
In 2006, Larkin's owners were fined $15.4 million by the U.S. Justice Department in a settlement of a civil fraud complaint, reported the Miami Herald. Michel had been accused of conspiring with other physicians to admit patients to the hospital for unnecessary medical treatments for financial gain.
The Rehabilitation Center at Hollywood Hills did not immediately respond to multiple requests for comment.
But Jorge Carballo, the center's administrator, told the Miami Herald that the facility "is cooperating fully with relevant authorities to investigate the circumstances that led to this unfortunate and tragic outcome."
"We got my mother out of there in time. Thank you, God."
Michele Callahan, a music teacher from Miami, said her 84-year-old mother had been a patient at Hollywood Hills until just a few days before Irma hit. She told HuffPost she was deeply saddened by the eight deaths, but not terribly shocked.
"I hate to tell you, but I'm not totally surprised because of how I saw things run over there," Callahan said. "I saw patients sitting in wheelchairs that probably needed to be attended to, but they just don't have enough people."
Callahan said several factors, including poor communication and limited staffing, made her concerned during her mother's nearly two-week stay at the facility. She described one visit in which her sister discovered their mother had been sitting in urine-drenched clothing for hours.
"If you don't have somebody there, things weren't getting done," Callahan said. "It brings tears to my eyes because I saw so many patients there that didn't get to see relatives a lot. I wonder, my God, if they were being looked at."
"I think the people I met there were trying their best, but they just had too many patients," she added. "We got my mother out of there in time. Thank you, God."
Following the rehab center's evacuation, police conducted welfare checks on the other 42 assisted living centers and nursing home facilities in the city. As a result, four patients in their 70s were transported from an assisted living facility to a hospital for observation, the city said in a statement.
This story has been updated with the latest death count.
Travis Waldron contributed reporting from Florida. Lydia O'Connor also contributed reporting.
Related
Before You Go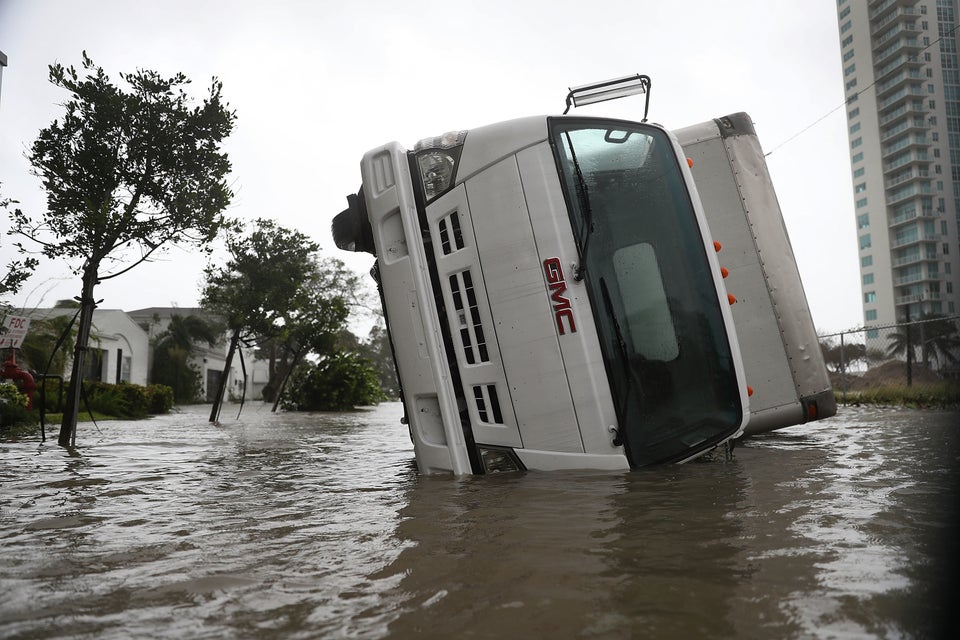 Hurricane Irma Hits Florida
Popular in the Community