Spoiler alert. This story is built upon our belief that one thing happens when in fact something entirely different occurs. The production clocks in at 60 minutes, so it's difficult to tease the denouement without revealing it. The discussion below will reveal it. If you don't want to know how the story ends (I wouldn't), I'll simply say, "Go see 'Fathers at a Game.' It's a relevant, powerful story of the way imagination mollifies tragedy and pain. It's nicely acted, well directed, and, after you see it, you won't be able to disentangle football and war again."

Another kind of fantasy football.
That describes "Fathers at a Game," written by Trey Nichols and directed by Vesna Hocevar at the East Theatre at the Complex in conjunction with the Hollywood Fringe Festival.
The story takes place on a bare stage. The backdrop consists of chevron-shaped fabric that serves as a screen for the projection of some of the football played down on the field. Its shape suggests perspectival depth, as if the stadium were a large oval. It also suggests the V-shapes on the sleeve of a soldier's uniform that describes the man's rank or length of service, of which more later.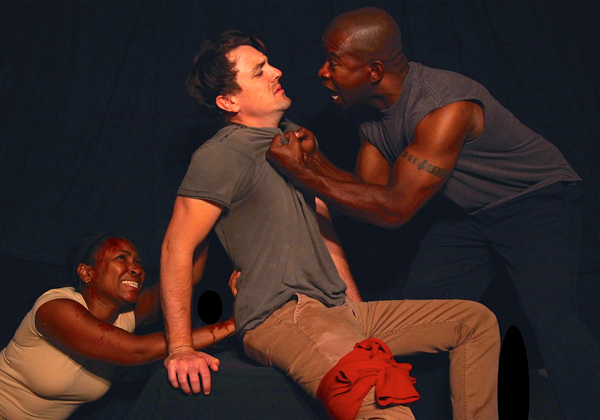 The production heaps conflict upon conflict. First, the high school football team against which the sons of Moe (Tony Williams) and Eddie (Luke Baybak) play. Loud and raucous, they want you to know where their loyalties lie. Then, it's Moe and Eddie going after each other, with the same sort of venom with which, say, a Raiders fan would assault a non-Raiders fan.
Then the conflict's source becomes ambiguous. From God-knows-where, in stumbles Dixie (Wendy Elizabeth Abraham). She's wearing combat fatigues, is grievously wounded. She mutters something about the rest of the outfit being blown to pieces. Eddie wants to save her from bleeding out. Moe won't let him. Huh? Doesn't this take place on a bucolic fall afternoon somewhere in the United States?
Then, like an RPG, it hits you. Moe, Eddie, and Dixie are soldiers. Most likely they're in the Middle East. Their vehicle has just been blown up by an IED. Dixie's dead, Eddie's dying, Moe tries to comfort him by recounting (or else imagining) the football game that began the story.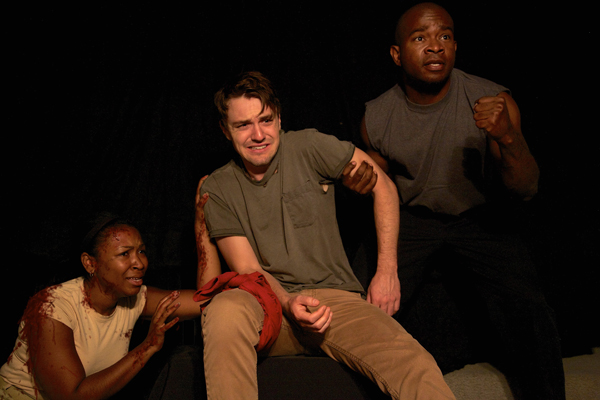 Nichols's conflation of a high school football game with warfare is inspired. There are similarities between the gridiron and the battlefield: opposing teams in uniforms and battle gear, partisan fans with inflamed emotions, adrenaline-fueled action, the potential for injury, if not worse.
Most fascinating of all, though, is the seamless way that Hocevar maps the transition from one theatre of operation (a football stadium) to another (a roadside). Early on the signs exist that this isn't an ordinary football game. Some of the images that flash on the backdrop show brief images of warfare. Eddie's gimp leg is not because he pulled a hamstring muscle (far from it). But it's not until Dixie staggers in and we see, first, Eddie's reaction to her and then Moe's reaction to Eddie's reaction that we realize that what we thought we saw is not what we're really seeing. Either way, football and warfare look a lot different from the stands than when you're down on the field. Way different.
Performances are 5:30pm Saturday, June 15; 2:45pm, Saturday, June 22; 9:45pm, Friday, June 28; and 9:45pm, Saturday, June 29. Tickets are $15. The East Theatre at the Complex is located at 6468 Santa Monica Boulevard, Hollywood. For more information call (323) 455-4585 or visit www.hollywoodfringe.org/projects/1360.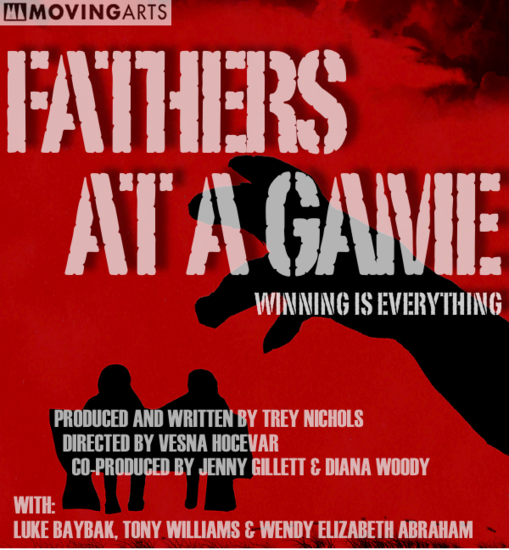 Calling all HuffPost superfans!
Sign up for membership to become a founding member and help shape HuffPost's next chapter