"Hollywood Game Night" is your all-access pass to a star-studded evening of celebrities ... playing totally hilarious games. It gives us insight into what stars are like when they're letting loose, and it's hosted by "Glee" funny lady Jane Lynch, so you know it'll be no holds barred.
We've got an exclusive sneak peek at the premiere episode (Thurs., July 11 at 10 p.m. ET on NBC), above, and a game they're calling Lil' Picassos. Kids draw a celebrity, and the contestants only get two clues to try to guess who it is. Matthew Perry, Kristen Bell, Martin Short, Lisa Kudrow, Alyson Hannigan, Daniel Dae Kim ... could this be any more fun?
We've also got an added Lil' Picassos exclusive -- click through this gallery to check out some outtakes from the game and see if you can guess who it is just by looking at the drawings, or reading a clue (or two if you're really at a loss).
*Hint: There's an answer key below the gallery to check how you did -- no cheating!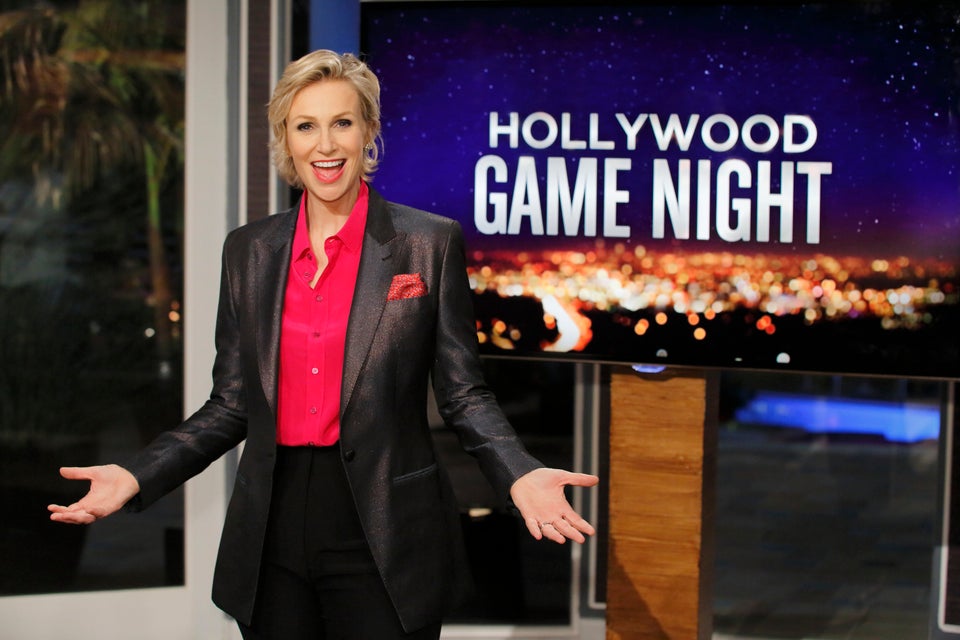 "Hollywood Game Night": Name That Celebrity!
"Hollywood Game Night" premieres Thurs., July 11 at 10 p.m. ET on NBC.
Lil' Picassos answer key: #1 - Tina Fey; #2 - Donald Trump; #3 - President Barack Obama; #4 - Zach Galifianakis; #5 - Pink; #6 - Daniel Radcliffe; #7 - Derek Jeter; #8 - Steve Buscemi; #9 - Serena Williams.
Here's the celebrity line-up for every episode of "Hollywood Game Night":
July 11 (premiere episode):
Martin Short
Matthew Perry
Daniel Dae Kim
Kristen Bell
Alyson Hannigan
Lisa Kudrow

July 18:
Valerie Bertinelli
Cheryl Hines
Sarah Chalke
Yvette Nicole Brown
Rob Riggle
Matthew Morrison

July 25:
Sean Hayes
Dax Shepard
Amy Poehler
Fred Armisen
Jason Sudeikis
Maya Rudolph

And subsequent episodes, air dates TBD, include the following pairings: Minnie Driver, Kal Penn, Kenan Thompson, Ellie Kemper, Angela Kinsey and Max Greenfield; Tom Arnold, Stacy Keibler, Patricia Heaton, Rose Byrne, Anthony Anderson and Jamie Lynn Sigler; Molly Shannon, Kristen Chenoweth, Wilmer Valderrama, Dominic Monaghan, Felicity Huffman and Aubrey Plaza; Terry Crews, Jerry Ferrara, Hoda Kotb, David Giuntoli, Tom Arnold and Emilie de Ravin; Al Roker, Nick Cannon, Josh Gad, Niecy Nash, Jason Alexander and Will Sasso.