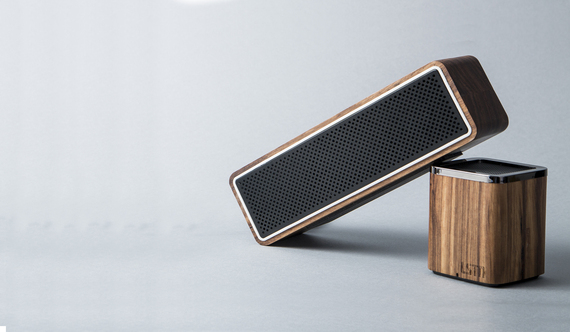 Hollywood-based headphones startup LSTN Sound Co. is no stranger to making news. Co-founder Bridget Hilton has been featured on elite Under 30 lists for Forbes and Inc. and named one of the world's Top 100 Creatives by Origin Magazine. Hilton and her co-founder, Joe Huff, created a company that fuses social entrepreneurship and style. Their wooden sound products, including signature lines of headphones and earbuds favored by Hollywood elite (dubbed the "Warby Parker of fancy headphones" by Fast Company), have helped restore hearing to tens of thousands of people in need through the Starkey Hearing Foundation.
With these accomplishments and more in the company's short three-year history, it's little surprise that their latest products, beautiful bluetooth speakers with real zebra, cherry, and walnut wood casings, reached an ambitious IndieGoGo campaign goal in less than 24 hours.
Like most cool products, LSTN's speaker design came out of necessity: Hilton and Huff were dissatisfied with the bluetooth speakers on the market and decided to design their own. The result are two beautiful, amazing-sounding bluetooth speaker designs with a purpose behind them. A portion of the proceeds from the IndieGoGo campaign benefit the Starkey Hearing Foundation and help people around the world hear for the first time.
The speakers, called the Apollo and the Satellite, both boast battery lives of up to 10 hours. At 7.5" x 2.3" x 2.5", the Apollo weighs about a pound and a half. The Satellite, at 2.3" x 3" x 2.5", is only 8 ounces. Both have shockingly great sound quality and will no doubt quickly become staples for travelers, like LSTN's coordinating Bowery wooden earbuds. (Bonus: all products come with a one-year warranty.)
Although both the Apollo and Satellite speakers have hit their initial IndieGoGo goals, LSTN has added stretch goals to the campaign, ensuring even more needy people around the world will receive the gift of hearing. As Hilton explains, "It's not enough to just make a great product. We started the company to help others."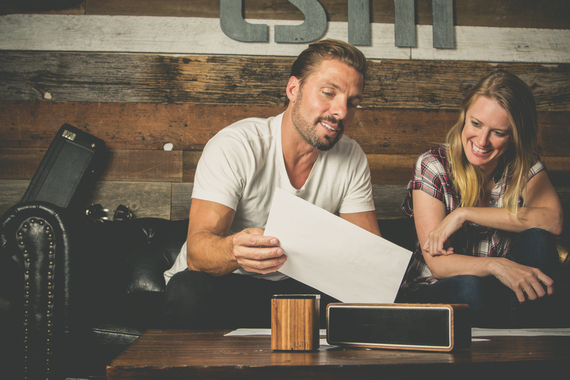 I spoke to Hilton about the company's new product, why it chose to debut the speakers on a crowdfunding platform instead of a traditional retailer, and what's next for this social-good startup.
What inspired LSTN's expansion from headphones into speakers?
My partner Joe and I travel constantly, and had been looking for cool portable speakers to bring with us on the road. We'd go into the Best Buys of the world specifically looking to buy one and there was honestly nothing out there that appealed to us. Our company will be expanding to all sorts of audio-related verticals. We recently changed our name from LSTN Headphones to LSTN Sound Co. to encompass a broader range of products like speakers, earplugs, and we even have a curated selection of vinyl records for sale on our site. We are a music company through and through and just want to keep providing awesome music products that give hearing. Our mission, "Sound & Purpose," is what is important to us.
What feature about the speakers is most exciting?
We were tired of seeing the same ugly plastic speakers everywhere and wanted something a little more classic feeling. We're huge fans of vintage audio equipment so we wanted to mix those design elements with incredible sound and technology.
Why did you choose to launch this new product via IndieGoGo instead of at one of your retail partners?
When you launch via retail, it takes months, even years, to get real feedback from the end consumer. With crowdfunding you get immediate reactions on which products or colors are most popular, what features the consumer is looking for, and what sticks out to them the most about the brand and product. When you go direct to fan the opportunity to interact with them is much higher. If someone is seeing LSTN for the first time in a retail store, it's much harder to communicate our story and message through a store than a website.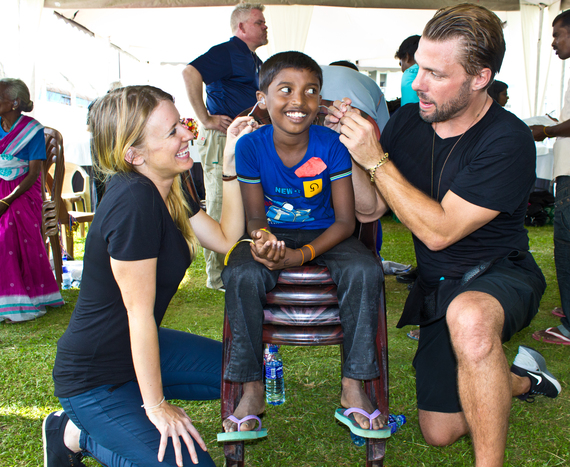 You've made trips all over the world with the Starkey Hearing Foundation to help give the gift of hearing. What are some of the most memorable moments from your travels?
Traveling with Starkey has truly changed my life and opened my eyes. I'll never forget our first trip when we went to Peru and helped this girl named Maria who was turning 18 that day. Her mom brought her to the mission for her birthday and we were able to give her hearing aids which enabled her to hear for the first time in her entire life. There were definitely tears!
Last November in Sri Lanka, we actually had our first prototype of the speaker with us and let this little boy hear music for the first time through it. He got up and started dancing with it and everyone there was clapping and cheering him along - such a happy moment! I also loved when we were in Uganda and there was a torrential downpour outside and around 100 patients, audiologists, and us were all huddled under this tent together, but Starkey wouldn't let that get in the way of helping people. They continued the whole time until every person was hearing correctly. It was an example of how dedicated Starkey and their founders Bill and Tani Austin are to helping each and every person that shows up - they're an incredible, inspiring organization.
Where is LSTN headed next?
We're actually headed to Mexico this week with Starkey, and plan on doing trips in the next year or so to Southeast Asia, the Middle East, and India. It's important that we display hearing loss as the global issue that it is and not just to a few areas.
What has been the biggest factor in your success?
Definitely my business partner Joe and our amazing team at our HQ in West Hollywood. Everyone works so hard to get the product and message out there and I'm so proud of them.
As the founder of a music company, what artists do you find yourself listening to most often?
At the moment I'm listening to a lot of Jamie XX, Alt-J, The Weeknd, and Kendrick Lamar. My favorite artist of all time is Ryan Adams so the 1989 cover album is currently spinning.
Related
Popular in the Community