 She's best known for playing Willow Palin, Sarah Palin's daughter in the Emmy-nominated HBO movie "Game Change," and for her starring role as an All-American teenager on the new Nick at Nite drama, "Hollywood Heights." But most people don't know that 24-year-old actress Brittany Underwood, is a proud Latina!
"I'm half-Colombian and my mother is from Bogota," Underwood told The Huffington Post in an email. The talented actress added that people are often surprised to learn about her Latin roots. "My dad is of English descent so, nobody ever assumes I'm Latina. They always think I'm Irish or Italian," she says.
Read on to find out what else Brittany had to say about her Latin roots, why she thinks everyone should teach their kids a second language, and why everyone should check out her new show "Hollywood Heights," which airs weekdays at 9 EST/8 CST on Nick at Nite.
Tell us about your character on "Hollywood Heights!"
I play an 18 year-old-girl named Loren. She loves to sing and write songs, but she's scared to show her talent because of her fear of rejection.
We know you're half-Colombian, but do you speak Spanish?
Spanish was actually my first language, but only by a few words. I learned Spanish and English pretty much at the same time. My mother always spoke to me in Spanish and my dad always spoke to me in English, so I learned them both with no accent.
That's awesome!
I think everyone who has parents or a parent [who] can speak another language, should teach it to their kids. It opens them up to a different culture and makes them a more well-rounded, open person, I think. Especially Spanish, since there are over 50 million people [of] Hispanic origin living in the U.S. It's just so useful.
What do you love most about being Latina?
I love so many things about being Latina. I love that I can speak Spanish. Its helped me learn other languages more easily which I think is really fun.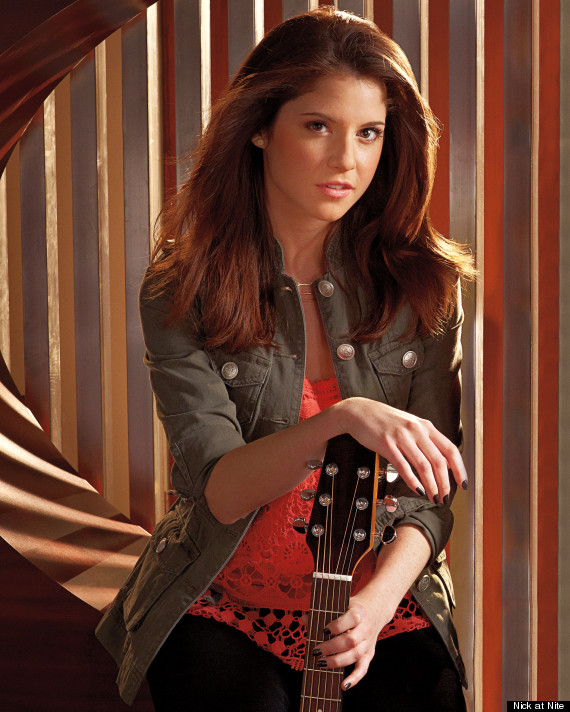 What's your favorite Latin dish?
My favorite Latin dish is Bistec Encebollado con aroz, yucca, arepa y tostones.....O.K., now I'm craving it so bad! Back in Jersey, there's this town called Dover, that has a whole bunch of amazing Colombian restaurants. I still have to find a good one out here in LA....any suggestions? Lol.

Why should people check out "Hollywood Heights?"
I think people should watch "Hollywood Heights" because there's something in it for everyone. It has some juicy secrets and twists and turns that keep you tuning in every night. There are great original songs that Cody Longo and myself got to record, and so far people are loving it. And then there's the inspirational side to it that motivates people to follow their dreams.
I'm getting so many girls on twitter sending me their lyrics to songs that they've written, and telling me that my character and the show has inspired them to write songs and follow their dreams and I think that's an absolutely beautiful thing and makes me so happy...If I get a chance to change someone's outlook on life and motivate someone in that way while doing something that I just think is really fun and that I enjoy doing, then what more could I ask for?
CHECK OUT THIS SLIDESHOW ON STARS YOU NEVER KNEW WERE MEXICAN
Popular in the Community