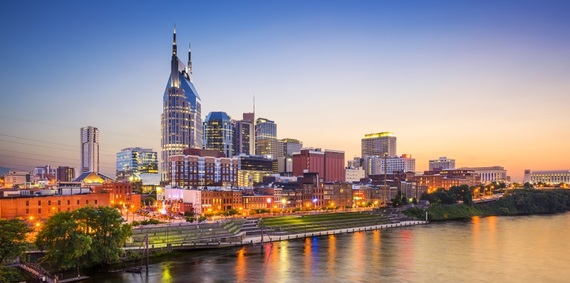 Nashville may be more known for its music roots, however, there is a deep Hollywood connection as well.
Nashville staples like the Grand Ole Opry and the Ryman Auditorium have been featured in the films Walk the Line, Coal Miner's Daughter, and Sweet Dreams.
The iconic Bluebird Cafe is a regular location in ABC's hit show Nashville, but was also featured heavily in one of the late River Phoenix's last films, The Thing Called Love. The film also co-starred a young Sandra Bullock and Samantha Mathis, telling the story of a group of musicians from various walks of life as they strive to make their dreams of being country musicians come true.
The Tennessee State Penitentiary in Nashville has been in a number of films, including The Green Mile, Last Dance, and Walk the Line. While closed to the general public, due to its deteriorating state, it continues on as a tourist must see.
Coal Miner's Daughter featured a few more landmarks of Nashville as well. In one scene, actress Sissy Spacek shared a heated scene with Tommy Lee Jones in the alley between the Ryman Auditorium and Tootsie's World Famous Orchid Lounge.
Centennial Park features the replica of the Greek Parthenon and was featured within the climatic final scene of Robert Altman's 1975 musical film Nashville.
On Wednesday, April 20th through Friday, April 22nd those two worlds of music and film will collide once again as Hollywood comes to the Music City of Nashville for the Nashville Film Festival and Nashville Writers Conference, complete with movie, television, and country stars, as well as some of Hollywood's biggest names in screenwriting and filmmaking.
The Nashville Film Festival is one of the oldest and largest film festivals in North America. At 47 years, it now offers three competitions in film, web series, and screenwriting. In 2016, the competitions will receive more than 6,000 entries. Filmmakers from across the country and around the world attend the festival every year. This Academy Award-qualifying festival has hosted such celebrity honorees and participants as Oprah Winfrey, Susan Sarandon, William Shatner, William H. Macy, Al Gore, Danny Glover, Vincent D'Onofrio, Joey Lauren Adams, Rob Thomas, Craig Brewer, Harmony Korine, Ashley Judd, Kiefer Sutherland, Joshua Jackson, Brad Paisley, Kimberly Williams-Paisley, Peter Falk, Paul Reiser, Patrick Swayze, Rick Schroder, Christine Vachon, John Waters, Matthew McConaughey, Robert Redford, James Cromwell, Harry Belafonte, Barbara Kopple, Michael Moore, D.A. Pennebaker, Marc Webb and many more.
Check out the sizzle reel for last year's festival.
The Nashville Writers Conference is a three-day conference that runs Wednesday, April 20th to Friday April 22nd, in the heart of the Nashville Film Festival. The event is sponsored by ScreenCraft, the industry's fastest-growing screenwriting blog and talent discovery platform, with a worldwide social following of more than 75,000 writers across Twitter, Facebook and Instagram. ScreenCraft's judges and mentors include Oscar, Emmy, Golden Globe and BAFTA-winning writers and producers. ScreenCraft's many contest winners have signed with Hollywood's top agencies and management companies including: 3Arts Entertainment, Anonymous Content, ICM, Paradigm, Kaplan/Perrone and Bellevue Entertainment.
This is a conference for up-and-coming screenwriters as well as the seasoned writer looking to hone skills and get a no-nonsense industry edge. The walls come down in Music City as attendees will experience an uncensored, writer-focused glimpse into the real machinery of Hollywood. Listen to Jeb Stuart talk about writing big-budget Hollywood tentpoles (Die Hard, The Fugitive), Max Borenstein discuss the sci-fi reimagining of a famous epic (Godzilla), Andrea Berloff on what it was like adapting real-life stories of hip hop legends into Straight Outa Compton, and Keya Khayatian, Senior Literary Agent at United Talent Agency (UTA) shares what it means to work with a top Hollywood agent and how to get one that works for you.
Other speakers and mentors include: Producer Sean Covel (Napoleon Dynamite), and screenwriters Shauna Cross (Whip It, If I Stay, Bad Santa 2), Malcolm Spellman (Empire), Mark Bomback (Insurgent, War for Planet of the Apes, Live Free or Die Hard, Wolverine), and Oscar-winning screenwriter Diana Ossana (Brokeback Mountain)!
The conference begins with "Hollywood 101" where writers such as Phil Hay (Clash of the Titans, Ride Along) and Chad & Carey Hayes (The Conjuring) break-down the secrets of the industry and how you can get the most out of the days of the conference.
The highlight event is "The Big Pitch" where writers will have the chance to pitch to Producers, Executives, Agents and Managers.
So whether you're a screenwriter, filmmaker, or movie buff, and are looking for an excuse to either visit Nashville for the first time, revisit it again, or trek down the street from where you live, you can be a part of this exciting three day event.