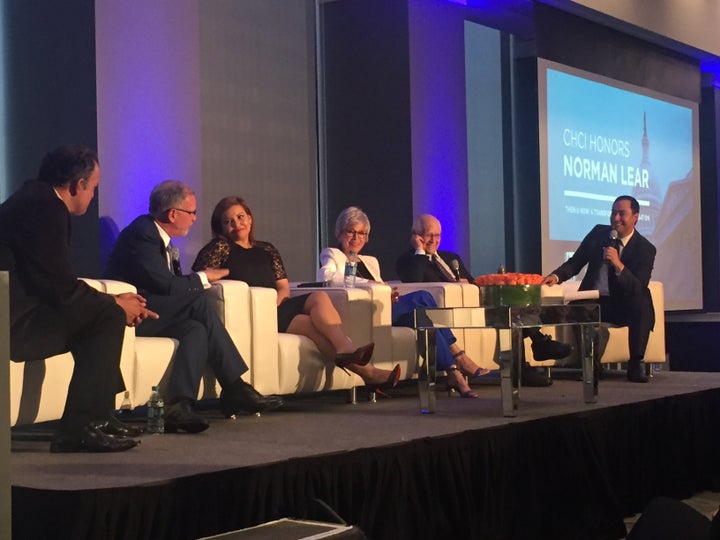 Legendary television veteran Norman Lear was awarded the inaugural "Pioneer Award" by the Congressional Hispanic Caucus Institute (CHCI) on June 2nd at the City Club in downtown Los Angeles. Lear received the honor in recognition of his commitment and contributions to diversity and inclusion in television storytelling.
For nearly 40 years, Norman Lear has spearheaded groundbreaking television shows highlighting diverse characters and cultures. Lear's notable works include "The Jeffersons," "All in The Family," "Good Times," and more recently the Netflix remake of "One Day At A Time" featuring a Latino family.
CHCI Chair and Texas Congressman Joaquín Castro presented Lear with the "Pioneer Award," recognizing his contributions and describing him as "a pioneer who has broken down barriers on behalf of not only Latinos, but also African-Americans."
Lear and Representative Castro participated in a one-on-one discussion titled "Then & Now: A Transformative Conversation." They discussed Lear's important achievements, as well as the state of the U.S. film and television industry today as compared to the 1970s.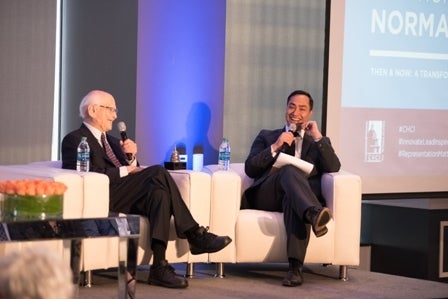 When asked where he sees television then versus now, Lear responded, "In terms of what influence we need, we have a long way to go, whether we're talking about race, or color, or any of the social problems."
The event also featured a forum including Emmy, Grammy, Academy, and Tony award winner actress Rita Moreno. The discussion focused on the lack of diverse representation in Hollywood, the negative typecasting of minority actors, and how exclusion in film and television has impacted societal perceptions beyond the entertainment industry.
Other participants on the discussion panel included cast members from the 2017 remake of "One Day at a Time," star Justina Machado and guest star Tony Plana. Also joining the discussion was actor and comedian Paul Rodriguez who reflected on Lear's influence in his career and the creation of 80s sitcom "AKA Pablo."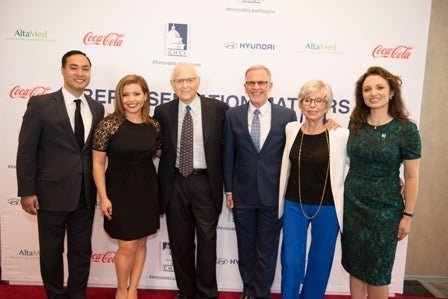 Reflecting on her experiences in the entertainment industry, Rita Moreno stated, "I remember a time when I was told that the door is ajar for Latinos, but it's more open now."
Paul Rodriguez further reflected on opportunities for minorities in film and television. "[African-Americans] are well-represented," said Rodriguez. "Latinos have a great deal of debt to African-Americans. We've seen their struggle. We've seen their trajectory. They've laid the groundwork."
Lear closed out the event with a poignant statement. "There are two very important words: Over and next," said Lear. "Live in this moment. It's taken every second of my life to get here...so I live in the moment."
In addition, CHCI President and CEO Domenika Lynch shared the organization's history and mission to develop the next generation of Latino leaders. Lynch stated that "without strong national representation in Congress, the Latino community could not advance and realize their full potential as civically engaged citizens."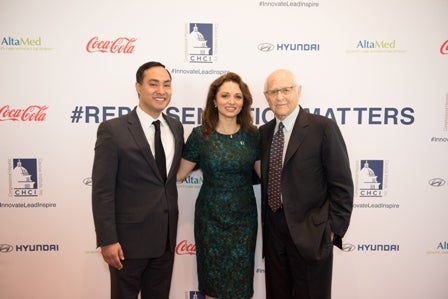 The under-representation of minorities in film and television has received increasing attention over the past few years. The recent UCLA Hollywood Diversity Report found that minorities constitute only 13.5 percent of lead roles even though minorities represent 40 percent of the country's population.
Popular in the Community