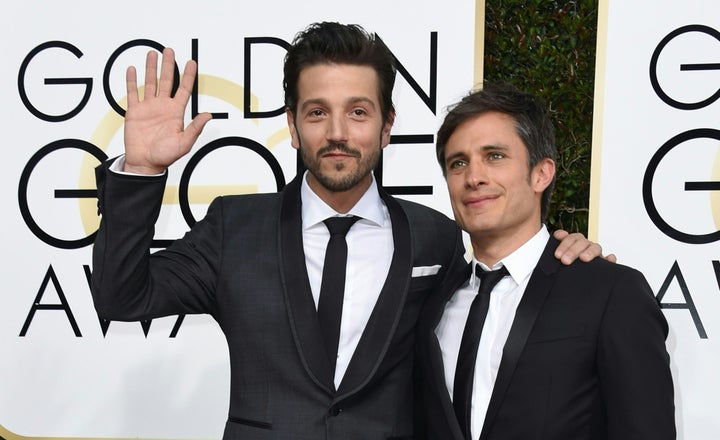 Watching the Golden Globes last Sunday night, I recalled the story Diego Luna shared on Twitter of an older Hispanic man who cried after watching Rogue One: A Star Wars Story and for the first time being able to relate to a hero (Luna) in a blockbuster movie, a character who looked and sounded like him. While the story went viral and brought tears to the eyes of millions of Americans, I couldn't help but wonder how that same man felt watching the Golden Globes that evening, and if he was wondering where the Latino nominees were who looked and sounded like him.
Now extend that experience to his kids and grandchildren, and the more than 40 million American Latinos in the U.S. who often feel invisible, non-existent, and irrelevant in the eyes of media – despite their spending power in movies and entertainment. And needless to say, this lack of Latinos has nothing to do with lack of talent or beauty, but with the lack of Latino hires on and off camera.
Every Marketing 101 student knows the following mantra: know your audience, know your audience, know your audience. American Latinos represent more than 20 percent of media consumers. We are the most avid movie theater attendees, with Hispanic families buying 25 percent of all movie tickets in 2015 alone. Excluding American Latinos from the silver screen isn't just bad representation – it's bad for business.
As we all know, running a successful big business also means keeping up with America's shifting demographics. It's hard to think of any respectable consumer company essentially ignoring 25 percent of their customers. Can you imagine Procter and Gamble, Coca Cola, or General Mills disregarding a quarter of their potential customers? Ay yai yai.
But that's what happens in Hollywood, every day. There is a hit prime time network show about the LAPD without a single lead Latino actor or actress, when in real life nearly half of LAPD officers protecting LA are Latinos. We're excluded even in the fantasy future – with a sci-fi film about America in the year 2100 featuring zero Latino faces, despite government projections that more than 25 percent of Americans will be Latino by the next century. American Latinos are rarely even depicted in love – there hasn't been a single romantic comedy about a working Latina mom where she plays a character that isn't a maid, despite the fact that Latina women are making significant inroads in business and entrepreneurship across the U.S.
C'mon Hollywood. You can do better. If you don't, that means you're missing revenue, you'll fail to attract an importance audience, and your overall growth and business will suffer. Know your audience. And get to know your audience by hiring American Latinos, listening when they tell their stories, include them on-stage and behind-the-scenes, and represent them as they exist in America today. Just ask any of the major consumer goods companies who have embrace the market over the past 30 years and enjoyed the revenue benefits.
It's time to make the change. After last year's #OscarsSoWhite campaign, we have seen some positive changes in the number of African Americans starring on TV shows and being nominated for Golden Globe awards. This is wonderful progress, but there is much more work to do. If African Americans bought 3.7 million tickets in 2014, Latinos bought 9.6 million tickets that same year! Diverse families – many of whom are American Latinos – are the New Mainstream. We need to create a broader tradition of creating entertainment that includes and targets these audiences directly. This year, let's start a new way of doing business, so that stories like the one Diego Luna shared become the norm, and not the exception, and board rooms across America celebrate their new revenue growth from the wisdom of evolving with the new American mainstream.