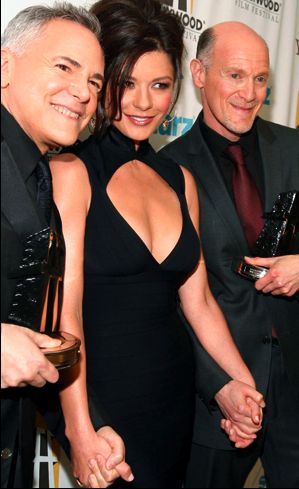 When OUTFest tapped producing partners Neil Meron and Craig Zadan (executive producers of Chicago, 2002 winner of the Best Picture award) to receive the 2012 Legacy Award, nobody could have anticipated the irony of asking Darren Criss -- who had made his Broadway debut in their production of How to Succeed in Business Without Really Trying -- to present the award, because while the Meron/Zadan partnership has always radiated an aura of success, as they tell it, their career has been anything but effortless.
Meron and Zadan's partnership initially took shape in New York City at the Public Theater, where, working for producer Joe Papp, they adopted the legendary producer's forward-looking ethos of color-blind casting and championing minority writers. Papp's early influence on the duo has been reflected in a body of work that reflects America's challenging cultural and ethnic diversity: the first multicultural Cinderella, starring Whitney Houston, Brandy, and Paolo Montalbán; What Makes a Family, starring Brooke Shields and Cherry Jones; and crowd favorites Hairspray and the smash Smash; and of course producing the 2013 Academy Awards.
I recently spoke with Meron and Zadan by phone about the secrets of their artistic success and longevity in a fickle business, the mythic "power gay," and Hollywood's casting couch.
Tomas Mournian: You both started working for Joseph Papp, who produced Larry Kramer's The Normal Heart and championed Michael Bennett (A Chorus Line). Do you view Papp as a straight instigator of gay culture?
Neil Meron: He didn't specifically say, "I'm going to do gay plays." He really looked to the disenfranchised. So the Public Theater wasn't gay-centric so much as it was disenfranchised-centric. Joe was really great at reflecting the world that was right outside the door.
Tomas Mournian: How have you navigated Hollywood, an environment known for its macho behavior and/or casual homophobia?
Neil Meron: There wasn't blatant homophobia being thrust in our faces, because the truth of the matter is Hollywood's a business, and if you have the product they want, you're going to be embraced, and if they don't want it, you're not going to be embraced.
Craig Zadan: If you are a really talented writer, or a talented director, or talented producer, or whatever, nobody really cares if you're gay or straight.
Tomas Mournian: Right, but what about gay actors?
Craig Zadan: There was always a fear that the female audience that fantasizes about leading men would not want to go see that person. But Neil Patrick Harris, and a huge list of others have come out in the last couple years, have been able to play anything. So the idea of being gay and turning off a straight audience is becoming ludicrous.
Tomas Mournian: What's been the key to a successful partnership in a business not known for longevity?
Neil Meron: Hard work. Respect. Healthy fighting.
Tomas Mournian: Healthy fighting?
Neil Meron: When you disagree on some things, and you work it out, and you continue. You let off the pressure cooker of the environment. It's like any relationship.
Tomas Mournian: What is the difference between "healthy fighting" and that oft-used Hollywood phrase "fighting for a project"?
Craig Zadan: For Hairspray it was going back, over and over again. People lose jobs and don't work when the ego gets in the way: :Look, I've earned this, so therefore they should give this to me." We never took the attitude that they owed it to us or we deserved it.
Tomas Mournian: While 1950s Hollywood agent Henry Wilson was famous for grooming Lana Turner, he's since become infamous for sleeping with and "inventing" beefcake stars: Rock Hudson, Troy Donahue, and Tab Hunter. Does the gay casting couch still exist?
Craig Zadan: Obviously, there is a gay casting couch, but there is a straight casting couch, too. But I don't know anybody, straight or gay, who slept with somebody and actually really got a job.
Tomas Mournian: So you would agree with the late Julia Phillips (You'll Never Eat Lunch in this Town Again), who said, "You don't sleep your way to the top, only into the middle"?
Neil Meron: There is that myth in general about Hollywood. And I'm sure the myth is founded in some sort of reality. But have we heard stories? Sure.
Tomas Mournian: What would be the three most important traits for any aspiring "power gay"?
Neil Meron: Three essential traits? Why three?
Tomas Mournian: OK, 10. A hundred. You can email me.
Craig Zadan: I don't understand this. Can you give me an example of what you're talking about?
Tomas Mournian: Richard Zanuck spent 25 years pitching Driving Miss Daisy before he was given a green light. To me that says that patience is an element of power. What are other elements or qualities of power that you would identify?
Neil Meron: I think the question (for both of us) was when you specifically said "power gays." We are members of the entertainment industry and must have the same passion and perseverance and dedication and cleverness as anybody.
Tomas Mournian: But you're receiving the Legacy Award from OUTFest, which is an LGBTQ film organization.
Neil Meron: That's correct.
Tomas Mournian: An award that recognizes you're both powerful gay men in the entertainment industry.
Neil Meron: That's great.
Craig Zadan: I think it has to do with perspective. We get up and go to work just like everybody else. We have disappointments, and great things happen, and wonderful, thrilling moments, and we have horrible moments where people are disrespectful and awful to us. We don't see ourselves as being powerful or important in that way, because we have really tough days where we don't feel so important. We feel like every producer out there, struggling and fighting, and working to get their shows, their TV things, their movie things, their everything, made.
Neil Meron: We are also at the mercy of people that say they want to give us the money to do it. I don't think we're completely in control of our destiny.
Tomas Mournian: Ten years in development hell, and Miramax Films is about to give up on Chicago (which grossed over $300 million)... What about you clicked with the project?
Neil Meron: The right DNA. But it's like any other project: It could have gone another way.
Craig Zadan: Rob Marshall. His concept and vision was so right, and so inspiring, and so different from what anyone else tried to do that as a result, it immediately happened and got made.
Tomas Mournian: And after Darren Criss presents you with the Legacy Award, next year you follow in the footsteps of Gower Champion, Stanley Donen, and Quincy Jones and will be producing the biggest show on Earth: the Oscars. How did that happen?
Craig Zadan: Academy president Hawk Koch called and said, "What would you say if we asked you to produce the Oscars this year?" We went, "Really?"
Tomas Mournian: If there are two poles of the Oscars, one being Grease and Saturday Night Fever producer Allan Carr's campy opening (featuring Rob Lowe paired with Snow White singing "Proud Mary") and Laura Ziskin's "speeding locomotive years," where will your Academy Awards land?
Neil Meron: Like all the other Oscar producers, we're going to make it our own.
Tomas Mournian: Will there be any dancing dwarves?
Craig Zadan: There is no history in our TV or movies of any dancing dwarves.
PHOTO GALLERY
Hollywood Producers Neil Meron And Craig Zadan's Life In Pictures
Calling all HuffPost superfans!
Sign up for membership to become a founding member and help shape HuffPost's next chapter